Dr. Tiamiyu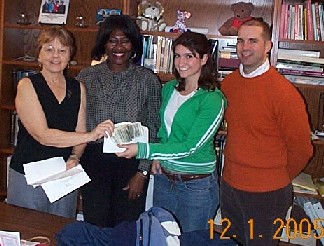 Dr. Tiamiyu's PSY 2510 Fall 2005 Class: Our Brick Story
OnSeptember 15, 2005, I (Dr. Mojisola Tiamiyu) attended a Brown Bag presentation at the Eberly Center for Women at the University of Toledo. This presentation was given by the director of the Center, Dr. Patricia Murphy who discussed the challenges facing one of the laudable programs of the Center, the "Women in Transition: Project Succeed Program." Although I knew a bit about this Program I was very impressed to learn the specifics of the positive impact of this Program on thousands of unemployed and employed women in terms of their academic pursuits for higher education as well as their overall quality of life. I could not imagine having this Program end!
During the question and answer period of the presentation, I found myself raising my hand consciously or unconsciously promising to ask students in my PSY 2510 Lifespan Developmental Psychology class if they would like us as a class to assist in the cause by buying a brick. I first shared this idea with my Teaching Assistant (Mr. Darren Jones) who agreed with me that this was a worthwhile activity to engage in. I knew that if students were not interested then I would have to find another way to fulfill my promise … it was a big gamble for me, but I was optimistic!
Fortunately, when I suggested this idea to my students on September 21, many students agreed with me that this would be a good class project and a few even sent me email messages lauding the idea. In class, I made it clear to students that this class project was a voluntary one, but that the whole class will get recognition. Every class period (before or immediately after class), students would put any amount of money they wanted to donate in a "red" gift bag, which I placed on the table in front of the classroom. We had a student representative (Ms. Dana Podracky) volunteer to keep tab of the amount being donated after every class and Mr. Jones kept the money. By the Dec. 1, 2005 class, students, Mr. Jones and I had collected $250.00. After the class, Mr. Jones, Ms. Podracky and I went to the Eberly Center to present our class donation to Dr. Patricia Murphy. Dr. Tiamiyu's PSY 2510 Fall 2005 class is very happy to be a part of the Catharine S. Eberly Center for Women Legacy Courtyard-Phase One fund raising effort. If our class can do it, yours can, too!