Inland Seas Screening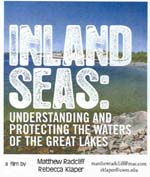 Our August movie screening will provide an overview of surface and groundwater watersheds, in addition to the controversial issue of water diversions.  With these concepts and issues as a backdrop, the film will examine the Great Lakes Compact Agreement and provide information on how individuals can shape policies related to water use and protection.

A discussion regarding Great Lakes water and the Great Lakes Compact will follow the screening, led by Dr. Kenneth Kilbert, University of Toledo Professor of Law.

This film is a collaboration between scientist Rebecca Klaper and filmmaker Matthew Radcliff.  Funding was provided by Wisconsin Coastal Management, UWM Great Lakes WATER Institute, and Paignton Pictures. 

A preview can be seen on YouTube at:
http://www.youtube.com/watch?v=LThCGlwqhng.

For an event flyer, click here.