Former Teachers and Fellows
Graduate Fellows
Brad Anderson
JoAnn Banda
Kris Barnswell
Chris Barr
Betsy Bodamer-Scarbro
Melinda Campbell
Justin Chaffin
Nancy Cochran
Todd Crail
Kristen DeVanna
Colleen Gorey
Amanda Haponski
Verl Luse
Nathan Manning
Olga Mileyeva-Biebesheimer
Jhonatan Sepulveda Villet
Adam Szabo
Janet Traub
Hannah West

Teachers
Todd Aseltyne
Jahnine Blosser 
Kathy Singler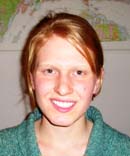 Melinda Campbell, Geology
GK-12 Fellow 2008-2009


Melinda worked with Dave Bourland at Bowsher High School. She completed a Master's degree in Environmental Geology and a thesis that involved mapping the surficial geology of the Oak Openings Region and work towards reconstructing the geologic chronology of the region under the direction of Dr. Timothy Fisher and Dr. James Martin-Hayden. Her career goals in general are to use geologic knowledge to improve the human relationship with the environment through education with a focus in geologic mapping. Currently Melinda is working as a Wetlands Geologist with the Illinois State Survey. 

Olga Mileyeva-Biebesheimer, Engineering
GK-12 Fellow 2008-2009


Olga worked with Michelle Bogue at Sylvania Northview High School. She has relocated to Washington D.C. and is working on completing her Ph.D. dissertation on several environmental problems including developing a membrane-based sensor for selected bacteria in drinking water, monitoring levels of the algal toxin microcystin in Lake Erie, and determining the fate and toxicity of nanoparticles commonly found in personal care products in the environment under the direction of Cyndee Gruden.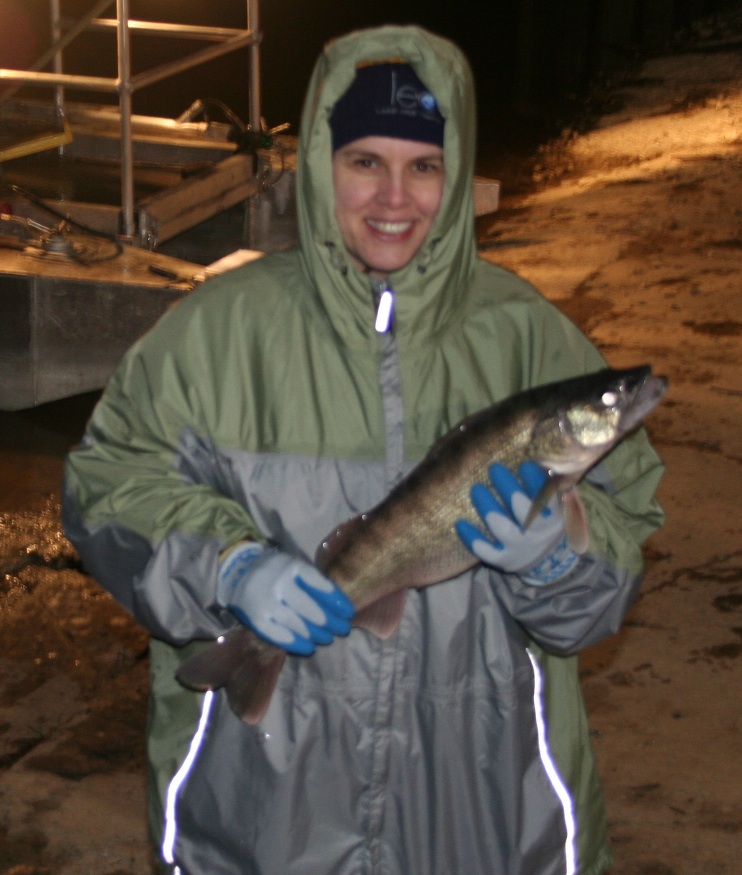 JoAnn Banda, Great Lakes Genetics Lab
GK-12 Fellow 2009-2010
Email: jo.banda@utoledo.edu
JoAnn's Research
CV - 2010
JoAnn became interested in the Great Lakes while earning her Bachelor's Degree in Environmental Science at Bowling Green State University. During a summer internship with United States Geological Survey (USGS) in Sandusky, Ohio, she realized she would like to work with fish.  She was was introduced to genetics and her current research while participating in the National Science Foundation Research Experience for undergraduates in Dr. Carol Stepien's Great Lakes Genetics Laboratory.  Her Master's research is looking at the temporal and spatial genetic patterns among Lake Erie Walleye spawning groups.  She extracts DNA from a small piece of fin, amplify segments of nuclear DNA called microsatellite loci using Polymerase Chain Reaction (PCR), and uses genetic software to analyze allele frequencies and detect patterns. JoAnn is currently completing an internship in Ann Arbor Michigan while completing her thesis writing.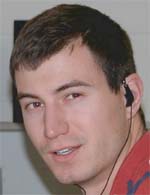 Kris Barnswell, Environmental Remediation
GK-12 Fellow 2009-2010
Email: kristopher.barnswell2@utoledo.edu
Kris's Research
CV - 2010
Kris' research areas include restoration ecology, phytoremediation, and environmental engineering. Specifically, he is interested in using native plants to facilitate the remediation and restoration of contaminated sites, such as brownfields, landfills, and old dumps. He recently defended his dissertation, which focused on designing a final cover system for a local inactive landfill that utilizes sediment dredged from the Maumee River/Lake Erie shipping channel and plant species that are native to the Oak Openings Region in northwest Ohio. For Kris the GK-12 program was a great experience that had a positive impact on his life. He feels very fortunate to have worked with a teacher that he viewed as a role model. By interacting with students several times a week, Kris enhanced his teaching and communication skills as well as gained an appreciation for the students. The major highlight of the program was working with two senior students as research interns. For the first time in their lives, they conducted science experiments and made powerpoint and poster presentations to audiences outside the classroom. Kris encourages the new group of fellows to improve the program's success and hope that in the future more local schools will be involved.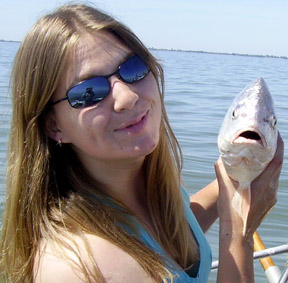 Betsy Bodamer Scarbro, Water Quality
GK-12 Fellow 2008-2010
Email: betsy.bodamer@utoledo.edu
Betsy's Research
CV - 2009
Betsy's research interests and experiences in aquatic ecology cover a wide spectrum.  She received a B.S. in Biology from Allegheny College in Meadville, Pennsylvania. In December 2007, she received a M.S. from the University of Toledo, where she studied how wetlands effect the downstream dispersal of zebra mussels. Betsy then continued her education at The Univesity of Toledo in pursuit of a Ph.D. with Dr. Thomas Bridgeman. For her dissertation she is examining how Lake Erie hypoxia (a.k.a. the "dead zone") affects (physiologically and behaviorally) benthic foraging fish (e.g. Yellow Perch) and benthic dwelling invertebrates (e.g. Hexagenia mayfly larvae). Betsy appreciated the opportunity to be involved with the GK-12 program and have the opportunity to share, and hopefully, spread her interest and knowledge of not just aquatic ecosystems, but nature in general to high school students. She feels educating future generations is imperative to the preservation our environment.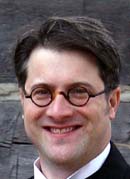 Todd Crail, Invasive Modeling/Aquatic Ecology
GK-12 Fellow 2008-2010
Email: todd.crail@utoledo.edu
Todd's Research
CV - 2010
Todd's doctoral research interests involve assemblage, niche and interspecific interactions in North American lotic aquatic systems (specifically fish and Unionid mussels). He also has a keen interest in aquatic zoogeography, in particular, using phylogeography to reconstruct Pleistocene/Holocene refugia and range recovery in glaciated landscapes. Todd's time in the GK-12 program has steered his career goals towards education. He feels more apt to seek a position teaching ecology where he is encouraged to work directly with the institution's Department of Education, rather than a position with a focus on ecological research.  Todd feels that our society is completely unaware of the interconnectedness of nature, human-derived breaks in those connections, and how this relates to the ultimate success or failure of the human species.  Thus, it is his career goal to instill a basic sense of local natural history and its interpretation in future generations, and that teachers are the most capable group to disperse that information. Todd is the founding member and president of the Toledo Chapter of Wild Ones, a national organization that promotes the use of native plants as a landscaping alternative. Todd has created his own website, http://www.farmertodd.com.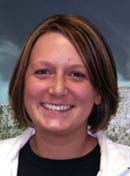 Kristen DeVanna, Benthic Ecology
GK-12 Fellow 2008-2010
Email: kristen.devanna@utoledo.edu
Kristen's Research
CV - 2011

Kristen completed her Bachelor's degree at Ohio Wesleyan University and then worked as a research technician at the Kellogg Biological Field Station before joining Dr. Christine Mayer's Benthic Ecology lab. Kristen completed a Master's degree studying the interactions between burrowing mayflies (Hexagenia limbata and H. rigida), and invasive zebra and quagga mussels (Dreissena polymorpha and D. bugensis respectively). Her dissertation work builds on her Master's thesis and she is examining whether Hexagenia derive protection from fish predation in Dreissena clusters and if short periods of hypoxia, which often develop in Lake Erie and other productive lakes, interfere with this relationship and force Hexagenia out of Dreissena-cluster habitat to seek well-oxygenated waters. Kristen was very excited about being a graduate fellow in the GK-12 program and having the opportunity to communicate her love of science and the environment to current high school students. One of her future goals is to conduct research that will make a difference in the field of freshwater aquatic ecology and to become involved in public outreach programs that teach the public about the economic, environmental, and societal importance of healthy freshwater ecosystems. She feels that being a fellow in the GK-12 program gave her many of the skills needed to achieve these goals. 

Colleen Gorey, Engineering
GK-12 Fellow 2008-2010
Email: cgorey50@yahoo.com
CV - 2010

Collen received a B.S. in Bioengineering in 2006 and a M.S. in Chemical Engineering in 2008, both from the University of Toledo. She completed her Master's thesis, under the guidance of Dr. Isabel Escobar in Chemical Engineering and Dr. Cyndee Gruden in Civil Engineering, studying the modification of cellulose acetate ultrafiltration membranes with a temperature-sensitive polymer film. The idea was to create a dynamic surface on the membrane that reduces biofouling. Colleen remained under the direction of Drs. Escobar and Gruden and is pursuing a Ph.D. in the Chemical Engineering program by doing more research in membrane modification. Her research involves post-synthesis modification of water filtration membranes. She works with the temperature sensitive polymer N-isopropylacrylamide (NIPAAM). Novel heating mechanisms such as RF heating using iron nanoparticles and ultrasound are being explored.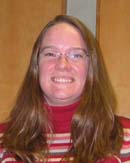 Amanda Haponski, Great Lakes Genetics Lab
GK-12 Fellow 2008-2010
Email: amanda.haponski@utoledo.edu
Amanda's Research
CV - 2011

Amanda received her Master's degree from the University of Toledo in December of 2007 and continued on for a Ph.D. in Dr. Carol Stepien's laboratory. Her dissertation research focuses on Lake Erie walleye (Sander vitreus), an important commercial fishery species.  She is using archived scale samples to compare the genetic variation of walleye in Lake Erie over the past 50 years. She is also looking at the genus Sander and comparing morphological characters and molecular data to determine the systematic relationships among the species.  For her GK-12 experience, Amanda was paired with Mr. Timothy Bollin at the Toledo Early College High School where they co-instructed a Science Research course focused on water quality. Through her participation in the GK-12 program, Amanda noticed an improvement in her public speaking skills and also in her ability to communicate her scientific results to a much broader audience.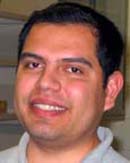 Jhonatan Sepulveda Villet, Great Lakes Genetics Lab
GK-12 Fellow 2008-2010
Email: osepulv@utnet.utoledo.edu
Jhonatan's Research
CV - 2009

Jhonatan received a B.S. in Aquacultural Engineering from the Universidad Autonoma de Guadalajara, and a M.S. in Biology from Central Michigan University. His previous academic research has included Nutritional efficiency on freshwater crustaceans, developmental biology of marine shrimp, and proteomic research. An aquatic enthusiast at heart, Jhonatan joined Dr. Carol Stepien's Great Lakes Genetics Laboratory to focus on yellow perch and percid population genetics and stock assessments for the Great Lakes, particularly Lake Erie and its tributaries. During his participation in the NSF GK-12 program, he learned how to best approach and relate to the lay audience, and how to effectively teach scientific concepts in a manner that is easy to understand, and relevant to the day-to-day life of students and teachers. Working with Wendy Wilson at Start High School, Jhonatan notes that enthusiasm for science-based careers increased in the participating classes, the Ohio Graduation Test scores for 10th grade science for 2008 were the best in three years, and they had their first ever participation in district and state science day competitions. He leaves the NSF GK-12 program with a greater appreciation of the effort and knowledge necessary to teach future generations to be stewards of our environment.
Todd Aseltyne, St. John's Jesuit High School
GK-12 Teacher 2010
Email: taseltyne@sjjtitans.org
Todd received a B.S. in Environmental Geology from the University of Dayton, an M.S. in Environmental Geology from the University of Akron, and is finishing up a Ph.D. in Geology from the University of Kentucky. His research in graduate school focused on aqueous geochemistry. For five years, he taught a wide range of science courses at St. John's Jesuit High School for five years. His students monitored a wetland located on the SJJ property looking for variations in conductivity as an indicator of road salt contamination. Todd used these studiesto increase student awareness of local water quality issues that impact their community. Todd recently left St. John's and the GK-12 program to pursue an enviornmental consulting job in the state of Washington.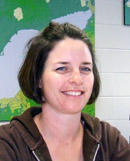 Jahnine Blosser, Scott High School
GK-12 Teacher 2008-2010
Email: j.blosser@tps.org
Jahnine earned a B.S. in Biology from Cleveland State University. She taught junior high school students for 11 years before switching to high school. Her goal is to get students to realize their relationship with nature as a whole.  This is somewhat hard for urban students who do not generally have any experience with nature In 2006, she finished a Master's degree in Curriculum and Instruction from BGSU. In her two years in the GK-12 program, Jahnine notes that the thing that helped her classroom the most was the exposure to some one who looks and acts like an ordinary person, but is a scientist. She adds that high school students often think that all scientists are "geeky", but they really related to graduate fellow (Todd Crail). Jahnine especially loved having a graduate fellow with whom she could exchange ideas with for the classroom as well as someone current in Environmental Science. Jahnine left the GK-12 program to allow more time to complete her Master's degree in Biology with an emphasis on Ecology through the IMPACT program, a U.S. Department of Education Program housed at the University of Toledo.