Research Experience for Teachers
2007 RET Teachers

Timothy Bollin, M.S.
Research Experience for Teachers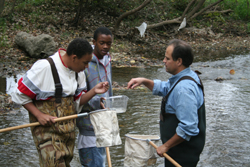 Tim's work in the Great Lakes Genetics Laboratory was funded through a NSF RET (Research Experience for Teachers) Supplement (NSF# DBI-0727913) to NSF FSML (Field Station and Marine Lab): Planning Proposal for the Lake Erie Center (NSF# DBI-0627254 to Dr. Carol A. Stepien).
This Research Experiences for Teachers (RET) award engaged Mr. Bollin - a local high school teacher from TECHS (Toledo Early College High School) - in an independent conservation biology research problem using molecular population genetic tools at our Great Lakes Genetics Laboratory (GLGL) at the University of Toledo's Lake Erie Center.  Mr. Bollin heads the Environmental Science program at TECHS (founded by a grant from the Knowledge Works Foundation of Bill and Melinda Gates), which solely recruits underrepresented minority students and focuses on developing STEM (Science, Technology, Engineering, and Math) skills.  Students attend TECHs for 4-5 years and graduate from high school with the equivalent of an associate's degree or up to two years of college credit.
Mr. Bollin's project was "Genetic divergence patterns of the Rainbow Darter Etheostoma caeruleum: a watershed analysis from mitochondrial DNA sequences and nuclear microsatellites", which allowed him to develop key molecular biology skills, apply them to an important environmental conservation problem, and teach them to his students through their active participation in the study.  During the year-long course of the project, Mr. Bollin worked on integrating his new molecular genetic research skills into his high school science courses.  His students have participated in the Student Watershed Watch program and its annual conference.  Mr. Bollin was aided by graduate student Amanda Haponski and other members of the GLGL.