/nsm/lec/
Welcome to the LEC
/nsm/lec/research/
Research Labs & Areas
Great Lakes Genetics Lab
Students - Past and present
 Undergraduate Research Assistants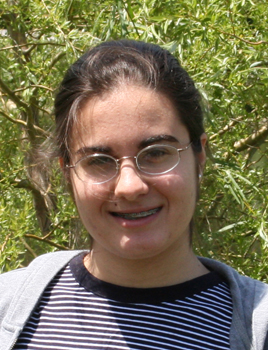 Susanne Karsiotis
Student Researcher
susanne.karsiotis@rockets.utoledo.edu
CV 2012
Research Interests: Population genetics, Landscape genetics/ecology.

Projects: I am currently working toward a B.S. in Environmental Science at the University of Toledo. My first undergraduate research project investigated the salinity tolerance of Great Lakes' round gobies (Neogobius melanostromus), an invasive species from the Ponto-Caspien region. The project completed with a publication of the same name. I then moved on to studying the genetics of smallmouth bass. I am analyzing the mitochondrial DNA gene cytochrome b and adding it to previously collected microsatellite data (Stepien et al. 2007).
Bevin Blake
Laboratory Assistant, summer 2012 
Research interests: My research interests include conservation, ecotoxicology, genetics, and evolution.
Projects: I am currently an undergraduate studying at the University of Mount Union, majoring in biology and psychology. After graduation, I hope to continue on to graduate school and do research pertaining to the relationship between environmental contamination and behavior on the genetic level. Summer 2012, I worked as a lab assistant in the Great Lakes Genetics Lab. I assisted graduate students in the lab and also assisted with a study that examined the genetic impact of a walleye (Sander vitreus) stocking event that occurred in Cattaraugus Creek, NY.
 2010 - 2012 URM Student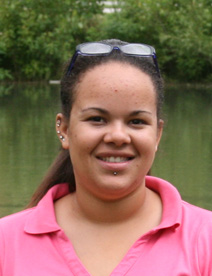 Hillary Dean
Student Researcher
I recently completed my B.S. in Environmental Sciences student at UT, where I participated in the NSF Undergraduate Research and Mentoring program in Dr. Stepien's lab. My senior honors thesis was, "The genetic history of walleye spawning in Cattaraugus Creek, NY". During my tenure at UT and the Lake Erie Center, I received a prestigious environmental scholarship from the Ohio Academy of Science.  I am now an M.S. student at Delaware State University.
2007 - 2008 REU Student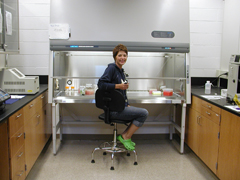 Emily Sopkovich
Student Researcher
"I completed my B.S. at the University of Toledo in Environmental Sciences/Ecology in spring 2008. The objective of my undergraduate research project in the Great Lakes Genetics Lab was to test the spatial and temporal variation in the invasive round goby Apollonia melanostoma populations in North America. My work was funded by a Research Experience for Undergraduates (REU) supplementary award to my advisor Dr. Stepien. I used mitochondrial cytochrome b gene sequences and allelic variation at 8 nuclear microsatellite loci to test whether the genetic structure of the round goby has changed over the time course of its North American invasion. I also was awarded a $2500 scholarship from the Ohio Academy of Sciences through the Ohio EPA for the 2007-8 academic year. I plan to attend graduate school."
2007 REU Student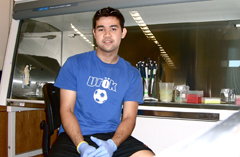 Mark Sibug
Student Researcher
"I am currently pursuing a Bachelor's Degree in Geography & Environmental Systems and certificates in G.I.S. (Geographical Information Systems) and cartography. My academic work focuses on the environmental and social aspects of geography. My personal goal is to bring more attention to the global biodiversity.  To further that goal, I worked on the genetic structure of Smallmouth Bass at the Great Lakes Genetics Lab, as part of the University of Toledo's REU program at the Lake Erie Center.  I used the mtDNA cyt b gene and nuclear microsatellite loci to test broad scale population divergence/genetic patterns and determine sites of high and low genetic diversity throughout North America.  I also had the opportunity to do some field collections. This coming fall semester, I'm doing a cartographic internship for Prof. Joe School. I'm also working at the Center for Urban Environmental Research & Education.  After graduation, I plan to attend Towson University for my M.S. in Applied Information Technology."

2006 REU Students
Ian Hofmann
Student Researcher
My research interests include conservation biology. At the GLGL I worked on helping us to understand the genetics of invasive and native populations of the monkey goby (
Apollonia fluviatilis
), which is the sister species of the round goby (
A. melanostomus
) that invaded the Great Lakes from the Ponto-Capsian region of Eurasia. (Note: The systematic classification of the genus of this group was recently changed from
Neogobius
to
Apollonia
by Stepien and Tumeo (2006)). Currently, the monkey goby is confined to Eurasia, but has traveled up the Danube, Dnieper, and Volga Rivers from its native waterways and is becoming an invasive nuisance. The monkey goby is predicted to invade the North American Great Lakes, so our lab is developing genetic markers that will allow us to quickly identify it and to determine its site of founding origin, when and if it appears. I helped to sequence the monkey goby's mitochondrial DNA cytochrome b gene and analyze six nuclear microsatellite loci from a variety of invasive and native population areas in Eurasia. I graduated with a B.S. degree in 2007 as a BIOM major in the Environmental Sciences Department at the University of Toledo. This undergraduate research project was funded by a supplemental award from the National Science Foundation to Dr. Stepien, NSF DEB0620942. This funding paid for my 2006 summer and fall stipends.
Jenny Ohayon
Student Researcher
Jennifer Ohayon from the University of Toronto in Canada was in the REU program at the Lake Erie Center for the summer 2006 season. "My project for the REU program was to study the population genetics of the racer goby, Neogobius gymnotrachelus. This corresponded well with my interest in conservation biology as this species is invasive is many regions and is impacting the native biodiversity. Although the racer goby has not yet invaded the Great Lakes (unlike the closely related round and tubenose goby species), there has been a general westward and northward expansion in the Eurasian Ponto-Caspian region. For my project I compared genotypic composition and levels of genetic variability in the native populations versus those collected from invasive sites in Europe. I amplified the mitochondrial DNA cytochrome b gene using the polymerase chain reaction and then sequenced the gene for this project. The project objective was to identify original source populations for invasions and the nature of the invasion (i.e., whether it is a result of spread, possibly aided by the construction of canal systems, or independent introductions)." This work was published in the Journal of Fish Biology by Ohayon and Stepien in 2007.

2005 REU Student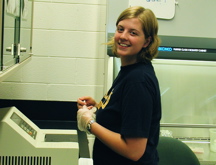 Dianna Brandon
Student Researcher

I was Dr. Stepien's 2005-6 REU student in the Great Lakes Genetics Lab. I graduated with a B.S. degree from the University of Toledo in the Department of Biology in winter 2006. The 10 week REU program was my first go at research and I definitely enjoyed my summer and fall research at the LEC. For my project, I studied the population genetics of zebra mussels using microsatellite data to study the genetic structure of not only the invasive populations here in the Great Lakes, but also the structure of the native European populations. I am now attending Graduate school here at UT for my Master's degree in Education. I plan to use my experience as a researcher from the Great Lakes Genetics Lab to better educate Ohio High School Students.