Welcome
Connect With Us
Resources and Links
Contact Us
Main and Health Science Campuses
Wolfe Hall room 1227, Phone: 419.530.2010
Frederic and Mary Wolfe Center room 155, Phone: 419.383.1904
pharmacy@utoledo.edu
The Heart of the Matter
The Heart of the Matter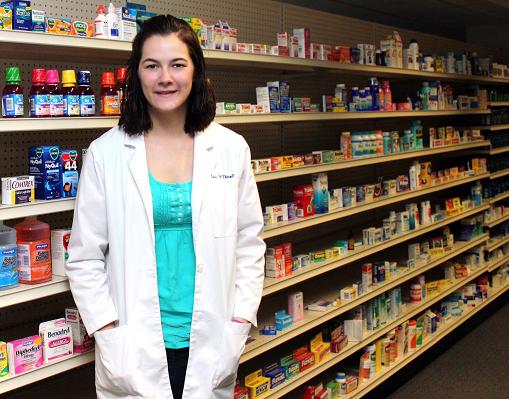 For patients in the Cardiac Rehabilitation program at The University of Toledo Medical Center, the support and care of a multidisciplinary team provide them with the tools they need to move forward into a healthier future.  The program, open to patients who have suffered cardiac events or heart problems, helps patients to get fit and improve their overall health. In fact, according to the American Heart Journal article entitled "Clinical Evidence for a Health Benefit from Cardiac Rehabilitation," patients participating in such programs experience "a 25-30% reduction in total and cardiovascular mortality" compared to patients who do not participate in cardiac rehab.
Patients who enroll in the 12-week program at UTMC work with a team that includes a physician, nurses, exercise physiologists, a dietician, and a pharmacist who educate them on various aspects of their disease states.  The medical professionals use education as a means to better health.  Katie Roberts, a nurse in the cardiac rehab program, says "it's important for us, as professionals, to continually be in touch with patients and help them to understand what's going on with their health."
During the Cardiac Rehab program's clinic hours, the Morse Center is buzzing with activity.  Patients begin each session by having their vitals taken and recorded by the staff; weight, blood pressure, blood glucose levels, and heart rate are markers of their progress during the program.   Patients spend an hour exercising while wearing a heart monitor to help them stay within their target heart rate ranges.  The Cardiac Rehab staff tailors an individual program for each patient, taking into account their physical abilities and risk factors.  Following exercise, patients attend one of the Cardiac Rehab program's nine informational sessions.  These sessions, conducted by the interdisciplinary team, focus on aspects of wellness that are relevant to cardiac patients, from nutritional and weight loss counseling to smoking cessation.
Within the first two weeks of the program, the Cardiac Rehabilitation team often sees changes in their patients.  Improved mood, decreased stress and a greater understanding of their disease state are factors that keep patients participating in the program even after the initial 12 weeks have ended.  In addition, the sense of community among the staff and patients is evident.  Patients ask about their absent peers and check in on one another's progress regularly.
Having a pharmacist participate in the Cardiac Rehab program is a relatively new development, prompted by Dean Johnnie Early's positive experiences as a patient in the program a few years ago.  The pharmacy segment of the program involves patient counseling and education that focuses on adherence to medication regimens. 
Dr. Amie Smith, pharmacy practice assistant professor, is the pharmacist who currently participates in the program.  Dr. Smith counsels patients about the properties of common cardiac medications including aspirin, warfarin and clopidogrel.  She discusses the benefits and side effects of each medication, as well as interactions that can occur with other prescription, over-the-counter and herbal remedies.  Patients appreciate the opportunity to ask specific questions about their medications, and they are encouraged to keep an open dialog with their physicians and other health care providers.
Dr. Dalynn Badenhop, director of the Cardiac Rehabilitation program at UTMC, says, "The bottom line is that cardiac rehab is as effective as many of the cardiac medications in reducing mortality in this patient population. Physicians should be encouraged to routinely order cardiac rehab for their patients with heart problems."
The Cardiac Rehab patients leave the program feeling healthier, more informed, and empowered.  They know what questions to ask their health care providers and they have taken a personal stake in their health.  UTMC's cardiac rehabilitation program exemplifies the benefits of collaborative health care, combining the expertise of health care professionals with patient education to increase overall wellness.