Areas of Study
Public Relations
A career in public relations offers a variety of exciting opportunities for outgoing and creative individuals. More and more businesses and organizations are realizing the importance good public relations has on their success.
Here at UT our PR students find positions in business corporations, government agencies, charitable and religious organizations, hospitals, social service, and sports organizations. Through comprehensive classwork students learn both the art of persuasive communication, and the skills necessary to produce many different forms of visual and internet based communications.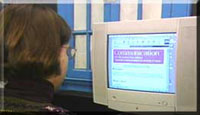 Our students also have various on-campus and off-campus internship opportunities where they can experience firsthand what it takes to be a public relations professional.
Whether it's planning special events, making visual presentations, working on political and fund raising campaigns, writing and designing brochures, designing web pages, or working with the media, all of these activities and many more can be part of an exciting career in public relations.
For more information, or questions, about our public relations area call Fatima Shousher Simon at 419.530.4364 or e-mail her at fshoush2@utnet.utoledo.edu. She is also the advisor for UT's chapter of the Public Relations Student Society of America (PRSSA).
View Public Relations Curriculum