Importance of supporting diversity/serving all addressed through COBI's Diversity Plan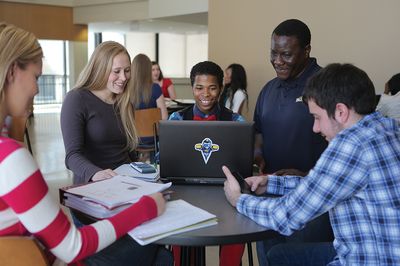 A fundamental tenet of supporting academic excellence at The University of Toledo is to ensure that Toledo campuses are places where diverse individuals, ideas and perspectives can openly flourish. Promoting diversity and continually raising cultural awareness helps UT prepare students to succeed not only in today's global marketplace, but also in life!
These are key reasons why UT has a dedicated Office for Diversity and Inclusion.
But the responsibility for a functionally diverse environment does not start and end with this one UT office, but rather is the responsibility of all, including at the college specific level. That responsibility is enthusiastically addressed in the College of Business and Innovation through the developing COBI Diversity Plan.
"The University of Toledo has a comprehensive diversity plan that was developed by the Office of Diversity & Inclusion. Each college is therefore asked to complete a diversity plan that will help the university move their plan forward," explained  Selina A. Griswold, MSM/MA. Associate Professor in the COBI Department of management.  "The creation of our plan provides an opportunity for our college to focus energy and resources to COBI's diversity mission that is aligned with the University's Diversity Plan." 
Griswold said that the COBI plan is a revision of previous plans completed and submitted by the college. This current plan was revised by the COBI Diversity committee consisting of Griswold and the following college members:
Ainsworth A. Bailey; Associate Professor of Marketing & International Business
Mai Dao; Associate Professor of Accounting
Bassam Hasan; Professor of Information Operations & Technology Management
Amy O'Donnell; Senior Lecturer of Management
Sam Okoroafo; Professor of Marketing and International
The plan was reviewed by COBI Dean Gary Insch and is submitted currently as a draft with expected revisions.
"The college's diversity plan continues to focus on the recruitment and retention of underrepresented faculty, staff and students along with working toward continuous improvement of our cultural climate that will benefit everyone in our COBI community," Griswold said. "The plan has units from administration to the diversity committee who are suggested for implementation of the action items. This implementation will begin sometime during fall 2017 once the final plan has been approved by Dr. Willie McKether from the UT Office of Diversity & Inclusion.
"Diversity is not simply found here in COBI," Dean Insch said. "It does not happen by chance; it is nurtured and expected. It is alive."
"In the UT College of Business and Innovation, we recognize and teach that we live in a global economy. We know that our graduates will be working in locations across the United States and around the world, with people from a wide spectrum of national and ethnic backgrounds. This reality is reflected in our Mission Statement, 'Developing Lifelong Leaders for the World of Business'."
Dean Insch added that, in the world of business, it is unwise and illogical to discriminate due to race, creed, sexual orientation or identity, religion, disability or age.
"The world needs each and every one of us to succeed based on our merits, efforts, and willingness to learn and work. Discrimination in any form is unacceptable. Diversity of background, thought and experience are critical to our mutual prosperity."
"Our 2,500 undergraduate and 500 graduate students are a widely diverse group, which is abetted through our educational relationships with schools in Egypt, India and China. People come to the University of Toledo College of Business and Innovation to learn from a widely experienced faculty, and to enhance their college experience among intelligent, inquisitive and inspiring students from many parts of the world, all right here in Toledo, Ohio."
"Diversity is something at our very core," Dr. Insch said, "clearly and wonderfully manifested in the daily activities in our classrooms and found in the daily life of our students."