Scholarships
Over its 20 years of operation, the Eberly Center has raised funding not only for programming and operation, but also to provide scholarships to students at the University. Many of these scholarships go to new or returning students through Project Succeed, as well as other scholarships for women in the UT community.
Eberly Center for Women Scholarships
One way in which monies have been raised is through scholarship events. One such one time event is Run, Jane, Run. Run, Jane, Run is a national event, sponsored at women's centers across the country. Not only does it help to raise monies for the Center but it simultaneously promotes women's athletics in the college and the community. The first Run, Jane, Run in Toledo helped to raise approximately $10,500 in scholarship funds. There were 673 participants total across five events: a 5 K Run, Bowling, Golf, a Walk, and a Dinner. Run, Jane, Run was sponsored by Lincoln National Corp and K & K Insurance Group, June, 1990.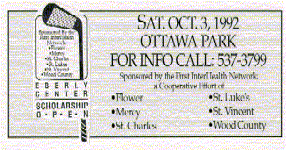 Eberly Center Scholarship OPEN
Another event which served much the same purpose is the Eberly Center Scholarship Open, a golfing event. The First Inter-Health Network was the major sponsor and Shearson Lehman Brothers, Root Outdoor, and Impact Products were additional sponsors of First Annual Eberly Center Scholarship Open, which was so successful that it continued to operate for a second year. The Second Annual Scholarship Open was on Sept. 18, 1993, and the major sponsor was Smith Barney Shearson Inc. Other sponsors include Impact Products/Ad Sensations Inc., Family Health Plan Inc, and the First InterHealth Network.