Jeannette E. Schotter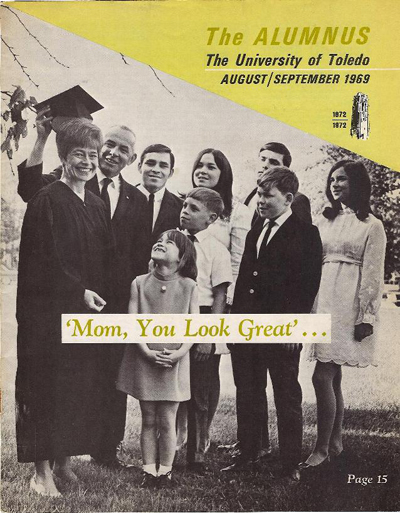 Aug/Sept 1969 University of Toledo "The ALUMNU"
Jeannette E. Schotter      
Jeannette E. Schotter, a four foot eleven inch woman of substantial character and abundant energy, is remembered fondly for myriad reasons.  A distinguished teacher, her students remember her passionate pedagogy and commitment to creative teaching strategies.  A loving wife, mother, grandmother, and great-grandmother, she set an honorable example of traditional moral and ethical standards.  Her home, a bustling hub for a large family in the Old West End, offered invaluable memories for all who gathered for The Schotter Thanksgiving and Christmas feasts.  Jeannette's social life was often full; whether traveling with friends, navigating Lake Erie, engaging in educational initiatives or a spirited game of Scrabble, she incited camaraderie with her infectious sense of humor and wit.
Jeannette E. Schotter was born on September 22, 1924 to John E. and Gertrude L. Albright in Toledo, Ohio during The Depression.  She was the oldest child with siblings Naomi, Virginia and John to follow.  Upon her parents' relocation to Michigan, Jeannette opted to live with her grandparents Alta and Henry Binns on Martha Street, so she could continue her studies and graduate from DeVilbiss High School.  In 1943 she married the love of her life, a returning soldier from World War II, Carlyle H. Schotter from Wyandot, Michigan.
In 1964, Mrs. Schotter, mother of seven children, atwitter in hopes of becoming a teacher, enrolled at the University of Toledo to continue her formal education.  In 1969 she earned a degree in Elementary Education, graduating one week after her oldest daughter graduated from high school.  She was hired by the Washington Local School system, teaching second and third grades at Shoreland Elementary School.  The classroom landscape was very fulfilling for twenty-two years until her retirement.
Though she kept a hectic schedule, juggling work, raising a family, and studying, she continued her professional development by working towards a Master's Degree.  Mrs. Schotter received her Master's Degree in Elementary Education at The University of Toledo in 1971.
In June 1981, Mrs. Schotter submitted as partial fulfillment of the requirements of the Doctor of Education Degree, her dissertation entitled "Relationships Between Scores on the Berry Developmental Visual-Motor Integration and the Levels of Individual Pupil Performance in Reading Four Years After Initial Screening".  The dedication reads: "Special appreciation is extended to my husband Carlyle, for his understanding and support throughout my educational endeavors and to my children, Craig, Gary, Carol, Joan, Mark, Keith and Karen who asked, "Why?" and When?""  A written response followed:
If I am not for myself, who will be for me?
And if I am only for myself, what am I?
And if not now, when?
                                - Hillel
The Schotter family has bestowed Dr. Schotter's graduation gown to the University of Toledo Catharine S. Eberly Center for Women to administer to upcoming women doctoral graduates.  To date, this gown has been awarded for every commencement since December 2005. 
Fond Memories:
When each grandchild was born, Mrs. Schotter would write on the chalkboard the new baby's full name. The classroom penmanship challenge would be to see how many words could be derived, writing in D'Nealian manuscript.  A colorful packet containing this assignment was put together and presented to the proud parents.
InMrs. Schotter's classroom, a teepee was constructed for reading books to reward students for completed assignments.  She annually read the story of "Stone Soup" to her children as a moral compass showing that by working together, with everyone contributing what they can, a greater good is achieved.
Mrs. Schotter was a former president of international honor societies in education: Kappa Delta Pi and Pi Lamba Theta.Her active participation also included attendance at conferences, fundraisers for scholarships and initiations, along with social interaction to operas and plays.
Mrs. Schotter was able to pursue additional interest upon retiring, which included working the election polls and traveling across the United States with the Wally Byam Caravan Club Intl. for Airstream Owners.  Wintering in Mesa, Arizona kept her close to her youngest daughter and family.  She enjoyed picture puzzles with grandchildren and social day-travel with friends.  She and her husband were avid boaters, members of Bay View Yacht Club, and navigated Lake Erie in their wooden Chris Craft appropriately named 'Ad Lib.'
During later years, an annual stay at their timeshare in Cancun included an invitation on a rotational basis to each of their adult children and families.  Traditionally, a chartered bus-ride to walk among relics of the Maya civilization in Chichen Itza was enjoyed by most as a favored day trip, which Mr. and Mrs. Schotter would accompany.  The large balcony overlooking the Caribbean and pools provided an appreciation of shared morning sunrises, the wooing of waves rolling onto the beaches, and the panoramic stretch of infinity-plus evening stars.   Every year a game of dice ensued with announcements of 'zilch' and rolling variations, insuring a pivotal roll of lady luck! 
Mrs. Schotter inspired many who knew her including two granddaughters, who became teachers, majoring in Language Arts.  It is understood that 'Jeannettecs' may have played a role in their common love of Literature and Language.
The Schotter clan went to great lengths to spoil their mother with visits, shopping offers, and birthday parties, which usually included piñatas for the little ones.  A surprise 50th wedding anniversary is quite memorable for all, as a golden treasure box of various cherished memories was presented by individual family members.
Growing-up we were told what a nice city Toledo was, as our parents had traveled extensively.  In Mrs. Schotter's last years, she still enjoyed her hometown:
Dining with 'good friends' and family members
'Authors! Authors!'' presented by the Toledo-Lucas County Public Library
Reopened Valentine Theater, Downtown Toledo
Stranahan Theater
With the loss of her husband, Carlyle and two of her eight children, Gary and Paul, Jeannette knew sorrow and was resilient and receptive to live each day.  A positive thinker, we often heard that living life was "mind over matter."   When asked if she had any regrets about going back to school, she would smile and emphatically reply, "No, I would do it all over again!"
Carlyle often chided with friends how Jeannette always beat him to the sports section of The Toledo Blade so she could begin her day by completing Today's Crossword.  Completing her crossword puzzle was a ritual continued until she passed away peacefully at home on June 20, 2005.