Degree Programs
Contact Us
Department of Educational Foundations & Leadership
The University of Toledo
Main Campus
Gillham Hall, 5th floor

Google maps

Guest parking 
Mailing address:
The University of Toledo
Main Campus
MS 921
Toledo, OH 43606-3390


Department Secretary:
Ruth Ann Easterwood
Gillham Hall Room 5000
419.530.2461
ruthann.easterwood@
utoledo.edu

Staff Webpage

Interim Chair
Dr. Dale Snauwaert
Gillham Hall Room 5000-C
dale.snauwaert@utoledo.edu
Educational Psychology Program
Welcome, current students! Below you will find general information that may help you throughout your studies in the Educational Psychology program. If you have questions that are not addressed on this page, please contact the department (419-530-2461) or your advisor.
On this page:
 Program framework
_____________________________________________

Relevant Professional Associations
_____________________________________________
American Educational Studies Association
http://www.educationalstudies.org/aboutus.html
The American Educational Studies Association (AESA) was established in 1968 as an international learned society for students, teachers, research scholars, and administrators who are interested in the foundations of education. AESA is a society primarily comprised of college and university professors who teach and research in the field of education utilizing one or more of the liberal arts disciplines of philosophy, history, politics, sociology, anthropology, or economics as well as comparative/international and cultural studies. The purpose of social foundations study is to bring intellectual resources derived from these areas to bear in developing interpretive, normative, and critical perspectives on education, both inside of and outside of schools. The role of AESA is to provide a cross-disciplinary forum wherein scholars gather to exchange and debate ideas generated from the above mentioned areas. This cross-disciplinary commitment of the organization creates a landscape for the discussion of broader policy issues such as minority studies, gender studies, multicultural education, democracy, and issues of educational equality and equity. Our membership is dedicated to examining issues in education from a plurality of academic viewpoints and perspectives.
Scholarly Journals
_____________________________________________

In Factis Pax is a peer-reviewed online journal of peace education and social justice dedicated to the examination of issues central to the formation of a peaceful society - the prevention of violence, political challenges to peace and democratic societies. Social justice, democracy, and human flourishing are the core factors which highlight the importance of the role of education in building peaceful societies. We invite articles and book reviews on topics related to these central issues.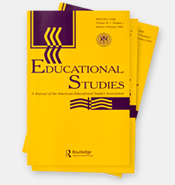 Educational Studies is a scholarly journal by the American Educational Studies Association (AESA). 
"Articles are invited that deal with issues and questions within the broad interdisciplinary field of educational foundations.  Such articles may explore, for example, questions surrounding teaching within the field of foundations, issues of discipline-based or interdisciplinary research methodologies, or significant findings from within the foundations fields. Publications will be determined by juried review. Poetry, essay, review, and submissions dealing explicitly with the social foundations classroom are also being accepted."
About the College of Graduate Studies (COGS)
_____________________________________________

Every graduate student at The University of Toledo belongs to and is monitored by the College of Graduate Studies (COGS). Students in the TSOC program must fulfill the academic requirements set forth by COGS as well as the specific requirements of the TSOC program. For this reason, current graduate students are advised to remain in contact with and use COGS as a resource throughout their studies.
Graduate Student Handbook 2012-2013: http://www.utoledo.edu/graduate/forms/Hbk_2012_2013.pdf
Main Campus
University Hall, Room: 3240
Phone: 419.530.GRAD (4723)
Fax: 419.530.4724
grdsch@utnet.utoledo.edu
About Graduate Assistantships in the Department
_____________________________________________
Graduate Assistantships are awarded to new and returning Ph.D. students, and occasionally Masters students, in the Department of Foundations of Education.  Students can first apply for an assistantship when they apply for admission to the program, or they can apply after they have become students.  There are at least three types of Assistantships:  
Regular Departmental Assistantships, are allocated annually to Colleges from the University budget, and then are divided among Programs within the College
Grant-funded Assistantships, are funded through specific grants and exist only for the duration of the grant ("soft money")
Minority Assistantships, are funded by the University for qualified applicants for their first year of study, with the promise that the Department will fund subsequent years from their allocation of Departmental Assistantships. 
Once a Ph.D. student receives a graduate assistantship in the Department of Foundations of Education (FOED), they can normally expect, but are not guaranteed, to receive assistantship support for 4 years maximum, unless their particular assistantship is tied to a specific grant ("soft money") or unless the university allocation of assistantships to the department is reduced.  That is, the Faculty in the Department are committed to supporting students long enough for them to finish their degree, unless the student is not making satisfactory academic progress or is not making the research or teaching contributions expected of a Graduate Assistant. 
Full-time Graduate Assistants are expected to work 20 hours per week (part-time, 10 hours per week) during the academic year on duties that may include teaching or assisting in teaching, participating in some phase of research being conducted by FOED faculty members, and providing general assistance to FOED faculty members (e.g., preparation of materials, administering surveys, etc.).  Graduate assistants will receive a Letter of Appointment from the Department Chairperson during the first 2 weeks of Fall semester indicating their Faculty Mentor, who will be responsible for their Graduate Assistant assignments, and the nature of their teaching, research, and/or service responsibilities.  At the end of the academic year, the Mentor will write an evaluation of the Graduate Assistant to be placed in the portfolio for review.  Upon receiving their letter, a Graduate Assistant should make an appointment with their Mentor, who will have received a copy of their letter.
For more information, please contact the department secretary at 419-530-2461.
College of Graduate Studies (COGS) Annual Fellowships, Scholarships and Awards
______________________________________________________________________

Each year, UT graduate students may apply for a fellowship, scholarship, or award given by the College of Graduate Studies. The deadline for application submissions this year is February 14th, 2014. 
Complete descriptions and criteria are located on the College of Graduate Studies website:
Fellowships and Scholarships for Prospective Graduate Students
Scholarships and Awards for Current Graduate Students
Completed applications and supporting materials must be submitted to the College of Graduate Studies on or before the deadline of February 14, 2014. 
Attention:  COGS 2014 Annual Fellowships, Scholarships and Awards
College of Graduate Studies
The University of Toledo
University Hall 3190, MS 933
2801 W. Bancroft Street
Toledo, OH  43606-3390

 Major Comprehensive Exams
_____________________________________________

Minor Comprehensive Exams
_____________________________________________

Master's Thesis Process
_____________________________________________

Ph.D. Dissertation Process
_____________________________________________

Contact the Department
_____________________________________________

Department of Educational Foundations and Leadership
5000 Gillham Hall
Mail Stop 921
Toledo, OH 43606
419-530-2461 (phone)
419-530-8447 (fax)