Yakov Lapitsky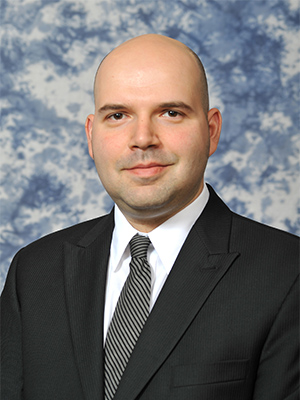 Yakov Lapitsky
Associate Professor and Graduate Director

yakov.lapitsky@utoledo.edu
Personal web site: http://www.eng.utoledo.edu/~ylapitsk/
Phone: +1 (419) 530-8254
Fax: +1 (419) 530-8086

The University of Toledo
Chemical Engineering (MS 305)
3056 Nitschke Hall
1650 N Westwood Ave
Toledo, Ohio 43606-339
Education
2006 Ph.D. Chemical Engineering, University of Delaware
2001 B.Ch.E., University of Minnesota
2001 B.S. Chemistry, University of Minnesota
Research Interests
Current Research Interests: Design, formation, characterization and application of polyelectrolyte-based soft materials: self-assembly of surfactant-polyelectrolyte mixtures, ionically crosslinked micro- and nanoparticles, gels and coacervates, directed assembly of polyelectrolyte complexes, drug delivery.
Recent advances in chemical product design, medicine and nanotechnology have ushered in a new age of "smart" materials that respond to external stimuli such as changes in pH, ionic strength or temperature, and mechanical or electromagnetic perturbations. Stimulus-responsive polyelectrolyte complexes are routinely used as building blocks for these materials and find countless applications in foods, cosmetic product formulations, controlled release, biomaterials, medical imaging, sensors, energy, and water treatment. Despite their omnipresence in today's commercial and technological landscape, however, many uses of these materials are limited by the incomplete understanding of their physicochemical properties and the design variables (both process and formulation) that control them.
To this end, our research aims to:
advance the mechanistic understanding of the molecular, colloidal and macroscopic properties of polyelectrolyte-based materials and
apply this understanding towards furthering their use in areas such as pharmaceutics and consumer product formulations.
Specifically, we are currently investigating: antibacterial surfactant-polyelectrolyte mixtures, polyelectrolyte-based particles, gels and coacervates for drug delivery, and directed assembly of "smart" polyelectrolyte complex microstructures.
Selected Publications
de Silva, U.K.; Weik, B.E.; Lapitsky, Y. Simple preparation of polyelectrolyte complex beads for the long-term release of small molecules. Langmuir 30, 8915-8922 (2014).
Lapitsky, Y. Ionically crosslinked polyelectrolyte nanocarriers: Recent advances and open problems. Curr. Opinion Colloid Interface Sci. 19, 122-130 (2014).
Huang, Y.; Lawrence, P.G.; Lapitsky, Y. Self-assembly of stiff, adhesive and self-healing gels from common polyelectrolytes. Langmuir 30, 7771-7777 (2014).
Cai, Y. Lapitsky, Y. Formation and dissolution of chitosan/pyrophosphate nanoparticles: Is the ionic crosslinking of chitosan reversible? Colloids Surf. B 115, 100-108 (2014).
Huang, Y.; Lapitsky, Y. Determining the colloidal behavior of ionically crosslinked polyelectrolytes with isothermal titration calorimetry. J. Phys. Chem. B 117, 9548-9557 (2013).
Richardson, K.E.; Xue, Z.; Huang, Y.; Seo, Y.; Lapitsky, Y. Physicochemical and antibacterial properties of surfactant mixtures with quaternized chitosan microgels. Carbohyd. Polym. 93, 709-717 (2013).
Huang, Y; Lapitsky, Y. Salt-assisted mechanistic analysis of chitosan/tripolyphosphate micro- and nanogel formation. Biomacromolecules 13, 3868-3876 (2012).
Huang, Y.; Lapitsky, Y. Monovalent salt enhances colloidal stability during the formation of chitosan/tripolyphosphate microgels. Langmuir 27, 10392-10399 (2011).
Worthen, A.J.; Lapitsky, Y. Stabilization of bioderived surfactant/polyelectrolyte complexes through surfactant conjugation to the biopolymer. Colloid Polym. Sci. 289, 1589-1596 (2011).
Wang, Y.; Lapitsky, Y.; Kang, C.E.; Shoichet, M.S. Accelerated release of a sparingly soluble drug from an injectable hyaluronan-methylcellulose hydrogel. J. Controlled Release 140, 218-223 (2009).
Ho, K.; Lapitsky, Y.; Shi, M.; Shoichet, M.S. Tunable immunonanoparticle binding to cancer cells: Thermodynamic analysis of targeted drug delivery vehicles. Soft Matter 5, 1074-1080 (2009).
Lapitsky, Y.; Parikh, M.; Kaler, E.W. Calorimetric determination of surfactant/polyelectrolyte binding isotherms. J. Phys. Chem. B 111, 8379-8387 (2007).