Dr. Sreeprasad T. Sreenivasan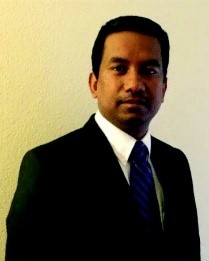 Contact Information
Research Assistant Professor
Dept: Polymer Institute/CMSC
Email: Sreeprasad.sreenivasan@utoledo.edu
Office: 1470 B NE
Phone: 419-530-5007
Research Assistant Professor
CONTACT INFORMATION
Polymer Institute
Mail Stop 401
The University of Toledo
2801 W. Bancroft St.
Toledo, OH 43606 
Tel: (419) 530-5006
Office: NE 1470B
E-mail: Sreeprasad.Sreenivasan@UToledo.Edu
RECENT COURSES
CHEE 6860/8860- Polymer Laboratory Methods
RESEARCH INTERESTS
Nanotechnology
Sustainability
Sensors
Two-dimensional materials
Environmental Monitoring and Remediation
Polymers
CURRENT STUDENTS
BIOGRAPHY
Dr. Sree received the BS and MS. degree in Chemistry from India and completed his Ph.D. from Indian Institute of Technology (IIT) Madras, India. After Postdoctoral terms at Rice University and Kansas State University, we worked as a research scientist at Clemson University International Center for Automotive Research (CUICAR). He is currently a research assistant professor in the Polymer Institute at the University of Toledo. His primary research interests are in materials science and nanotechnology, with a focus on two-dimensional (2D) quantum structures. He has authored more than 50 research articles and is a Co-inventor is two Patents and six patent applications. His articles are highly cited (total citation >2500, h-index 26) and have five funded grant proposals. His current research focus is on devising unique pathways to design 2D quantum structures, engineering their properties, and leveraging them for energy and environmental applications.
RECENT PUBLICATIONS
Che, S., Jasuja, K., Behura, S., Nguyen, P., Sreeprasad, T. S., & Berry, V. (2017), "Retained Carrier-Mobility and Enhanced Plasmonic-Photovoltaics of Graphene via ring-centered η6 Functionalization and Nanointerfacing", Nano Letters 17, 4381–4389
Xu, Q., Wei, J., Liu, Y., Su, R., Zhangu, L., Li, N., Gu, Z., Chen, Y., Dong, C., $ Sreeprasad, T. S. (2016), "Highly fluorescent Zn-doped carbon dots as Fenton reaction-based bio-sensor: An integrative experimental-theoretical consideration", Nanoscale 8, 17919-17927.
Shikai, D., Gao, E., Wang, Y., Sen, S., Sreeprasad, T. S., Behura, S. , Král, P., Xu, Z., & Berry, V. (2016), "Confined, Oriented and Electrically Anisotropic Graphene Wrinkles on Bacteria", ACS Nano 10, 8403–8412.
Sreeprasad, T. S., Nguyen, P., Alshogeathri, A., Hibbeler, L., Martinez, F., McNeil,   N., & Berry, V. (2015), "Graphene Cytobot: Single Spore Hydraulics for Electron-Tunneling Modulation between Quantum Dots for Biomechanical Applications", Scientific Reports (Nature Publications) 5, 9138.
Sreeprasad, T. S.; Nguyen, P., Kim, N. & Berry, V. (2013), "Controlled, Defect-Guided, Metal-Nanoparticle-Incorporation onto MoS2 via Chemical and Microwave Routes: Electrical, Thermal, and Structural Properties", Nano Letters 13, 4434–4441