Accreditation
An accredited program is a quality program. Accreditation is a formal peer-review process that assures the quality of the education students receive. Educational institutions or programs volunteer to undergo a periodic review to determine if certain criteria are being met. It is important to understand, however, that accreditation is not a ranking system. It is simply assurance that a program or institution meets established quality standards.
There are two types of accreditation - institutional and specialized. Institutional accreditors, such as those referred to as "regional" accreditors, examine the college or university as a whole educational institution. [e.g., The University of Toledo has regional accreditation with the Higher Learning Commission of the North Central Association of Colleges and Schools (NCA) - one of six such Associations nationally. See the Council for Higher Education Accreditation (CHEA) web site.] The Higher Learning Commission accredits to degree-granting educational institutions in the North Central region: Arkansas, Arizona, Colorado, Iowa, Illinois, Indiana, Kansas, Michigan, Minnesota, Missouri, North Dakota, Nebraska, Ohio, Oklahoma, New Mexico, South Dakota, Wisconsin, West Virginia, and Wyoming.
Specialized accreditors evaluate specific educational programs. Professional accreditors, such as those for medicine, law, architecture and engineering, fall into the "specialized accreditation" category. The Accreditation Board for Engineering and Technology (ABET) is a professional accrediting organization that accredits individual programs rather than entire institutions. As a matter of long-standing practice, all programs in the College of Engineering are accredited by ABET, Inc. (http://www.abet.org), the programmatic accreditation body for engineering, engineering technology, computing and applied sciences.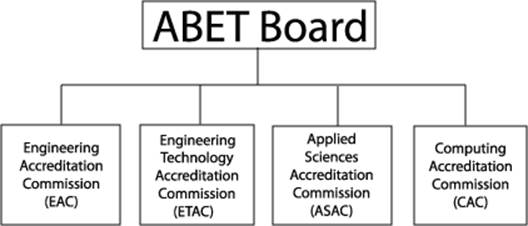 As shown in the diagram, ABET includes four accreditation commissions, each concerned with the accreditation of different categories of programs. The Engineering Accreditation Commission (EAC) accredits engineering programs, the Engineering Technology Accreditation Commission (ETAC) accredits engineering technology programs, the Applied Science Accreditation Commission (ASAC) accredits programs in the field of higher technical education with close practical and academic ties to engineering or applied science, and the Computer Accreditation Commission (CAC) accredits computer science, information systems and information technology programs.
All four of the engineering technology programs of study offered by the ET Department (CSET, CET, EET and MET) are accredited by the Engineering Technology Accreditation Commission (ETAC) of ABET, http://www.abet.org/. The CSET and IT programs are accredited by the Computing Accreditation Commission (CAC) of ABET, http://www.abet.org/.
It is also worth noting that, since the Information Technology program is jointly offered by the College of Engineering and the College of Business Innovation, this program has dual accreditation. Not only is the Information Technology program CAC/ABET accredited, it is also covered by the accreditation for the College of Business Innovation, AACSB International - The Association to Advance Collegiate Schools of Business. AACSB accreditation reviews entire colleges and universities and awards specialized accreditation for professional programs and academic units in particular fields of study. At UT, AACSB accreditation covers the entire College of Business Administration.
Programs of study housed in the other five departments of the College are traditional engineering programs and are accredited by the Engineering Accreditation Commission (EAC) of ABET. One of these programs, the Computer Science and Engineering (CSE) program, holds dual accreditation from both EAC and CAC.
For more information about the accreditation of programs, the purposes and benefits please consult the 
ABET Website
.