Douglas L. Oliver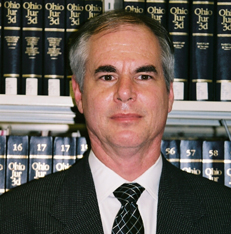 Biography
Research Interests
Recent Publications
Course Information
BIOGRAPHY
Dr. Oliver has a wide range of intellectual interests.  He received his Bachelors in Mathematics in 1978 from the University of Washington, and his Ph.D. in Mechanical Engineering  from Washington State University in 1985. More recently he graduated cum laude and third in his class from the University of Toledo's law school (2003).
During the 2008-09 Dr. Oliver was a Science and Technology Fellow of the AAAS (Amer. Assoc. for the Advancement of Science) assigned to the National Science Foundation.
His publications and research work have covered a very broad range of topics from fluid mechanics to vibration theory and from heat transfer to tax policy.  He has practical experience in the nuclear energy field at the Hanford Atomic Reservation.
He has been awarded the University of Toledo Outstanding Teacher Award for 2003.  This award is conferred to less than 1% of UT's faculty each year.  In 2004, he was award a "Best Paper Award" from the ASCE's Journal of Professional Issues in Engineering Education and Practice – Legal Issues Division.
RESEARCH INTERESTS
Legal Aspects of Engineering, Applied Mathematics, Heat Transfer, Fluid Mechanics, Micro-gravity Bubble and Droplet Fluid Mechanics.
RECENT PUBLICATIONS
Recent Journal and Law Review Articles
Oliver, Douglas L., 2009, "Engineers and White Collar Crime." ASCE's Journal of Legal Affair and Dispute Resolution in Engineering and Construction, pp 32-39, n 1, vol. 1.
Oliver, Douglas, 2008. "Quality fade and Ohio product liability law", Ohio Bar Association Ohio Lawyer, July/August 2008 Issue, pp 18-22
Souccar, Adham and Douglas Oliver, "Transfer From a Droplet at High Peclet Numbers with Heat Generation: Interior Problem. To appear in the May, 2007 ASME Journal of Heat Transfer
Oliver, Douglas and Adham Souccar, 2006, "Heat Transfer From a Translating Droplet at High Peclet Numbers: Revisiting the Classic Solution of Kronig & Brink".  ASME Journal of Heat Transfer, vol. 128, n 7, pp 648-52
Andersen, Roger and Douglas Oliver, 2004.  "Communicating Clearly:  Showing Dispository Preferences with Flowcharts". Okalahoma City University Law Review, vol. 29, n 2, pp. 559-568 (2004).
Oliver, Douglas, 2003. "The Whistle-Blowing Engineer" pp 246-256 of ASCE's Journal of Professional Issues in Engineering Education and Practice, Oct. 2003.
Oliver, Douglas, 2002. "A New Line for an Old Tax: Ohio's Use Tax on Individuals"  33 University of Toledo Bar Review, Spring 2002, pp. 621-643.
Recent Conference Papers
Oliver, Douglas, "Whistle-blowing by Engineers and Reverse Whistle-blowing on Engineers." Presented at the ASEE Annual Conference in Austin, TX. (AC 2009-2529) June, 2009.
Fayerweather Carl, Sorin Cioc, and Douglas Oliver, Power Plant Proposal and Feasibility: A Student Project for a Thermodynamics Course.  Provisionally accepted for the ASEE Conference – Chicago, June 2006.
Oliver, Douglas L.  "Legal and Ethical Considerations of Whistleblowing for Engineers".  ASME Int. Mechanical Eng. Cong. Nov. 5-11, 2005.  Orlando Florida.
Public and Professional Interest
Ohio doesn't need any more Third Frontier debt
NASA, Columbia, and the Engineering Profession in the NSPE's Engineering Times.
Should Out-Of-State Master's Students Come Before Ohio's Undergraduates?
COURSE INFO
MIME 6100 Engineering Analysis II