Exercise Biology Lab
Principal Investigators
Our research focuses on the cellular and molecular processes that restores structure and function to skeletal muscle injured by physical activity and disease, and that facilitate muscle growth/hypertrophy after increased muscle use (e.g., resistance exercise). In particular, we seek to identify mechanisms through which components of the inflammatory response augment muscle repair/regeneration and muscle hypertrophy. Findings from our laboratory have identified a novel mechanism through which the inflammatory response regulates growth processes in skeletal muscle by demonstrating that adhesion molecules of the inflammatory response are critically important in restoring and enhancing the structure and function of skeletal muscle. Results from our studies will help define novel therapeutic targets that restore structure and function to injured muscles, and facilitate the maintenance and/or growth of skeletal muscle, particularly in older individuals and those with inflammatory muscle disease. Dr. Pizza's research is currently funded by the National Institutes of Health.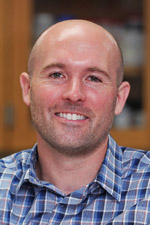 Tom McLoughlin, PhD

Dr. McLoughlin's research focuses upon the study of the molecular regulation of skeletal muscle growth and the maintenance of skeletal muscle mass associated with physical activity and inactivity.    Specifically, forkhead (FoxO) proteins constitute a sub-family of winged-helix transcription factors (i.e. FoxO1, FoxO3, and FoxO4) responsible for maintaining cell survival, growth, and metabolic regulation.   Currently, our research team is investigating the contribution of FoxO1 in regulating the interplay between skeletal muscle growth and metabolic flux using both cell culture and rodent models.  
Exercise Biology Laboratories
Exercise Biology Laboratories are on the first floor of the Health and Human Services Building located on the Main Campus of The University of Toledo.  The Exercise Biology Laboratories consist of two large analytical labs, an Animal Facility, a Cell Culture Lab, and a Microscopy Lab.  

Analytical Labs
The analytical labs contain the following major pieces of equipment:
Ultra-low temperature freezers

Tissue homogenizers (e.g., magnet bead homogenizer and cell sonicator)

Leica Cryostat

Microplate spectrophotometer

Gel electrophoresis units

Wet and semi-dry transfer units

LI-COR's Odyssey Infrared Imaging System

Applied Biosystem's Real-time PCR System
Animal Facility
The animal facility contains a cage washing room, a surgical suite, and housing areas. The surgical room contains computerized equipment for assessing contractile properties of rodent skeletal muscle in situ and in vitro, dissecting microscopes, necropsy table, a laminar flow hood for sterile surgeries, scales, and surgical supplies. 
Cell Culture Lab
The Cell Culture Lab contains two biological class II safety cabinets, a Flex Cell Strain Unit, two CO2 incubators, a refrigerator, a freezer, a cytospin centrifuge, microscopes, an autoclave, and liquid nitrogen storage drawers.
Microscopy Lab
The Microscopy Room houses an Olympus IX-70 microscope equipped with phase contrast, Nomarski optics, epifluorescence, and
a digital camera.The stage of the microscope is motorized and controlled by imaging software. When interfaced with an environmentally controlled incubation chamber, the microscope can be used for time lapse imaging of live cells
Research Team - Graduate Students
Nicole Dier
Nicole graduated from Olivet Nazarene University in 2013 with a B.S. in Exercise Science. While there, she played varsity basketball all four years. She is currently working towards her Doctor of Philosophy in Exercise Science under Dr. Tom McLoughlin.
Olivia Porter
Olivia graduated from the University of Cincinnati in 2014 with a BS in Exercise and Movement and is currently working on her Doctor of Philosophy in Exercise Science. She is a teaching assistant for the Kinesiology Department and works under Dr. McLoughlin in the Exercise Biology Laboratories.  Outside of school, she loves coaching swimming, and playing with her dog Ruxin!

Shannon Novin
Shannon Novin obtained her Bachelors of Science in Exercise Science in 2014 from the University of Toledo.  Continuing her education in Toledo, she is currently pursuing her Masters of Science in Exercise Physiology and is expected to graduate May 2016. She will be then move on to Ohio University to obtain her Doctorate of Osteopathic Medicine at Ohio University to complete her life-long goal to be a physician. 
Professional & Research Interests: ICAM-1 homophilic binding, access to care, rural and urban care.
Maria Torres-Palsa

Maria is a Licensed Physical Therapist and a graduate from the DPT program at UT in 2011.  She works at Flower Hospital in the acute and inpatient rehab setting.  She sees an array of patient cases, including orthopedic and neuromuscular conditions.  She has a Bachelor of Science degree in Biology from Belmont Abbey College, North Carolina.  She is currently working towards her PhD in Exercise Science with a focus in Exercise Biology.  Specifically, she is interested in looking at the regeneration process in skeletal muscle.  Currently, she is investigating the expression of a specific protein of the inflammatory process, intercellular adhesion molecule-1 (ICAM-1) and its role in skeletal muscle regeneration in a disease and injury state.  She has been teaching undergraduate Anatomy and Physiology Labs at UT since 2009, and also assisting with different Physical Therapy graduate courses.  In the Fall of 2015, she started teaching Neuro-muscular and Pathological Foundations of Rehabilitation class for undergraduates who are interested in pursuing a degree and career as Physical and Occupational Therapists.