Learn from faculty members and put into action what is learned in the classroom while earning course credit - there are even opportunities to earn some money. Learn more.
Internships and co-ops offer Honors students valuable work experience, and we are here to help connect you with the right position. 
Learn more.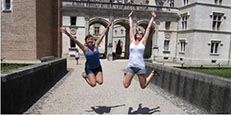 Broaden your horizons through short-term summer programs that are faculty-led, inter-term student programs, and semester or year-long programs. Learn more.
The Center for Experiential Learning and Career Services works to connect students to meaningful learning experiences and assists them with determining a major as well as career exploration. Learn more.
The Office of Student Involvement & Leadership seeks to build community and is committed to providing students with opportunities for involvement that will enhance and complement your UT experience. Learn more.