1L Lindsey Self Presents TEDx Talk on Unconscious Behaviors in Corporate Culture
December 19, 2017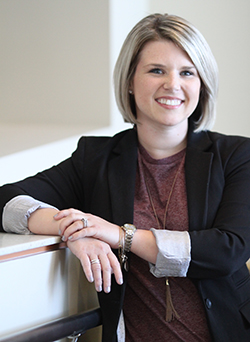 On September 21, 2017, Lindsey Self (1L) spoke at TEDxToledo about unconscious bias, gender inequality, and women's empowerment. In her inspiring presentation, Self discusses the impact of unconscious gender bias in the workplace, which can influence our own actions and decisions.
"My daughter motivated this talk. Raising children is the most difficult thing I've done in my life, and I'm only four years in," says Self. "In particular, raising a little girl has provided an entirely unique set of hurdles to overcome. While teaching my daughter about self-esteem, confidence, and knowing her worth, it became glaringly obvious that many adult women struggle with the same ideas. The research supported my observations and I felt an obligation to share those findings in hope to begin a conversation within our community."
As a mother of two, Self is passionate about being a role model for her children. She is an active diversity and inclusion advocate, spending much of her time assisting underserved communities. Before starting law school, she partnered with ABLE (Advocates for Basic Legal Equality)—a non-profit firm that provides legal assistance to low-income residents.
Self, a global talent acquisition analyst at First Solar, is a part-time evening student at Toledo Law. She is pursuing a JD degree with a focus on labor and employment law. She lives in Perrysburg with her husband, Brian, and two young children, Vivian and Connor.
This talk was presented at TEDxToledo. Learn more at tedxtoledo.com/lindseyself.