Professor Benjamin Davis Honors Martin Luther King, Jr. Through ABA Conference Presentation in Washington, DC
April 26, 2018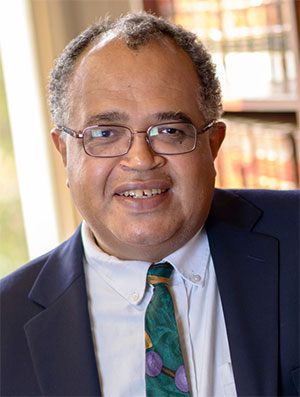 Professor Benjamin G. Davis recently chaired the annual spring conference of the American Bar Association (ABA) Section of Dispute Resolution on April 4-7, 2018 in Washington, DC. The conference theme was "Dispute Resolution in Complex Times." This year marked the 20th year of the conference. It was held on the 50th anniversary of the assassination of Martin Luther King, Jr., which signified another tumultuous period in American history.
The conference included over 90 educational programs led by national experts on arbitration, negotiation, mediation and dispute resolution. Virginia Senator Tim Kaine, a former civil rights lawyer, led a session on negotiation in the government. Professor Davis also presented a session entitled, "Martin Luther King, Jr.: Why We Can't Wait." The presentation charted the history of the American civil rights movement and nonviolent activism from the 1900s to present day.
"It was essential to honor Martin Luther King, Jr. as part of a conference on dispute resolution," said Professor Davis. "Dr. King spoke and wrote about the use of dispute resolution in his work in the civil rights eras. Moreover, during integration back in 1968 when I was 12, integrating society in that generation was supposed to overcome all the social ills of racism in that generation. I was 12 then and I am 62 today and I can see that view was possibly too optimistic."
From a personal perspective, Davis' parents knew Dr. King and his father had been at the original 1963 March on Washington and Selma in 1965. During his conference presentation, Davis shared rare photos of Dr. King taken in the 1950's by his father. Davis' mother called in while the photos were on screen and was put on speakerphone to join the dispute resolution conversation. At the time of King's assassination, Davis' father, Griffith J. Davis, was working as a deputy chief education advisor with United States Agency for International Development (USAID) in Lagos, Nigeria. Upon hearing the news of King's death, he wrote a personal tribute that was delivered at a memorial service on April 9, 1968 at the First Baptist Church in Lagos.
Professor Davis currently serves as chair for the ABA Section of Dispute Resolution and teaches at The University of Toledo College of Law in the areas of contracts, alternative dispute resolution, arbitration, public international law, and international business transactions. He created the Guantanamo Military Commission Human Rights Observer Program at The University of Toledo and received the university's Outstanding Teacher Award in 2016. Davis earned his bachelor's degree from Harvard College and joint graduate degree from Harvard Law School and Harvard Business School (JD/MBA).
Prior to joining the faculty at the university, Davis was an associate professor at Texas Wesleyan University School of Law (now Texas A&M University School of Law). He worked as a legal counsel for the International Court of Arbitration of the International Chamber of Commerce in Paris, France during the 80's and 90's and prior to that as first a development consultant in West Africa and later as a strategic business consultant. He is the creator of both fast-track international commercial arbitration and the International Competitions for Online Dispute Resolution, where students from around the world compete in online negotiation, mediation, arbitration, and litigation for free.