Toledo Law Student Mark Fadel Wins Two National Writing Competitions for Health Law Research
March 23, 2018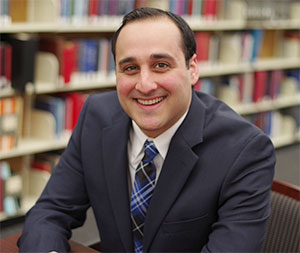 Toledo Law joint degree (JD/MD) student, Mark Fadel, won first place in both the American College of Legal Medicine and the Epstein Becker Green Health Law writing competitions.
Fadel was named the Hirsh Award Winner in the American College of Legal Medicine (ACLM) Student Writing Competition. The ACLM is the preeminent national organization for law and medicine. As the first-place winner, Fadel presented his research for "360 Years of Measles: Limiting Liberty Now for a Healthier Future" at the ACLM 2018 Annual Meeting in Charleston, South Carolina in February.
"State-based school immunization laws form the bedrock of compulsory vaccination efforts in the United States," said Fadel. "However, a spectrum of these mandates permitting exemptions exists and has been shown to contribute to measles incidence. My goal in this research is to show how the permissiveness of these laws drives medical outcomes, and how different laws produce different population health statistics during outbreaks."
Fadel also won first place in the Epstein Becker Green Health Law Writing Competition for a different paper, "Insurance Practices and Disparities in Access to Assisted Reproductive Technologies." His second article focused on variation in state laws related to insurance coverage for infertility treatments and the disparities between groups able to access such procedures.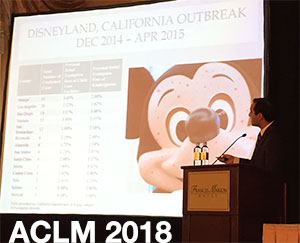 "Mark's work exemplifies the power of our joint-degree curriculum," said Associate Professor Elizabeth McCuskey, who co-directs the University's JD/MD and JD/MPH joint degree programs. "His legal education informs his perspective on health care, and his medical education informs his perspective on law as a health care intervention. Interdisciplinary work is essential to health care regulation and reform, and Mark is poised to be among the next generation of health care leaders. I am so pleased that Mark's work has attracted national attention from top practitioners in both fields. It is well-deserved."
Fadel was recently accepted to present his insurance disparities research at the 41st Annual Health Law Professors Conference in Cleveland, Ohio in June 2018. His research paper was also accepted for publication in the Florida Coastal Law Review, forthcoming Summer 2018.