Toledo Law Team Wins Best Respondent's Brief Award at Evans Constitutional Law Moot Court Competition
March 30, 2018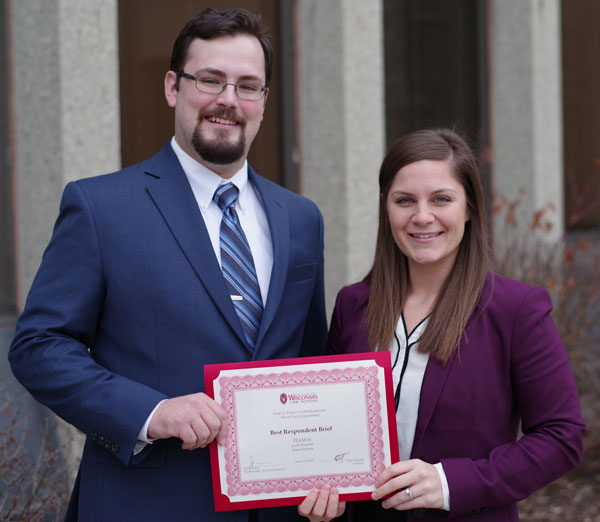 Toledo Law students, Jenna Anthrop and Jake Westfall, won the award for Best Respondent's Brief at the Evan A. Evans Constitutional Law Moot Court Competition. The competition took place March 2-4, 2018 at the University of Wisconsin Law School in Madison, Wisconsin.
The Evans Competition focuses on constitutional law. Moot court teams draft a brief and present oral arguments as they would before the Supreme Court. This year's topic addressed the Second Amendment. The case involved two state laws that regulate the possession of firearms. The first law prohibited undocumented immigrants from possessing firearms. The second prohibited all public carry of a firearm unless the individual could show a unique and compelling need to carry in public.
Anthrop and Westfall competed against twenty-six teams. Each team argued three preliminary rounds. Rounds were scored by panels of attorneys and judges from state and federal courts. Scores were based on a combination of each team's brief and argument. The Toledo Law moot court team advanced to the octofinals, among the best sixteen teams in the competition.
The team was coached by faculty advisor, Professor Bryan Lammon. Moot Court Chair Nancy Magginis also served as an advisor along with several Toledo Law faculty members, who helped the team practice oral arguments in the weeks leading up to the competition.
"We are especially proud of Jenna and Jake's Best Respondent's Brief award," said Professor Lammon. "They worked extremely hard under some intense pressure, and they produced an excellent brief. Writing is an essential skill for lawyers, and good writing stands out. Jenna and Jake are well on their way to being top-notch legal writers."