April Johnson Named Patrick M. Burns Memorial Outstanding Clinical Student
May 17, 2019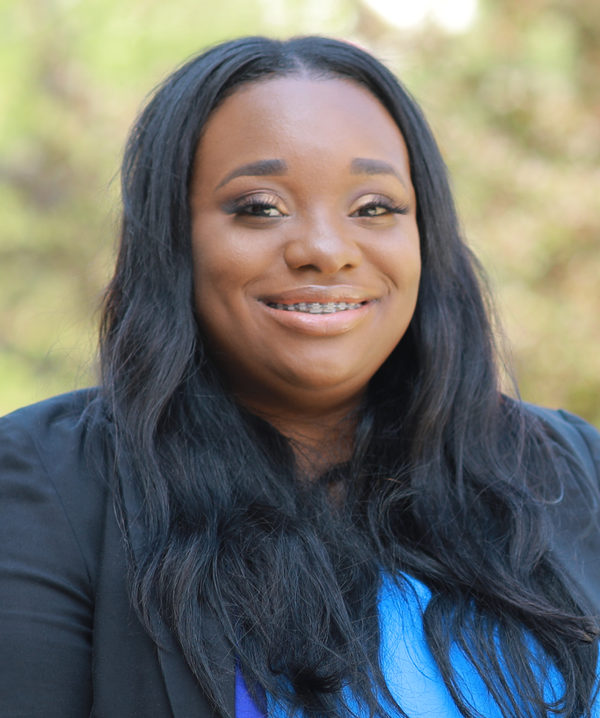 April Johnson '19 was the recipient of the Patrick M. Burns Memorial Outstanding Clinical Student Award last month. The award is given each year to a law student who has provided outstanding public service through participation in one of our legal clinics at The University of Toledo College of Law.
Students are selected by the clinical faculty for going above and beyond in clinical work that benefits clients or communities in need. The student must demonstrate outstanding advocacy, effective law reform work, and creative problem-solving.
During her time at Toledo Law, Johnson's clinical work was exceptional. Along with other law students, Johnson represented an incarcerated individual in a civil rights claim involving retaliation for exercising his First Amendment rights. She represented a Saudi Arabian man seeking political asylum because of his public demonstrations on behalf of a religious minority in Saudi Arabia. She also represented a Vietnamese woman, who spoke no English and was being abused by her husband.
As the lead student on a pivotal parental rights case at the Ohio Supreme Court, Johnson was the primary author on all pleadings. She worked with members of Toledo City Council to research and strategize about policy issues relating to land use, drug addiction, and labor rights. She also helped establish two non-profit organizations in Toledo that seek to help minority residents.
Professor Rob Salem, associate dean for diversity and inclusion and clinical professor of law, worked closely with Johnson for two consecutive semesters. "I will miss her humility and sense of humor," said Salem. "She was often seen helping other students with their work even though she was swamped with her own assignments. She's a genuinely giving and compassionate person."
Johnson is a first-generation graduate student from Chicago. She earned her bachelor's degree in social work from The University of Toledo and graduated summa cum laude from Toledo Law on May 5, 2019. She was first in her class of May graduates. At commencement, she received the Dean's Award, which honors the graduating student who made the most significant contribution to the college while maintaining high academic performance. She also served as the commencement student speaker.
At Toledo Law, Johnson was actively involved in both the Black Law Student Association (BLSA) and The University of Toledo Law Review. Her legal areas of interest include criminal law, civil rights law, and business and tort litigation. Her long-term career goal is to be a state Supreme Court judge or a U.S. district court judge. Following graduation, Johnson will complete a one-year federal clerkship with Judge Solomon Oliver Jr. in the U.S. District Court for the Northern District of Ohio. She will begin work as an associate at Jones Day in Cleveland in fall 2020.
"My clinical experience played an essential role in my success in law school and, more broadly, increased my knowledge and understanding of the legal profession," said Johnson. "It fostered my confidence in my advocacy skills and client communications and strengthened my legal writing ability. Having the opportunity to take the lead on substantive legal matters, under the supervision of such an experienced attorney—Professor Salem—is incomparable to any other law school course. I am grateful to have had this opportunity because the practical and professional skills that I have developed will benefit me as I start my legal career." 
The outstanding clinical student award is sponsored by the Patrick Burns Memorial Fund for Public Interest Law. The fund was created in 2008 by Lawrence J. Burns in memory of his brother, Patrick Burns, a lawyer committed to public interest work. The award has been given to 16 law students since its inception.