Andrew Meszaros, PhD

Andrew Meszaros, PT, PhD

Assistant Professor; College of Medicine, Department of Neuroscience

Office: Block Health Sciences Building, Room 120G         

Tel: +1.419.383.6439
Fax: +1.419.383.3008
 

Email:  andrew.meszaros@utoledo.edu

"The way to love anything is to realize that it may be lost." -- GK Chesteron
Education:
BS, 1988, Bowling Green State University
PhD, 1998, University of Iowa (Rich Shields)
NIH post-doc, 1999, Iowa Injury Prevention Research Center (Thomas M. Cook)

Positions (recent):
2000-2003, West Virgina University, School of Medicine, Department of Human Performance
2005-2009, University of Toledo, Department of Physical Therapy; Director, CHSHS Neuromuscular Physiology Lab
Positions & Memberships (current):
Assistant Professor, University of Toledo, College of Medicine, Department of Neurosciences
Adjunct Assistant Professor, University of Toledo, Department of Kinesiology
Member, University of Toledo E-CORE (Engineering Center for Orthopaedic Research Excellence)
License: Physical Therapy, State of Ohio; 1999- 2001, 2004-present 
Memberships:  Society for Neuroscience; American Association of Clinical Anatomists; Polanyi Philosophical Society
Manuscript reviewer: Journal of Applied Physiology; Journal of Neurophysiology; Journal of Orthopedic & Sports Physical Therapy; International Journal of Physiotherapy; Sports Biomechanics
Teaching Areas:
Gross Anatomy
Neuroscience
Biomechanics
Laboratory:  "Neuromechanics" - Block Health Science Building, 1st floor
Honors:
Mary Lou Barnes Award (APTA)
Mary McMillan Award (APTA)
keynote speaker, commencement: West Virginia University, School of Medicine; "Human Dignity and Disability"
Dean's Award for Excellence in Graduate Teaching, 2010
Fulbright Scholar, US Department of State, 2011
Research Interests:
The lab is broadly interested in understanding the tacit dimension of human movement through neuromechanics. "Neuromechanics" is a highly integrative scientific approach that "seeks to understand how muscles, sense organs, motor pattern generators, and brain interact to produce coordinated movement" (Nishikawa et al, 2007).  The "tacit dimension" refers to the significant portion of movement that occurs without any voluntary/conscious direction (i.e. anticipatory muscle synergies; short-/long-latency reflexes; initiation of movement) (Prochazka et al, 2000).  Focus is placed on two major questions:  (A)  How does the nervous system sense changes in the mechanical properties of tissue (muscle, ligament, mucosa, etc), and what subsequent alterations are made to motor planning, execution, and coordination?  (B)  How do sensory and motor circuits modulate each other?  Given the multi-factorial nature of this work, non-linear analytic techniques are important.  Several lenses are being used to parse these issues: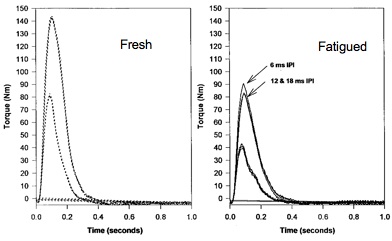 (1) .. the persistent effects of exercise-induced muscle fatigue, particularly as it relates to nervous system sensorimotor interactions during local muscle excitation-contraction coupling problems ("metabolic low-frequency fatigue" or "LFF").
Current funded research in the lab is examining the effects of LFF on arm and back muscle coordination.
(2) .. the manipulation of cutaneous and proprioceptive sensory input to achieve a desired motor output. 
This manipulation can occur either intentionally (i.e. through rehabilitation approaches such as "neuromuscular training", NDT, or PNF) or unintentionally (i.e. sensorimotor alterations that occur through peripheral nerve damage and ligamentous instability).
(3) .. the shared neural control that exists between manual gestures (hand/arm movements) and vocal language.  
Higher order cognition influences - and is influenced by - hand and arm motor control.  This connectedness, coupled with the fact that movement is self-organizing and emergent, suggests that communication science (speech therapy) and movement science (physical therapy) share a set of applied neural organizing principles.  Exploration of this common ground may yield benefits for both therapies given the emergent properties of movement.
(4) .. epistemology -- how we "know" movement and communication.  
The strictly Cartesian view of knowledge that has dominated Western science and philosophy for hundreds of years is becoming a hindrance on some frontiers in neuroscience.  The lab is interested in engaging the important philosophical questions that follow (or precede) the scientific examination of "voluntary" movement's deceptively "involuntary" nature.  The ground-breaking work of epistemologist Michael Polanyi has been extraordinarily helpful in this regard.  Important insights into the neuroscience of action, language, mind, and knowledge are to be harvested from his philosophy of tacit integration and its subsequent rebuff of reductionism.  Polanyi's epistemology is being used to develop a novel framework for conceptualizing the neural organization of movement.
Collectively, the aforementioned topics have application to injury prevention, communication science, training, and performing arts medicine.
Research Techniques: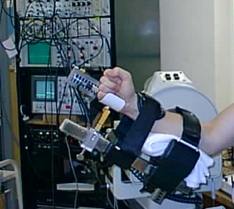 We emphasize a "systems" approach to understanding human movement. The laboratory is interdisciplinary, with contributions from faculty and graduate students in the Departments of Kinesiology, Bioengineering, and Physical Therapy at UT, as well as the College of Medicine. Our current laboratory techniques correlate physiologic changes that occur locally in muscle (i.e. mechanical properties; potentiation) with simultaneous changes that occur in the nervous system (i.e. motor unit recruitment; reflexes; changes in spinal cord excitability; etc). These physiologic measures are then examined against various motor performance variables. Equipment includes indwelling and surface electromyography, a computer-controlled electric stimulator, a wide variety of human movement transducers (multi-access accelerometers, load cells, force plate, electrogoniometry, etc.), database tools, and a computer-controlled isokinetic dynamometer. Our anatomic studies use gross dissection and histological techniques (i.e. the Sihler Method) to compliment the lab's physiologic questions.
Recent Activity:
Fulbright fellow, US Department of State and Republic of Hungary. (2011)
"Polanyi and Lundberg: Rethinking Neuromotor Control."  Invited presentation.  Department of Philosophy and Department of Cognitive Science.  Budapest University of Technology and Economics (BME).  Budapest, Hungary.  May, 2011.
"Neuromuscular Fatigue: Implications for Injury and Rehabilitation."  Invited presentation.  College of Health Science, University of Szeged, Hungary.  May, 2011.
Quatman-Yates CC, Quatman CE, Meszaros AJ, Paterno MV, Hewett TE. A systematic review of sensorimotor function during adolescence: a developmental stage of increased motor awkwardness? Br J Sports Med. 2011 Apr 1. [Epub ahead of print] PubMed PMID: 21459874.  [New York Times piece about this article's findings]
Meszaros AJ, Iguchi M, Chang SH, Shields RK. Repetitive eccentric muscle contractions increase torque unsteadiness in the human triceps brachii. J Electromyogr Kinesiol. 2010 Aug;20(4):619-26. Epub 2010 Jan 13. PubMed PMID:20060317; PubMed Central PMCID: PMC2875352.
Meszaros A. "Sensorimotor Manipulation in Therapeutic Exercise - 30 Years of Fooling Ourselves." Invited speaker - OPTA Symposium: "The Science of Exercise Prescribed by a Physical Therapist". March, 2009.
Meszaros AJ and Quatman C.  "Tacit knowledge and the deception of human movement." Polanyi Philosophical Society, International Meeting: Personal Knowledge at 50 Years."  Loyola University, Chicago, IL.  June 2008.  
National Theatre, Szeged, Hungary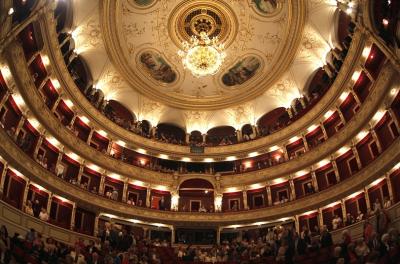 Useful Links:
OhioLINK e-Journals
UT e-Journals
UT Iliad ILL