Robert E. Mrak, M.D., Ph.D.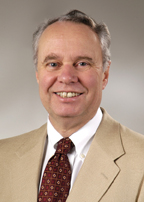 Professor and Chairman
University of Toledo Health Sciences Campus
Department of Pathology, MS #1090
3000 Arlington Avenue
Toledo, Ohio 43614-2598
Phone:  419-383-3469
Fax:  419-383-3066
E-mail:  Jillian.Kindler@utoledo.edu

Medical Education and Training:

    M.D. University of California at Davis
    Ph.D. University of California at Davis
    Resident in Anatomic Pathology, Vanderbilt University Affiliated Hospitals
    Postdoctoral Fellow in Pathology and in Molecular Biology, Vanderbilt University

Extramural Activity:

    Editor-in-Chief, Journal of Neuroinflammation (www.jneuroinflammation.com)

Board Certification:

    American Board of Pathology, Anatomic Pathology
    American Board of Pathology, Neuropathology

Clinical Interests:

    Residency Director
    Surgical neuropathology
    Autopsy neuropathology
    Neuropathology of dementia
    Diagnostic nerve and muscle biopsies

Research Interests:

    Glial inflammatory processes in chronic neurodegenerative diseases

Representative recent publications: 

    Thal DR, Papassotiropoulos A, Saido TC, Griffin WST, Mrak RE, Kölsch H, Tredici KD, Attems J, Ghebremedhin E:  Capillary cerebral amyloid angiopathy identifies a distinct APOE e4-associated subtype of sporadic Alzheimer's disease.  Acta Neuropathol 120: 169-183, 2010.
    Funk KE, Mrak RE, Kuret J: Granulovacuolar degeneration bodies of Alzheimer's disease resemble late-stage autophagic organelles. Neuropathol Applied Neurobiol 37:295-306, 2011.
    Liu L, Aboud O, Jones RA, Mrak RE, Griffin WST, Barger SW: Apolipoprotein E expression is elevated by interleukin 1 and other interleukin 1-induced factors. J Neuroinflamm 8:175, 2012.
    Aboud O, Mrak RE, Boop F, Griffin WST: Apolipoprotein epsilon3 alleles are associated with indicators of neuronal resilience. BMC Medicine 10:35, 2012.  
    Mrak RE. Microglia in Alzheimer brain: a neuropathological perspective [Invited review]. Int J Alzheimer Dis 2012:165021.
    Aboud O, Mrak RE, Boop FA, Griffin ST. Epilepsy: neuroinflammation, neurodegeneration, and Apolipoprotein E genotype. Acta Neuropathologica Commun 1:41, 2013
   Thal DR, von Arnim C, Griffin WST, Yamaguchi H, Mrak RE, Attems J, Upadhaya AR.  Pathology of clinical and pre-clinical Alzheimer's disease.  Eur Arch Psych Clin Neurosci 263 (Suppl 2):S137-145, 2013
   Chen Y, Neve RN, ZHeng H, Griffin WTS, Barger SW, Mrak RE.  Cycle on wheels:  Is APP key to the AppBp1 pathway?  Austin Alzh Parkinson Dis 1(2):7, 2014.