Robert E. Mrak, M.D., Ph.D.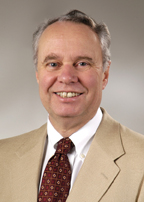 Professor and Chairman
University of Toledo Health Sciences Campus
Department of Pathology, MS #1090
3000 Arlington Avenue
Toledo, Ohio 43614-2598
Phone:  419-383-3469
Fax:  419-383-3066
E-mail:  Cathie.Harman@utoledo.edu

Medical Education and Training:
    M.D. University of California at Davis
    Ph.D. University of California at Davis
    Resident in Anatomic Pathology, Vanderbilt University Affiliated Hospitals
    Postdoctoral Fellow in Pathology and in Molecular Biology, Vanderbilt University

Extramural Activity:
    Editor-in-Chief, Journal of Neuroinflammation (www.jneuroinflammation.com)

Board Certification:
    American Board of Pathology, Anatomic Pathology
    American Board of Pathology, Neuropathology

Clinical Interests:
    Residency Director
    Surgical neuropathology
    Autopsy neuropathology
    Neuropathology of dementia
    Diagnostic nerve and muscle biopsies

Research Interests:
    Glial inflammatory processes in chronic neurodegenerative diseases

Representative recent publications: 
    Mrak RE, Griffin WST: Glia and their cytokines in progression of neurodegeneration. Neurobiol Aging 26:349-54, 2005
    Mrak RE, Griffin WST:  Potential inflammatory biomarkers in Alzheimer's disease. J Alzheimer Dis 8:369-75, 2005
    Griffin WST, L, Li Y, Mrak RE, Barger SW: Interleukin-1 mediates Alzheimer and Lewy body pathologies. J Neuroinflamm 3:5, 2006
    Mrak RE, Griffin WST:  Common inflammatory mechanisms in Lewy body disease and Alzheimer disease  J Neuropathol Exp Neurol 66:683-6, 2007
    Komoroski RA, Pearce JM, Mrak RE:  31P NMR spectroscopy of phospholipid metabolites in postmortem schizophrenic brain..  Magn Resonance Med 59:469-74, 2008.
   Barger SW, DeWall KM, Liu L, Mrak RE, Griffin WST:  Relationships between expression of apolipoprotein E and beta-amyloid precursor protein are altered in proximity to Alzheimer beta-amyloid plaques:  potential explanations from cell culture studies.J Neuropathol Exp Neurol 67:773-783, 2008
    Mrak RE:  Alzheimer-type neuropathological changes in morbidly obese elderly individuals.  Clin Neuropathol 28:40-45, 2009
    Mrak RE:  Neuropathology and the neuroinflammation idea.  J Alzheimer Dis 18:473-82, 2009
    Thal DR, Papassotiropoulos A, Saido TC, Griffin WST, Mrak RE, Kölsch H, Tredici KD, Attems J, Ghebremedhin E:  Capillary cerebral amyloid angiopathy identifies a distinct APOE e4-associated subtype of sporadic Alzheimer's disease.  Acta Neuropathol 120: 169-183, 2010.