Ritu Chakravarti, Ph.D.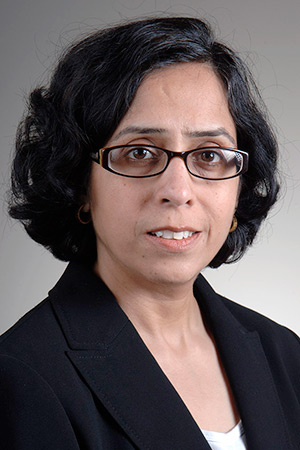 Assistant Professor
Office: 419.383.4468
Laboratory: 419.383.4212
Fax: 419.383.2871
Email: Ritu.Chakravarti@utoledo.edu
There are about 80 clinically distinct autoimmune diseases that cumulatively affect about 4-8% population of the America (> 20 millions) and cost about $100 billion per year. Autoimmune diseases (AD) are chronically disabling disorders caused by dysfunction of the immune system in which the body attacks upon itself. Inflammation of blood vessel wall is one such disease that affects lives of millions of people in this country. Advances in serological diagnostic tests to allow its detection and therapeutics for its treatment has been very limited. Primary objectives of our investigation are to develop diagnostic and therapeutic tools in order to improve patient care.
Education
B.S., Delhi University, India
M.S., DAVV, India
Ph.D., Indian Institute of Technology-Delhi, India
Postgraduate Training
Cleveland Clinic Foundation, Department of Cell biology, OH (Dr. Josephine Adams), 2002-2006
Academic Appointments
Research Associate, Lerner Research Institute, Cleveland, OH. 2006-2013
Project Staff, Lerner Research Institute, Cleveland, OH. 2013- 2016
Joint Staff, Rheumatic and Immunological Disease, Cleveland Clinic, Cleveland, OH. 2014-2016
Assistant Proferssor, Cleveland Clinic Lerner College of Medicine, Cleveland, OH. 2014-2016
Awards and Commendations
Prize for UNIVERSITY SECOND in B.A.Sc.
First in M.Sc. DAVV, INDIA
Qualified Graduate Aptitude Test in Engineering (GATE) with 85.54 percentile
Travel Award, FASEB Summer Research Conferences, "Thrombospondins and Other Modulatory Adhesion molecules in Tissue organization and Homeostasis" Atlanta, USA.
Young Histochemist Award, International Federation of Societies for Histochemistry and Cytochemistry, California, USA.
Elsa Albretch Fellow Award, Second place, Department of Cell Biology, Cleveland Clinic Foundation, USA.
Moran Fellowship in Cardiovascular Research, Department of Cell Biology, Cleveland Clinic Foundation, USA.
Travel Award, Nitric Oxide Society, "International Conference on the Biology, Chemistry and Therapeutic Applications of Nitric Oxide", Kyoto, Japan.
Best Poster Award, Gordon Research Conference, "Nitric Oxide" Ventura, CA, USA.
Research Interest
Chakravarti lab is interested in studying auto-immune diseases, particularly in Non-Infectious Aortitis (NIA). Both infectious and non-infectious reasons can result in inflammation of blood vessel wall, a.k.a. aortitis. NIA is more prevalent in recent times. About 20% of aortitis patients develop thoracic aortic aneurysms that can rupture or dissect, therefore, present a life-threatening condition. Histologically, vessel wall in NIA shows infiltration of immune cells, thickening of adventitia & media with, quite often, necrotic regions. No specific serological test exists for the diagnosis of aortitis. Immuno-suppressors are popular choices to control clinical symptoms, but they don't provide any curative effect. Absence of targeted therapy & serological markers to monitor the disease activity, significantly limit the management strategies for aortitis.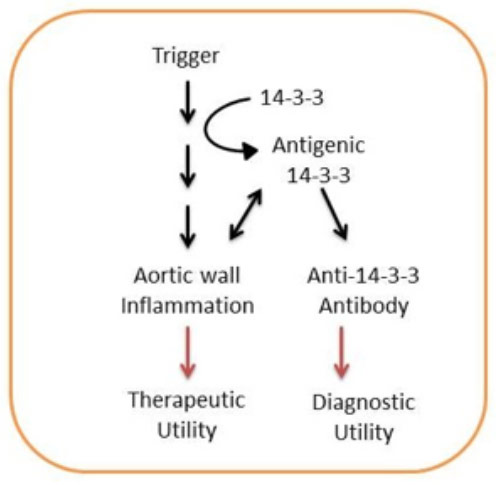 My group has been investigating the pathogenesis of NIA that leads to thoracic aortic aneurysms. Our results showed that, one family of proteins, 14-3-3 turns antigenic in this case of aortitis. Sera from aortitis patients carry antibodies to 14-3-3 family of proteins. Interestingly, this antigenic protein also resides in the medial region of aortic wall where inflammation & damage is mostly observed (Chakravarti et al., Arthritis & Rheumatol 2015, http://www.ncbi.nlm.nih.gov/pubmed/25917817). These results made us continue our investigations in order to understand the cause that turns this native protein into an antigen, and importantly, we are making efforts to develop first serological diagnostic test. In addition to provide a detection assay for aortitis, our test will be able to correlate with disease activity, which will be of immense utility in case of patients undergoing temporary clinical remission.
Like other inflammatory disease, vessel wall of NIA patients face a cytokine storm, dominated by IFN-. There are lot of unknowns when it comes to understanding of cytokines in the auto-immune diseases. Unfortunately, lack of animal model in case of NIA limit the understanding of pathogenesis. However, with the help of rare bio-repository of human specimens, we are continuing our investigations towards understanding of a difficult disease.
Relevant Publications (most recent first)
See Dr. Chakravarti's NCBI Collection
R. Chakravarti*, K. Gupta, M. Swain, B. Willard, J. Scholtz, L. Svensson, E. Roselli, G. Pettersson, D. Johnston, E. Soltesz, M. Yamashita, D. Stuehr, T. M. Daly and G. S. Hoffman. 2015. 14-3-3 in Aortic Aneurysms: Identification of a Novel Auto-antigen in Large Vessel Vasculitis. Arthritis & Rheumatology, 67(7):1913-21. (*Corresponding author.)
R. Chakravarti, K. Gupta, A. Majors, L. Ruple, M. Aronica and D. J. Stuehr. 2015.  Novel insights in mammalian catalase heme maturation: Effect of NO and thioredoxin-1.Free Radic Biol Med, 82: 105-113.
H. Zhang, J. Amick, R. Chakravarti, S. Santarriaga, S. Schlanger, C. McGlone, M. Dare, J. C. Nix, K.M. Scagline, D. J. Stuehr, S. Misra and R. C. Page. 2015. A bipartite interaction between Hsp70 and CHIP regulates ubiquitination of chaperoned client proteins. Structure, S0969-2126(15)00006-4.
G. Revsbech, X. Shen, R. Chakravarti,  F. B. Jensen, B. Thiel, A. L. Evans, J. Kindberg, O. Fröbert,  D. J. Stuehr, C. G. Kevil and A. Fago. 2014. Hydrogen sulfide and nitric oxide metabolites in the blood of free-ranging brown bears and their potential roles in hibernation. Free Radic Biol Med, 73: 349-357.
R. Chakravarti and D. J. Stuehr. 2012. Thioredoxin regulates cellular heme insertion via denitrosylation of Glyceraldehye-3-phosphate dehydrogenase. Journal of Biological Chemistry, 287(20): 16179-86.
L. Hannibal, D. Collins, J. Brassard, R. Chakravarti, R. Vempati, P. Dorlet, J. Santolini, J.H. Dawson and D.J. Stuehr. 2012. Heme binding properties of Glyceraldehyde-3-phosphate Dehydrogenase. Biochemistry, 51(43): 8514-29.
M. Aytekin, K.S Aulak, Haserodt S, R. Chakravarti, J. Cody, O.A. Minai and R.A. Dweik. 2012. Abnormal platelet aggregation in idiopathic pulmonary arterial hypertension: Role of nitric oxide. Am J physiol Lung Cell Mol Physiol, 302(6): L512-20.
R. Chakravarti, K.S. Aulak, P.L. Foxand D.J. Stuehr. 2010. GAPDH Regulates Cellular Heme Insertion into Inducible Nitric Oxide Synthase. Proceedings of National Academy of Science, 107(42): 18004-9.  This article has been chosen by Faculty of 1000 in the exceptional category.
S.M. Waheed, A. Ghosh, R. Chakravarti, A. Biswas, M.M. Haque, K. Panda and D.J. Stuehr. 2010. Nitric oxide blocks cellular heme insertion into a broad range of heme proteins. Free Radical Biology & Medicine, 48: 1548-1558.
M. Valiyaveettil, A. Bentley, P. Gurusahaney, R. Hussien, R. Chakravarti, N. Kureishy, S. Prag and J.C. Adams. 2008. Novel Role of Muskelin/RanBP9 Complex as a Nucleocytoplasmic Mediator of Cell Morphology Regulation. Journal of Cell Biology. 182(4):727-39.
R. Chakravarti and J.C. Adams. 2006. Comparative Genomics of the Syndecans Defines an Ancestral Genomic Context Associated with Matrilins in Vertebrates. BMC Genomics, 7(1): 83.
R. Chakravarti, V. Sapountzi and J.C. Adams. 2005. Functional Role of Syndecan-1 Cytoplasmic V Region in Lamellipodial Spreading, Actin Bundling, and Cell Migration. Molecular Biology of the Cell, 16(8): 3678-91.
R. Chakravarti and V. Sahai. 2004. Compactin - A Review. Applied Microbiology & Biotechnology, 64(5): 618-624.