Faculty - Keith A. Crist, Ph.D.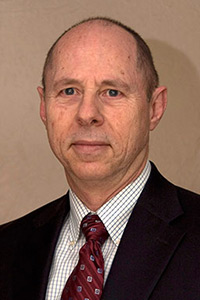 Degree
PhD: University of California at Davis
Post Doctoral
Michigan State University
Teaching Interests
Director of Clinical Reasoning Curriculum
Administration
Editor-in-Chief, Translation: The UT Journal of Medical Sciences


Research Interests
My lab was interested in the progression of ovarian cancer and the role which matrix metalloproteinases, implicated in progression to metastatic disease, also play in chronic non-healing venous ulcers.
Ovarian cancer is not generally detected until the presence of stage III/IV disease. Initial clinical response to therapy at this stage is often positive but followed by relapse with chemoresistant tumor. We worked with a chemically induced rat model of ovarian carcinogenesis for evaluation of potential chemopreventive and chemotherapeutic compounds. Comparison of altered gene expression between these and human tumor samples may help to better predict therapeutic response and optimal therapeutic regimen.
Wound fluid from chronic non-healing venous ulcers is associated with high levels of collagenase activity, predominantly of neutrophil origin. Continuing degradation of collagen matrix may limit the capacity for regranulation of the wound site. Alternative therapies in wound care were evaluated for their ability to segregate collagenase activity and the implications this might have for understanding the biology of wound healing.
Recent Publications
Wang, Y., Zhang, Z., Lu, Y., Yao, R., Jia, D., Wen, W., LaRegina, M., Crist, K., Lubet, R., You, M. (2008) Enhanced susceptibility to chemical induction of ovarian tumors in mice with a germ line p53 mutation. Mol. Cancer Res. 6(1) 99-109.
Braun, D.P., Crist, K.A., Shaheen, F., Staren, E.D., Andrews, S., Parker, J. (2005) Aromatase inhibitors increase the sensitivity of human tumor cells to monocyte-mediated, antibody-dependent cellular cytotoxicity. Am J Surg 190: 570-571.
Crist, K.A., Zhang, Z., You, M., Gunning, W.T., Conran, P.B., Steele, V.E., Lubet, R.A. (2005) Characterization of rat ovarian adenocarcinomas developed in response to direct instillation of 7,12-dimethylbenz[a]anthracene (DMBA) coated suture. Carcinogenesis 26(5): 951-957.
Pohlod-Miller S, Fanning J, Gu P, Crist KA, You M.  (2002) Detection of genomic alterations in human endometrial cancer by two-dimensional gel electrophoresis.  Am J Obstet Gynecol. 186(5):855-857.
Wang, Y., Hu, L., Yao, R., Wang, M., Crist, K.A., Grubbs, C.J., Johanning, G.L., Lubet, R.A., You, M. (2001) Altered gene expression profile in chemically induced rat mammary adenocarcinomas and its modulation by an aromatase inhibitor.  Oncogene 20: 7710-7721.
Lantry, L.E., Zhang, Z., Crist, K.A., Wang, Y., Hara, M., Zeeck, A., Lubet, R.A., You, M. (2000) Chemopreventive efficacy of promising farnesyltransferase inhibitors.  Expt. Cell Res. 26: 773-790.
Herzog, C.R., Crist, K.A., Sabourin, C.L.K., Kelloff, G.J., Boone, C.W., You, M. (2001) Chromosome 3p tumor-suppressor gene alterations in cervical carcinomas. Mol. Carcinogenesis 3:159-68.