Residency Information
Welcome to the General Surgery Residency site. Our program is dedicated to providing a strong clinical training in the various aspects of general surgery in an academic setting with a vast exposure to community-based practice.
We carefully consider the mechanics involved in the educational process while simultaneously strengthening a balance between our mission of excellence in patient care, research, and education. Residents receive a progressive education with increasing responsibilities in the broad field of general surgery. While the core of the program is designed to produce highly competent, clinical surgeons who are eligible for board certification in general surgery, this nonpyramidal program allows for tailoring appropriate research experience for those individuals wishing to pursue academic careers, further fellowship training, or pursue an area of personal interest. The program recognizes that residency training is an active process in which each individual needs a sufficiently wide range of opportunity so that they might attain their highest potential. We hope to provide a collegial atmosphere where students, residents, and faculty cooperate in the development of competent caring physicians.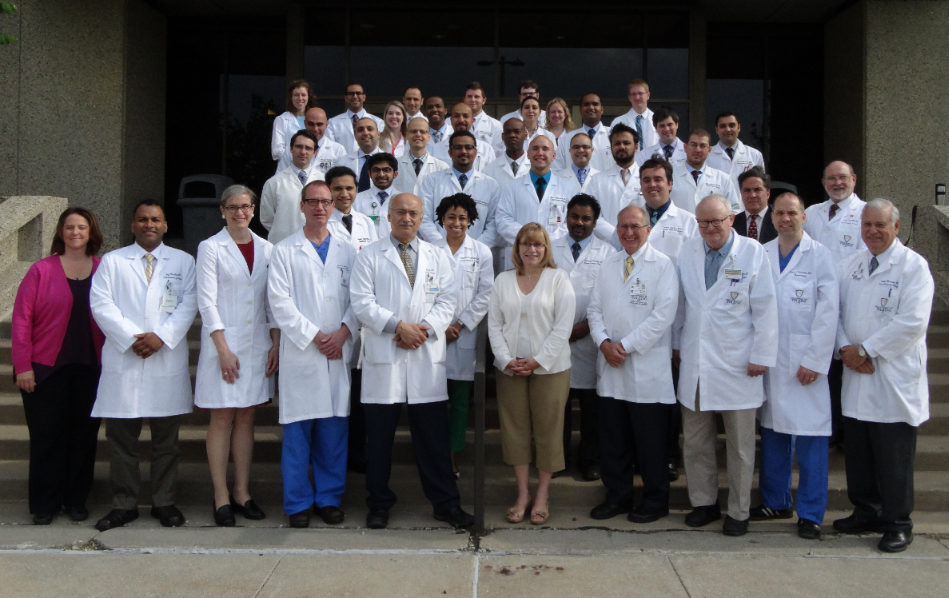 Mary Burda
Education Coordinator
mary.burda@utoledo.edu
PH: 419-383-6462
 

The faculty considers themselves fortunate that the University of Toledo Medical Center is located in the City of Toledo, a city which provides the best aspects of a large metropolis, yet, balanced with the friendliness of a small town.
The University of Toledo faculty is composed of dynamic, experienced as well as young, clinical academic surgeons with diverse interests and skills. The University of Toledo Medical Center has had a primary goal of providing high quality health care education since its doors first opened in 1964. It is the goal of the Department of Surgery to provide an excellent educational experience to its residents through comprehensive clinical exposure, research, and mentoring of academic and clinical physicians dedicated to their profession.
The Surgical Residency at the University of Toledo is a six-year program which includes one year of Research which will prepare the trainee for board eligibility in general surgery. The residency prides itself in producing mature surgeons in both decision making and technical skills who are able to pursue a career in an academic or community setting. Training is based on the core competencies of graduate medical education: Patient care; Medical Knowledge; Practice-Based Learning and Improvement; Interpersonal and Communication Skills; Professionalism; and Systems-Based Practice. The program follows the 80 hours-week rule.
| | |
| --- | --- |
| | Residents receive extensive experience in general surgery, cardiothoracic surgery, peripheral vascular surgery, trauma, surgical critical care, and surgical oncology. |
| | |
| --- | --- |
| | The program is based at The University of Toledo Medical Center where a broad clinical experienced is obtained. Residents rotate in three community hospitals Mercy St. Vincent Mercy Medical Center, ProMedica St. Luke's Hospital and ProMedica Toledo Hospital for different specialties greatly enhancing and complementing their experience. |
| | |
| --- | --- |
| | The Trauma Surgery experience at the University of Toledo Medical Center and ProMedica Toledo Hospital are similarly comprehensive with both sites being certified as Level I by the American College of Surgeons. With a higher proportion of blunt trauma, the penetrating injury experience is obtained at both University of Toledo Medical Center and ProMedica Toledo Hospital. |
| | |
| --- | --- |
| | The training in surgical oncology is outstanding with faculty experts in hepatobiliary surgery, recurrent colorectal cancer, sarcoma, melanoma, and breast cancer. The University of Toledo is one of the few centers in the country with an intraoperative radiation therapy program as well as having programs in isolated chemotherapy for limb and organ perfusion. Departmental research is available in the molecular biology of cancer and tumor-cell drug resistance. Several collaborative research projects are available with the Basic Science Departments. |
| | |
| --- | --- |
| | The minimally invasive experience is headed by Dr. Jianlin Tang who performs procedures laparoscopically, robotically or with single acces port including distal pancreatectomy, splenectomy, adrenalectomy and access gastrectomy, cholecystectomy, colectomy. |
| | |
| --- | --- |
| | The University of Toledo Medical Center provides an excellent experience in vascular surgery with attendings trained in advanced vascular procedures including endovascular surgery. |
All general surgical residents receive basic life support, advanced cardiovascular life support, and advanced trauma life support training courses prior to the start of their residency. Graduates from our program have excelled both in academic as well as private practice.  The majority of our graduates go on fellowships (see Previous Graduates).
Residency Goals and Objectives
It is the intent of the Surgical Residency Program at the University of Toledo to develop physicians who are clinically competent in general surgery. Physicians completing this program will be eligible for certification by the American Board of Surgery with an ultimate goal of a 100% pass rate on this examination.
To achieve this goal, the program has the following objectives:
1.  To provide an educational environment in surgery so that the post-graduate trainee receives and utilizes adequate knowledge and experience to function as a surgeon in the field of general surgery following conclusion of five years of progressive education and training with an additional research year.
2.  To provide the resident the opportunity to learn and understand the fundamentals of basic science as applied to clinical surgery.
3.  To instill in the resident a strong sense of honesty, integrity and compassion in patient care.
4.  To instill in the resident the lifelong discipline to continually learn new developments and changes in patient care to best serve their patients.
5.  To instill in the resident a sense of responsibility to disseminate new knowledge and teach other healthcare professionals and colleagues.
Didactics and conferences take place every Wednesday. The day starts with Quality Improvement Conference followed by Grand Rounds on a weekly basis with the exception of the second Wednesday of the month for simulation training. 
Quality Improvement Conference/M&M
Weekly, Wednesdays, 7:00 - 8:00 a.m.
Surgery Grand Rounds
Weekly, Wednesdays, 8:00 - 9:00 a.m.
Journal Club 
Second Monday, 6:30 p.m.
University of Toledo Medical Center: Tumor Conferences
    Breast/General:  Mondays, 12:00-1:00 p.m.
    Lung:  1st Tuesday, 7:30-8:30 a.m.
University of Toledo Medical Center: Vascular Conference Monthly
 
Residents have ABSITE review sessions weekly November through January discussing cases and topics oriented to the American Board of Surgery In-Training Examination.
Stipend and Benefits
For more information on Stipends and Benefits please follow the link. 
Simulation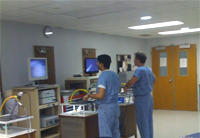 The University of Toledo College of Medicine supports a simulation lab for computerized laparoscopic simulation and training as well as real-time dry laparoscopic lab. As part of the curriculum all residents are expected to pass the Fundamental of Laparoscopic Surgery (FLS) examination.  There is a wide experience in minimally invasive laparoscopic surgery as well as robotic at the University of Toledo Medical Center.
 Surgical Operative Log
The data listed below represents the average number of cases the 2015 graduates performed during their residency.

Defined Category
Minimum Numbers
University of Toledo
Soft Skin Tissue and Breast
25
73
Head and Neck
24
61
Alimentary Tract
72
133
Abdomen
65
120
Liver
4
11
Pancreas
3
9
Vascular
44
187
Endocrine
8
21
Trauma - Operative
10
23
Trauma Non-operative
20
31
Thoracic
15
44
Pediatrics
20
31
Plastics
5
22
Laparoscopic - Basic
60
117
Endoscopy
85
129
Laparoscopic - Complex
25
61
Total Major Cases
750
1032
Total Chief Cases
150
227
How to Apply
Our program accepts applications only via the Electronic Residency Application System (ERAS). For more information on How to Apply please follow the link.