Requirements for Admission
What are the minimum course requirements?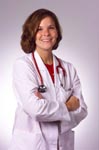 The minimum pre-medical course requirements are: one year of biological sciences, one year of general chemistry with labs, one year of organic chemistry with labs, one year of physics, one year of mathematics and one year of college English.
What are the other requirements for admissions?  All matriculants to the M.D. program must have obtained at least a baccalaureate level degree.  The MCAT (within the last 3 years) is strongly recommended unless you entered via the MEDStart Program or the direct from high school pathway through the College of Arts and Sciences or Bioengineering. 
Additional pre-matriculation requirements include submission of final official transcripts from all undergraduate, graduate, and professional schools you have attended with degrees posted (if applicable).  See attached  policy:  Submission of Transcripts
Successful completion and review of a criminal records check is also required.  See attached policy:  Criminal Records Check
Students must meet the Minimal Technical Standards for admissions.  See attached policy: Minimal Technical Standards for admissions, matriculation and graduation
After acceptance you will also be required to submit the Pre-Matriculation Health Requirement Form.  If you are claiming Ohio residency, the Residency Status for Subsidy and Tuition Surcharge Form must be completed and returned to the Admissions Office.
Students are selected for an interview on the basis of their individual qualifications regardless of sex, religion, racial origin, marital status or age. The Admissions Committee seeks evidence of general competence with special attention given to the science GPA and the total MCAT score.  In addition, the applicants must demonstrate motivation and enthusiasm for medicine as indicated from their volunteer experience, medical related activities, service to others, leadership skills and/or research related activities. They also must demonstrate personality and character traits important to their future growth as a physician.

Class Profile of 2010 Entering Class
Universities Represented in 2010 Entering Class