Clinical Summer Undergraduate Research Fellowship (SURF)
Dear University of Toledo College of Medicine and Life Sciences (Summer Undergraduate Research Fellow SURF) applicants for summer 2016,
The University of Toledo has very recently taken decisive and substantial steps towards debt reduction as so many universities have had to do.
Unfortunately, the College of Medicine and Life Sciences SURF program was one of the programs that had to be canceled for summer 2016.
Please accept our apologies for not accepting any applicants for this summer. We sincerely hope you understand and will continue to consider us for your training for graduate careers in the future.
Warmest regards,
Kandace Williams, PhD
Associate Dean for COM&LS Graduate Programs
For information on the Biomedical Research SURF Program go to http://www.utoledo.edu/med/grad/surf.html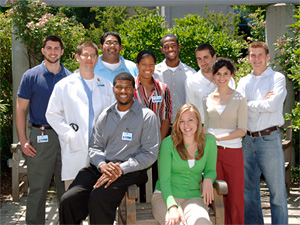 In an effort to recruit top caliber students, the College of Medicine Admissions Office offers the Summer Undergraduate Research Fellowship for pre-medical students. The purpose of the program is to introduce undergraduate students to scientific research as a means of encouraging them to consider a career in medicine. The goal of the program is to foster relationships between individual pre-medical students and faculty members, pre-medical students and The University of Toledo, and undergraduate institutions and UT.

The program is an important component of UT's diversity initiative and is open to all students.

Underrepresented minority students, students from disadvantaged backgrounds, and women are strongly encouraged to apply. The University of Toledo believes that obtaining the benefits that flow from a diverse student body is a compelling interest for our institution. A diverse student body is important in promoting cross-cultural understanding, helps to break down stereotypes, promotes a richer classroom learning environment, and helps to develop a diverse, integrated student body that promotes leadership. 

A limited number of openings are now available for the Summer of 2015 on a competitive basis.  Each accepted student will receive $3,500 for a 10-week period of full-time research beginning May 25- July 31, 2015.                                                           Applications are due by March 2, 2015.  Applicants will be notified of their acceptance status no later than April 6, 2015.  Opportunities for research in the areas of cardiovascular medicine, gerontology, neurology, HIV, endocrinology, orthopedic surgery, and pediatrics may be available.  Transcript & two recommendation letters should also be sent to: 
SURF - Attn:  Marianne Pohlman, University of Toledo, 3000 Arlington Avenue, Mail Stop 1010, Toledo, OH  43614-5805 by the deadline.
Information may be obtained from the office of the Summer Undergraduate Research Fellowship by email at SURF@utoledo.edu or by phone at 419 383-4181.  Please specify the research program of interest on your application (basic or clinical).  For students in need of housing please click here.