/nsm/chemistry/
Chemistry Menu
/nsm/chemistry/
Resources
Contact Us
Main Campus
Bowman-Oddy Laboratories
Room: BO 2022
Mail Stop: 602
Phone: 419.530.2100
Fax: 419.530.4033
utchem@utoledo.edu
Faculty
Faculty
Donald R. Ronning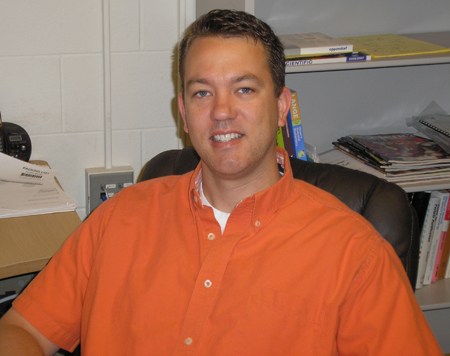 Associate Professor
Email: Donald.Ronning@utoledo.edu
Office: WO 4203B
Phone: (419) 530-1585
Graphics: (419) 530-1591
Lab: (419) 530-1588
Fax: (419) 530-4033
Professional Background:
B.S., Biochemistry, 1995, University of Minnesota
Ph.D., 2001, Texas A&M University
Postdoctoral Fellow, 2001-2005, National Institutes of Health
Publications
Group page

Research Synopsis:
M. tuberculosis pathogenesis and therapy
Gene Regulation - One hallmark of M. tuberculosis is the uncommon ability to survive and readily multiply in human macrophages. The proteomic response by M. tb to the harsh environment within the macrophage is specific and many of the details of this response are coming to light. We are focusing on two systems that control gene expression, PhoP and Lsr2. While these two system control gene expression by different mechanisms, the ultimate goal of these projects is to identify compounds that can modulate the binding of these proteins to their DNA targets.
Mycobacterial Redox Homeostatis -  We have recently started studying the biosynthesis of Mycothiol in mycobacteria to disrupt redox homeostasis and prevent its availability for detoxification of anti-tubercular drugs.
Trehalose Metabolism - Trehalose is profoundly important for the survival and virulence of M. tuberculosis. We are studying the essential otsAB biosynthetic pathway responsible for the de novo synthesis of trehalose and may play a role in the biosynthesis of trehalose monomycolate, which is an essential donor molecule required for the building of the Mycobacterial outer membrane. Since the antigen 85 enzymes use trehalose monomycolate as a substrate to transfer mycolic acids to the MOM and are essential for the viability of M. tuberculosis, we are studying their enzymatic activity, substrate specificity, and post-translational modification in collaboration with Mary Jackson (Colorado State Univerisity) and Choong-min Kang (University of California-Stanislaus).