Opportunities for Teachers at the Lake Erie Center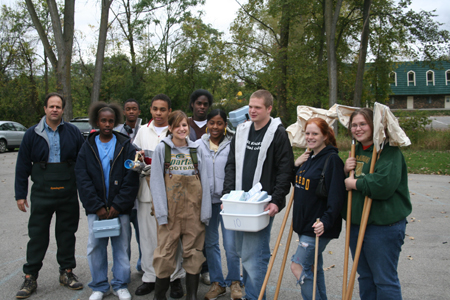 Teacher Training at the LEC has included:
GLOBE Teacher Training and K-12 Teacher Training workshops for GLOBE protocols. GLOBE is a K-12 outreach program engaging students and scientists in real-world research supported by NASA and NSF. Seminars and workshops train teachers and education students in the use of GLOBE protocol, including infrared thermometers and cloud recognition charts, and entering data through the online database.  Over 14,000 schools in 100 countries take observations, which are grouped into atmosphere/climate, hydrology (water quality), soils, land cover/biology and phenology. The Lake Erie Center hosted a GLOBE train-the-trainer two-week workshop, which trained scientists from the University of Toledo, Bowling Green State University, the Toledo Zoo, WGTE (Toledos PBS TV station) and COSI (a hands-on science museum) in hosting GLOBE teacher workshops.  Subsequently, well over 100 teachers have been GLOBE trained at the Lake Erie Center and at other sites around NW Ohio. (Drs. Czajkowski and Spongberg)
 
SATELLITES (Students and Teachers Evaluating Local Landscapes to Interpret The Earth from Space). Teachers learned science content and students were engaged as scientists, collecting snow and making cloud observations to validate a snow algorithm for the MODIS sensor on the Terra satellite.  (Dr. Czajkowksi)
 
Teacher Training Workshops in Plant Science in Field Ecology. Summer program funded by the Ohio Board of Regents to train teachers of grades K-12 in the plant sciences.  Participants learned about the effects of wetland management practices on marsh vegetation, waterfowl and other wetland wildlife. The Lake Erie Center served as the base for subsequent field trips to the wetlands. Participants also learned about transgenic crop plants and used Lake Erie Center lab facilities to extract DNA from plant material. (Dr. Tramer)
 
Teacher Training in Natural History and Ecology: A River Runs Through It Teacher Institute for K-12.  Summer program with the LEC, along with the Toledo Botanical Garden, Toledo Metroparks, Toledo Parks and Recreation, Stranahan Arboretum, and COSI.  Two weeks of intensive fieldwork on two of the major river watersheds of northwest Ohio (Ottawa and Maumee Rivers). (Drs. Charles Rop, Mark Camp, and Brenda Wolodko).