GK-12 Personnel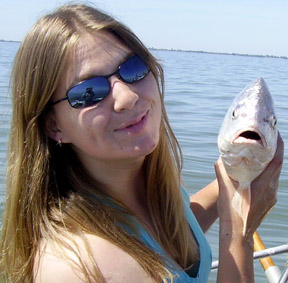 Betsy Bodamer Scarbro, Water Quality
GK-12 Fellow 2008-2010
Email: betsy.bodamer@utoledo.edu
Betsy's Research
CV - 2009

Betsy's research interests and experiences in aquatic ecology cover a wide spectrum.  She received a B.S. in Biology from Allegheny College in Meadville, Pennsylvania. In December 2007, she received a M.S. from the University of Toledo, where she studied how wetlands effect the downstream dispersal of zebra mussels. Betsy then continued her education at The University of Toledo in pursuit of a Ph.D. with Dr. Thomas Bridgeman. For her dissertation she is examining how Lake Erie hypoxia (a.k.a. the "dead zone") affects (physiologically and behaviorally) benthic foraging fish (e.g. Yellow Perch) and benthic dwelling invertebrates (e.g. Hexagenia mayfly larvae). Betsy appreciated the opportunity to be involved with the GK-12 program and have the opportunity to share, and hopefully, spread her interest and knowledge of not just aquatic ecosystems, but nature in general to high school students. She feels educating future generations is imperative to the preservation our environment.