Viral Hemorrhagic Septicemia virus (VHSv)
The objectives of the continued VHSv research at Dr. Carol Stepien's Great Lakes Genetics/Genomics Laboratory and Dr. Douglas Leaman's Innate Immunology Laboratory are to detect the presence and prevalence of the virus in the Laurentian Great Lakes, examine the evolutionary diversification of the virus, and determine the functionality of different variants of VHSv-IVb.
VHSv is a negative sense single stranded RNA rhabdovirus first discovered in European aquaculture fish in 1938. In the decades following, the virus diversified into four strains (I, II, III, and IV) spread across the Northern Hemisphere, infecting over 80 species of marine and freshwater fish. Causing up to 90% mortality across a broad spectrum of species, VHSv is listed as one of the most important finfish diseases by the World Organization for Animal Health. The newest substrain, IVb, was first detected in muskellunge recovered from the St. Clair River. Less than a decade later, the virus had spread across the water bodies Great Lakes Region, infecting more than 30 species and causing several mass fish kills in 2005-2007. Most cases of VHSv occur during cooler, spring weather, corresponding to the spawning season for several native fish species such as yellow perch. The virus is stable for up to 14 days in the water under 16°C (61°F). The danger of spread of VHSv to aquaculture systems is potentially high, and the virus appears to spread in some baitfish. While no large outbreaks have occurred in the last five years, the virus has still been found around the region and thus poses a threat to fisheries, economic development, tourism, and negatively affects public health perception.
Our overall objectives are to:
Assess the distribution, occurrence, and abundance of VHSv in Great Lakes fish populations
Evaluate whether VHSv is prevalent in dreissenid mussel populations, which may serve as a reservoir
Compare the geographic distribution of VHSv mutants
Determine if fishes that appear asymptomatic test positive for VHSv
Evaluate the evolutionary diversification patterns and relative mutational rates of VHSv genes, G, Nv, N, M, L, and P in IVb, using new and existing samples
Evaluate population genetic patterns of VHSv in the Great Lakes, using all genes and next-gen sequencing
Assess the effects of viral genetic changes on VHSv replication
Assess the relative degree of virulence and infectivity of strain and substrain diversification in laboratory challenges.
To accomplish these goals, we are interfacing with several state and federal agencies and universities, i.e., the United States Geological Survey in Seattle, Washington (Dr. James Winton & Dr. Gale Kurath), the University of Wisconsin's WATER Research lab (Dr. Frederick Goetz, Dr. Brian Shepherd, & Dr. Fred Binkowski), Michigan State University's Fish Health lab (Drs. Mohmaed Faisal & Robert Kim), Cornell University's Aquatic Animal Medicine lab (Dr. Paul Bowser), the University of Maryland's Institute of Marine and Environmental Technology (Dr. Vikram Vakharia) Ohio Department of Agriculture Aquatic Animal Health lab (Dr. Yan Zhang), Ohio Department of Natural Resources (Roger Knight, Jeff Tyson, Carey Knight, & Eric Wiemer), United States Geological Survey, Lake Erie Biological Station (Dr. Patrick Kocovsky, Dr. Richard Kraus, & Dr. Betsy Bodamer), Michigan DNR (Mike Thomas, Jeff Diemond, He Ji, & Chris Schelb), Ontario Ministry of Natural Resources (Dr. Tim Fisher & Carolina Taraborelli), New York State DEC (Don Einhouse), 1854 Treaty Authority (Tyler Kaspar), Wisconsin Department of Natural Resources (Dr. Pradeep Hirethota), Michigan Department of Fisheries and Wildlife (Anjanette Bowen), Grand Valley State University (Dr. Carl Ruetz III), Cornell University Biological Field Station at Lake Onieda (Dr. Randy Jackson), United States Geological Survey, and Lake Ontario Biological Station (Dr. Brian Lantry, Dr. Maureen Walsh).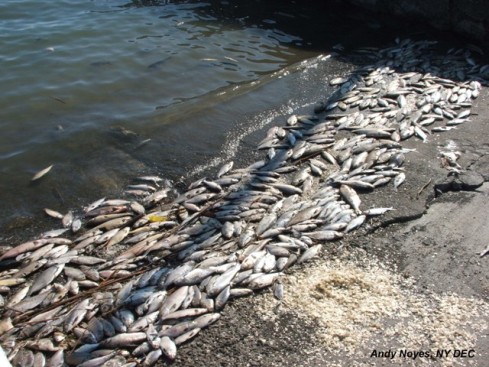 In the spring spawning seasons of 2005-2007 thousands of fish washed up on public beaches. Gizzard shad, pictured above, were found along Dunkirk Harbor, New York, exhibiting external and internal hemorrhaging.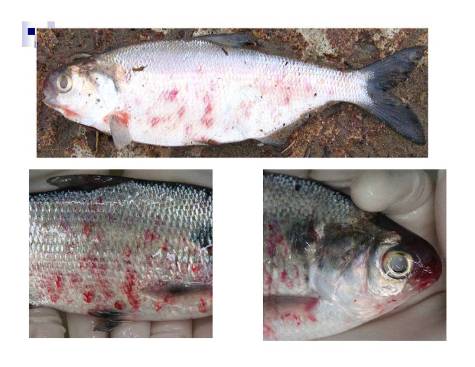 Fish infected with VHS often exhibit external hemorrhaging in the skin. Large, red hemorraghic patches can be found on the sides and anterior portion of the head. (image courtesy of Dr. Faisal, MSU)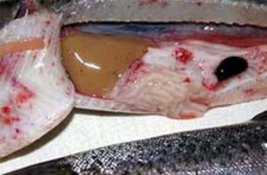 Many internal organs are often congested with multiple hemorrhages as seen above. A dark spleen and pale liver are indicative of immunilogical responses. The ultimate cause of death is usually internal organ failure.
VHS Team Members:
Dr. Carol A. Stepien
Dr. James C. Willey
Dr. Douglas Leaman
Laboratory Manager Erin Crawford
DNA Research Technician Eva Kramer
Ph.D. Student Megan Niner
Field Assistant Shelby Edwards