Viral Hemorrhagic Septicemia virus (VHSv)
The objectives of the VHSv research at Dr. Carol Stepien's Great Lakes Genetics Laboratory, Dr. James Willey's George Isaac Cancer Research Center, Dr. Douglas Leaman's Innate Immunology Laboratory, and Dr. Jonathan Bossenbroek's Geographic Information System (GIS) and Remote Sensing Laboratory, are to merge the powers of Molecular Genetic Technology and GIS to understand and combat VHSv-IVb in the Great Lakes region. 
VHSv is a negative sense single stranded RNA rhabdovirus that was first discovered in European cultured fish in 1938. It has since spread to kill over 80 marine and freshwater fish species across the Northern Hemisphere as four strains (I, II, III, and IV). It can cause up to 90% mortality in a broad range of susceptible species and is listed as one of nine reportable fish diseases by the Word Organization for Animal Health. A unique and emerging strain (IVb), with a wide host range, has been associated with fish kills across the Great Lakes since it was first isolated in 2003 from an archived muskellunge in the St. Clair River. This strain infects ~31 fish species and is often associated with fish die-offs in inland lakes, the Great Lakes, and the St. Lawrence River, that threaten fisheries, economic development, tourism, and negatively affect public health perception. The virus is transmitted at spawning time and is stable for up to 14 days in the water depending on temperature. The danger of spread of VHSv to aquaculture systems is potentially high, and the virus appears to spread in some baitfish. 
Our project team's overall goals are to: (1) develop a quality-controlled quantitative polymerase chain reaction (qPCR) method, StaRT-PCR (Standardized Reverse Transcriptase Polymerase Chain Reaction) to detect VHSv rapidly, reliably and accurately, (2) compare our test to currently approved cell culture and developing PCR-based assays to detect the presence of VHSv in infected fishes, (3) convert our StaRT-PCR assay to a Real-Time (RT)-PCR platform that is more cost effective and easier to implement in diagnostic laboratories, (4) investigate pathways mediating VHSv innate immune responses in fish and how these relate to strain virulence, (5) discern the phylogenetic and biogeographic relationships of the VHS fish virus among all four strains (I-IV) and putative substrains, and (6) develop a GIS model to predict where VHSv will be introduced throughout the Great Lakes basin and determine if VHSv occurrence is related to Great Lakes shipping and discharge. To accomplish these goals, we are interfacing with several state and university agencies, i.e., the United States Geological Survey in Seattle, Washington (Dr. James Winton and Dr. Gale Kurath), the University of Wisconsin's WATER Research lab (Dr. Frederick Goetz, Dr. Brian Shepherd, and Dr. Fred Binkowski), Michigan State University's Fish Health lab (Drs. Mohmaed Faisal and Robert Kim), Cornell University's Aquatic Animal Medicine lab (Dr. Paul Bowser), Ohio Department of Agriculture Aquatic Animal Health lab (Dr. Yan Zhang), Ohio DNR (Roger Knight and Jeff Tyson), United States Geologic Survey Lake Erie Biological Station (Dr. Patrick Kocovsky), and Michigan DNR (Mike Thomas).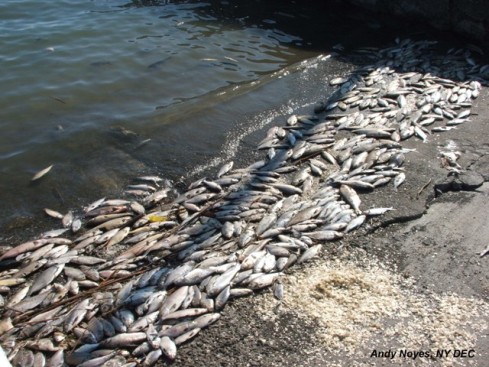 In the spring spawning seasons of 2005-2007 thousands of fish washed up on public beaches. Gizzard shad, pictured above, were found along Dunkirk Harbor, New York, exhibiting external and internal hemorrhaging.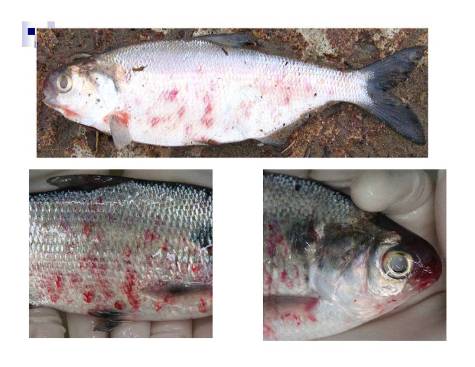 Fish infected with VHS often exhibit external hemorrhaging in the skin.  
Large, red hemorraghic patches can be found on the sides and anterior portion
of the head.  (image courtesy of Dr. Faisal, MSU)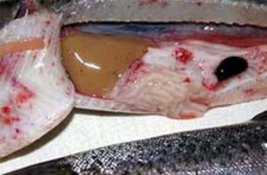 Many internal organs are often congested with multiple hemorrhages as seen above. A dark spleen and pale liver are indicative of immunilogical responses. The ultimate cause of death is usually internal organ failure.
VHS Team Members

:
Dr. Carol A. Stepien
Dr. James C. Willey
Dr. Douglas Leaman
Laboratory Manager Erin Crawford
DNA Research Technician Eva Kramer
Ph.D. Student Megan Niner