/nsm/lec/
Welcome to the LEC
/nsm/lec/research/
Research Labs & Areas
Great Lakes Genetics Lab
Great Lakes Genetics/Genomics Lab
The Great Lakes Genetics/Genomics Laboratory (GLGL) of the Lake Erie Center, formulated and directed by Dr. Stepien, focuses on working with federal and state agencies and other researchers to develop and apply genetic DNA markers for:
Evaluating the population and biogeographic structure of native fishes in the Great Lakes
Developing understanding of the vector pathways, population dynamics, evolutionary relationships, and genetic time course of nonindigenous species invasions in the Great Lakes
Interpreting gene flow patterns of river and lake fishes as influenced by dams, habitat changes, and other anthropogenic factors.
Read more about the GLGL and its researchers via the menu on the right.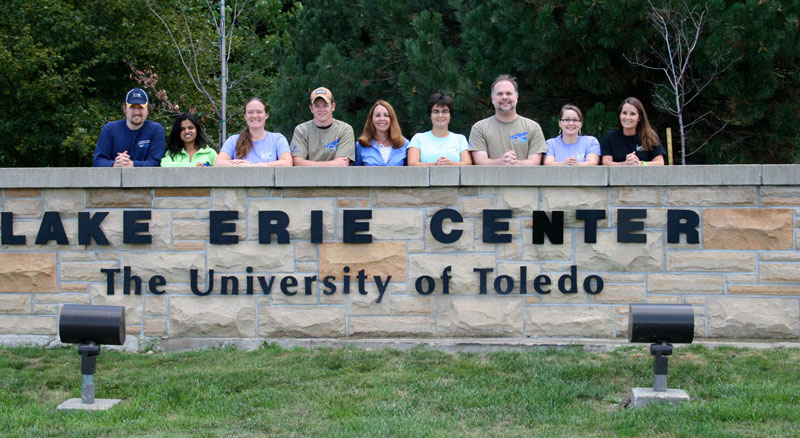 2012 GLGL members. From left: Tim Sullivan, Vrushalee Palsule, Amanda Haponski, Carson Prichard, Carol Stepien, Susanne Karsiotis, Shane Yerga-Woolwine, Julie Scardina, and Lindsey Pierce
2011 GLGL members. From left: Vrushalee Palsule, Shotaro Hirase, Hillary Dean, Douglas Murphy, Amanda Haponski, Carol Stepien, Tim Sullivan, Lindsey Pierce and Susanne Karsiotis
2010 GLGL members from the left:  Tim Sullivan, Lindsey Pierce, Douglas Murphy, Carol Stepien, Amanda Haponski, Ghokan Kalayci, Jhonatan Sepulveda-Villet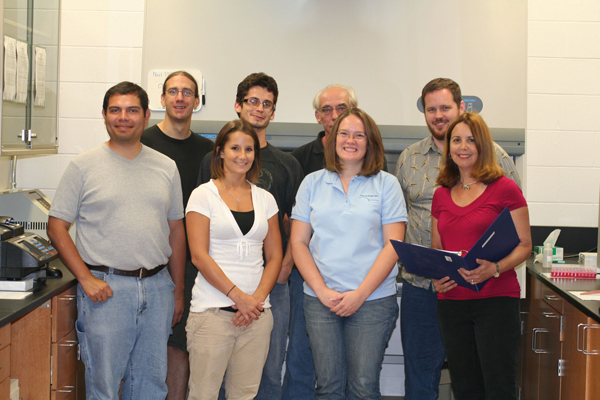 GLGL Members from front left: Jhonathan Sepulveda-Villet, Lindsey Pierce, Amanda Haponski, Carol Stepien. Members back left: Matt Neilson, Fabio Lobato, Doug Murphy, Joshua Brown.
GLGL Members from left: Doug Murphy, Matt Neilson, Emily Sopkovich, Rachel Lohner, Amanda Haponski, Joshua Brown, Carol Stepien, Jhonatan Sepulveda Villet.