Amit K. Tiwari, Ph.D.
 

Associate Professor
Department of Pharmacology and Experimental Therapeutics

Phone: 419.383.1913
Frederic and Mary Wolfe Center 282F
amit.tiwari@utoledo.edu
Education
| | |
| --- | --- |
| 2011-2013 | Postdoctoral Research Associate, Mount Sinai School of Medicine, NY |
| 2008-2011 | PhD, Pharmaceutical Sciences, Pharmacology, St. John's University, NY |
| 2006-2008 | MS, Pharmaceutical Sciences, Pharmacology, St. John's University, NY |
| 2001-2005 | BS Pharmacy, RamEesh Institute, U.P.T.U. University |
Cancer & Systems Therapeutics (CAST) Laboratory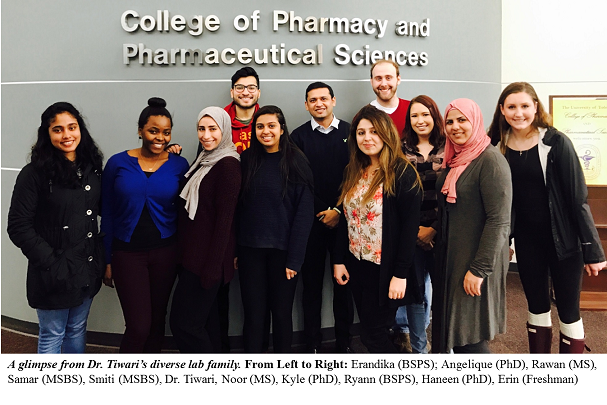 Research Interest
Dr. Tiwari's long-term goal is to develop safe and effective chemotherapy. His current efforts are directed in the area of:
1.  Drug resistance: Understand the factors associated with chemotherapy failure, i.e development of drug resistance, tumor aggressiveness and metastasis, drug-drug interaction and develop strategies to overcome these factors. Major areas of focus are:
Multidrug resistance (MDR) due to efflux ABC transporters: particularly understanding the overlapping/redundant functions of transporters in drug disposition
Targeting embryogenic signaling pathways (Wnt/b-catenin) and EMT signaling pathways
Drug-drug interactions (including herbal-drug and cosmetic-drug interactions), other pharmacokinetic challenges
2.  Anticancer drug discovery: Design, synthesize and rationally optimize novel and more effective anticancer agents. Efforts are directed towards:
Isolation to optimization of more active compounds from semi-synthetic to natural sources (algae, herbs, plants)
Define multi-targeted pharmacodynamics mechanisms
3.  Novel mechanisms: Define and develop non-apoptotic cell-death mechanisms inducing probes, particularly those that induce dysregulated macropinocytosis and macroautophagy and necroptosis. 
MEDIA
Selected Awards and honors
DeArce-Koch Memorial Endowment Fund Award, 2018
Susan G. Komen Career Catalyst Research Award, 2018
Global Research Engagement Award, RIPER/Govt. of Andhra P, India, 2017
Learner Engagement Award, University of Toledo, Ohio, 2016
Outstanding scientist -Excellence in Innovation Research Award, RGPV, India, 2016
ASM-LINK Undergraduate Research Initiative Fellowship Award, NSF/ASM, 2015
Travel award, ABRCMS conference, Seattle, Washington, 2014 and 2015
Top citation Award from FEBS journal, 2013
Top citation Award from Biochemical Pharmacology, 2011
Selected Publications 
Jain A, Chandrabose K, McIntosh K,

Tiwari AK,

Trivedi P and Dutt Konar Unravelling the potency of 4,5-diamino-4H-1,2,4 triazole-3-thiol derivatives for kinase inhibition through a rational approach. New Journal of Chemistry, 2019, 43, 1202-1215
Gummireddy A, Ryann Christman, Kumari D,

Tiwari AK,

and Chauhan H. Preparation, Characterization and In-vitro Evaluation of Curcumin and Resveratrol loaded Solid Lipid Nanoparticles. AAPS PharmSciTech, 2019, (Accepted).
Hussein N, Ashby C.R, Jr, Amawi H, Nyinawabera A, Vij A, Khare V, Karthikeyan C,

Tiwari AK.

Cariprazine, a dopamine D2/D3 receptor partial agonist, modulates ABCG2-mediated multidrug resistance in cancer. Cancers (Basel). 2018 Sep 4;10(9). pii: E308. doi: 10.3390/cancers10090308.
Reznik SE, Tiwari AK, Ashby CR Jr. Sofosbuvir: A Potential Treatment for Ebola. Front Pharmacol. 2018 Oct 10;9:1139. doi: 10.3389/fphar.2018.01139.
EsmatiN, MaddiralaAR, HusseinN, AmawiH,

TiwariAK

and Andreana PR. Efficient syntheses and anti-cancer activity of xenortides A–D including ent/epi-stereoisomers. Organic & Biomolecular Chemistry, 2018;16(29):5332-5342. doi: 10.1039/c8ob00452h. PMID: 29999086
Alasamari F, Ashby Jr CR, Hall FS, Sari YS and

Tiwari AK.

The modulation of the ATP-binding cassette B1 transporter by neuro-inflammatory cytokines:  role in the pathogenesis of Alzheimer's disease. Frontiers Pharmacol, 2018, 20;9:658. doi: 10.3389/fphar.2018.00658. PMID: 29973883
Khare VM, Saxena VK, Tomar A, Nyinawabera A, Singh KB, Ashby CR and

Tiwari AK.

MHC-B haplotypes impact susceptibility and resistance to RSV-A infection. Frontiers of Biosciences, (Elite Ed). 2018 Jun 1;10:506-519.
McIntosh K, Smith A, Young L, Leitch M,

Tiwari AK,

Reddy C, O'Neil G, Liberatore M, Changler M and Baki G. Alkenones as a promising green alternative for waxes in cosmetics and personal care products. Cosmetics, 2018, 5, 34; doi:10.3390/cosmetics5020034
Hammad AM, Alasamari F, Sari YS Hall FS, and

Tiwari AK.

Alcohol and cocaine exposure modulates ABCB1 and ABCG2 transporters in male alcohol preferring rats. Molecular Neurobiology, 2018 doi: 10.1007/s12035-018-1153-2. PMID: 29978425
Karthikeyan C, Amawi H, Hussein N, Viana AG, Sanglard L, Saddler M, Ashby Jr CR, Moorthy NSHN, Trivedi P, Tiwari AK. lH-Pyrazolo[3,4-b]quinolin-3-amine derivatives inhibit growth of colon cancer cells via apoptosis and sub G1 cell cycle arrest. Bioorg Med Chem Lett. 2018 15;28(13):2244-2249. doi: 10.1016/j.bmcl.2018.05.045. PMID: 29853331
Chvatal A, Alzhrani R,

Tiwari AK,

Ambrus R, Szabo-Revesz P, Boddu SHS. Cytotoxicity of Inhalable Dry Powders in A549 Human Lung Cancer Cell Line. Farmacia, 2018 66 (1), 172-175
Rice O, CR Ashby, Dixon C, Laurenzo W, Hayden J,

Tiwari AK,

Song R, Li J and Gardner E. Selective Dopamine D3 Receptor Antagonism Significantly Attenuates Stress-Induced Immobility in a Rat Model of Post-Traumatic Stress Disorder". Synapse, 2018 doi: 10.1002/syn.22035. PMID: 29704283
Tiwari P, Verma R, Basu A, Christman RM,

Tiwari AK,

Waikar D, and Dutt Konar A. Auxin–Tyrosine derivative based biocompatible supergelator: A Template for fabrication of nanoparticles for sustained release of model drugs. New Journal of Chemistry, 2018 42 (7), 4915-4922
Khare VM, Saxena VK, Tomar A, Singh KP, Singh KP and

Tiwari AK.

The Identification of Major Histocompatibility Complex B (MHC-B) in Synthetic Dam Line (SDL) Broilers and Its Association with Rous Sarcoma Virus (RSV-A): Resistance, Susceptibility, and Metastasis. Frontiers of Biosciences, (Elite Ed). 2018 Jun 1;10:506-519. PMID: 29772523
Miller SA, White JA, Chowdhary R, Gales DN, Tameru B,

Tiwari AK,

Samuel T. Consumption of whole grape powder attenuates basal NF-kB signaling and reduces inflammatory cytokine secretion in a mouse model of inflammation. Journal of Nutrition & Intermediary Metabolism, 2018 Mar;11:1-8. doi: 10.1016/j.jnim.2017.11.002. PMID: 2956879
Brake K, Gumireddy A,

Tiwari AK,

Chauhan H and Kumari D. In vivo studies for drug development via oral delivery: Challenges, animal models, and techniques. Pharm Anal Acta (2017). 8: 560. doi: 10.4172/2153-2435.1000560
Tiwari P, Verma R, Basu A, Christman RM,

Tiwari AK,

Waikar D, and Dutt Konar A. Proteolysis resistant self-assembled w-amino acid dipeptide based biocompatible hydrogels as drug delivery vehicle. ChemistrySelect 2017, 2, 6623.
Amawi H, Hussein NA, Karthikeyan C, Manivannan E, Wisner A, Williams FE, Samuel T, Trivedi P, Ashby CR, Jr.,

Tiwari AK.

HM015k, a novel silybin derivative, multi-targets metastatic ovarian cancer cells and is safe in zebrafish toxicity studies. Front Pharmacol. 2017 Aug 2;8:498. doi: 10.3389/fphar.2017.00498. PMID: 28824426
Amawi H, Karthikeyan C, Pathak R, Hussein NA, Christman RM, Robey R, Ashby CR, Jr., Trivedi P, Malhotra A,

Tiwari AK.

Thienopyrimidine derivatives exert their anticancer efficacy via apoptosis induction, oxidative stress, and mitotic catastrophe. Eur J Med Chem. 2017 Jul 20;138:1053-1065. doi: 10.1016/j.ejmech.2017.07.028. PMID: 28759878
Amawi H, Ashby CR, Jr., Samuel T, Peraman R, and

Tiwari AK.

Polyphenolic Nutrients in Cancer Chemoprevention and Metastasis: Role of the Epithelial-to Mesenchymal (EMT) Pathway. Nutrients Accepted August 2017. doi:10.3390/nu9080911
Karthikeyan C, Jharia P, Waikar DK, Nusbaum AC, Amawi H, Kirwen EM, Christman RM, Arudra SKC, Meijer L,

Tiwari AK

and Trivedi P. N-(1H-pyrazol-3-yl)quinazolin-4-amines as a Novel Class of Casein kinase 1 δ/ε Inhibitors: Synthesis, Biological Evaluation, and Molecular Modeling Studies. Bioorg Med Chem Lett. 2017 Jun 15;27(12):2663-2667. doi: 10.1016/j.bmcl.2017.04.080.  PMID: 28487075 (Appeared on the cover of journal, June 2016)
Balch C, Ramapuram JB, and

Tiwari AK.

The epigenomics of embryonic signaling pathways in chemo-resistant colon cancer. Front Pharmacol. 2017 May 19;8:267. doi: 10.3389/fphar.2017.00267 PMID: 28579957
Manivannan E, Amawi H, Hussein N, Karthikeyan C,  Fetcenko AC, Narayana Moorthy NSH , Trivedi P and

Tiwari AK

. Design and discovery of novel silybin analogs as antiproliferative compounds using a ring disjunctive - based, natural product lead optimization approach. Eur J Med Chem. 2017 Jun 16;133:365-378. doi: 10.1016/j.ejmech.2017.03.033. (IF~4.5)
Hussein N, Amawi H, Karthikeyan C, Hall FS, Mittal, R, Trivedi P, Ashby CR and

Tiwari AK

. The dopamine D3 receptor antagonists PG01037, NGB2904, SB277011A, and U99194 reverse ABCG2 transporter-mediated drug resistance in cancer cell lines. Cancer Lett. 2017 Mar 18;396:167-180. doi: 10.1016/j.canlet.2017.03.015. PMID: 28323029 (IF~6.2)
Amawi H, Ashby C,

Tiwari AK.

Cancer chemoprevention through dietary flavonoids: Whats limiting? Chin J Cancer. 2017 Jun 19;36(1):50. doi: 10.1186/s40880-017-0217-4. (IF~4.1)
Kirwen EM, Batra T, Karthikeyan C, Deora GS, Vathore V, Mulakayalae C, Mulakayala N, Nusbaum AC, Joel Chena, Amawi H, McIntosh K, Sahabjada, Arantes V, Shivnath N, Chaurasia D, Sharma N, Md Arshad, Trivedi P and

Tiwari AK

. 2,3-Diaryl-3H-imidazo[4,5-b]pyridine derivatives as potential anticancer & anti-inflammatory agents.Acta Pharmaceutica Sinica B, 2017 Jan;7(1):73-79. doi: 10.1016/j.apsb.2016.05.003. PMID: 28119811
Koduru SV,

Tiwari AK,

and Ravnic DJ. A Comprehensive NGS Data Analysis of Differentially Regulated miRNAs, piRNAs, lncRNAs and sn/snoRNAs in Triple Negative Breast Cancer. J Cancer. 2017Feb 11;8(4):578-596. doi: 10.7150/jca.17633. PMID: 28367238
Koduru SV,

Tiwari AK,

Hazard SW, Mahajan M, Ravnic DJ. Comprehensive analysis of non-coding small RNAs in human colorectal cancer. J Genomics. 2017 Feb 28;5:16-31. doi: 10.7150/jgen.18856. PMID: 28348640
McIntosh K, Balch C and Tiwari AK#.  Tackling multidrug resistance mediated by efflux transporters in tumor initiating cells.  Expert Opin Drug Metab Toxicol. 2016 Jun;12(6):633-44. doi: 10.1080/17425255.2016.1179280. PMID: 27116192
Hussain S, Sulaiman A, Balch C, Chauhan H, Alhadidi Q and Tiwari AK#. Natural polyphenols in cancer chemoresistance. Nutrition and Cancer, 2016 Aug-Sep;68(6):879-91. doi: 10.1080/01635581.2016.1192201. PMID: 27366999
Karthikeyan C, Malla R, Ashby CR Jr, Amawi H, Abbott KL, Moore J, Chen J, Balch C, Lee C, Flannery PC, Trivedi P, Faridi J, Pondugula SR, and Tiwari AK#. Pyrimido[1″,2″:1,5]pyrazolo[3,4-b]quinolines: Novel compounds that reverse ABCG2-mediated resistance in cancer cells. Cancer Lett. 2016 Mar 21. pii: S0304-3835(16)30180-X. doi: 10.1016/j.canlet.2016.03.030. PMID: 27012188 (IF~6.2)
Narayanan NK, Kunimasa K, Miller G,

Tiwari AK

and Narayanan B. Antitumor activity of melinjo (Gnetum gnemon L.) seed extract in human and murine tumor models in vitro and in a colon 26 tumor-bearing mouse model in vivo. Cancer Medicine, 2015 Nov;4(11):1767-80. doi: 10.1002/cam4.520. PMID: 26408414
Malla R, Wang Y, Chan W,

Tiwari AK

, Faridi JS. Genetic ablation of PRAS40 improves glucose homeostasis via linking the AKT and mTOR pathways. Biochem Pharmacol. 2015 Apr 27. pii: S0006-2952(15)00239-7. doi: 10.1016/j.bcp.2015.04.016.
Malla R, Ashby CR, Narayanan N, Narayanan B, Faridi JS, and Tiwari AK#. Proline-rich AKT substrate of 40-kDa (PRAS40) in the pathophysiology of cancer: Biochemical Biophysical Research Communications, 2015, Jul 31;463(3):161-6. doi: 10.1016/j.bbrc.2015.05.041. PMID: 26003731
Pondugula SR, Ferniany G, Ashraf F, Abbott KL, Smith BF, Coleman ES, Mansour M, Bird RC, Smith AN, Karthikeyan C, Trivedi P, Tiwari AK. Stearidonic acid, a plant-based dietary fatty acid, enhances the chemosensitivity of canine lymphoid tumor cells. Biochemical Biophysical Research Communications, 2015 May 15;460(4):1002-7. doi: 10.1016/j.bbrc.2015.03.141. PMID: 25847597
Balaji NV, Ramani MV, Viana AG, Sanglard LP, White J, Mulabagal V, Lee C, Gana TJ, Egiebor NO, Subbaraju GV and Tiwari AK#. Design, Synthesis and In Vitro Cell-based Evaluation of the Anti-cancer Activities of Curcumin and Hispolon Analogs: Bioorg Med Chem. 2015 May 1;23(9):2148-58. doi: 10.1016/j.bmc.2015.03.002. PMID: 25842364
Narayanan NK,

Tiwari AK,

Kunimasa K, Ashby CR, Narayanan B. Potential Role of Natural Dietary Compounds in the Modulation of Metabolomic Fingerprints of Cancer. Metabolomics , 2014, 5: e131. doi:10.4172/2153-0769.1000e131
Chandrabose K, Lee C, Moore J, Mittal R, Suswam EA, Abott KL, Pondugula SR, Manne U, Trivedi P and Tiwari AK#. Novel Pyrimido[1 ,2 :1,5]-pyrazolo[3,4-b]quinolines derivative circumvents multi drug resistance and produces potent apoptosis in colon cancer cells. Bioorg Med Chem. 2015 Feb 1;23(3):602-11. doi: 10.1016/j.bmc.2014.11.043. PMID: 25537531
Chen JJ, Sodani K, Xiao ZJ,

Tiwari AK

, Patel A, Yang DH, Chen SD and Chen ZS. BBA, a synthetic derivative of 23-hydroxybutulinic acid, reverses multidrug resistance by inhibiting the efflux activity of MRP7 (ABCC10). PLoS One. 2013 Sep 17;8(9):e74573. doi: 10.1371/journal.pone.0074573.
Tiwari AK# and Chen ZS. Repurposing PDE5 inhibitors as a chemoadjuvants. (June 25th, 2013, Frontiers in Pharmacology)
Patel A,

Tiwari AK

, Chufan EE, Sodani K, Anreddy N, Singh S, Ambudkar SV, Stephani R and Chen ZS. PD17384, human VEGFR inhibitor, reverses ABCB1 mediated drug resistance in cancer cells. (May 15th, 2013, Cancer Chemo and Pharmacology) PMID: 23673445

Tiwari AK

, Zhang R and Gallo JM. Overlapping functions of ABC transporters in topotecan disposition as determined in gene knockout mouse models. (online first, May 1, 2013 Mol Cancer Ther) PMID: 23635651

Tiwari AK

, Sodani K, Dai CL, Abuznait AH, Singh S, Xiao ZJ, Vispute S, Patel P, Talele TT, Fu LW, Kaddoumi A, Gallo JM, Chen ZS. Nilotinib potentiates anticancer drug sensitivity in murine ABCB1-, ABCG2-, andABCC10-multidrug resistance xenograft models. Cancer Lett. 2012 Oct 9. PMID: 23063650
Kuang YH, Patel J, Wu CP, Sodani K, Dai CL,

Tiwari AK

, Lee J, Fu LW, Ambudkar SV, Korlipara V, Chen ZS.  OSI-930 analogues as novel reversal agents for ABCG2-mediated multidrug resistance. Biochem Pharmacol, 2012 Sep 15;84(6):766-74. PMID: 22750060
Chen JJ, Sun YL,

Tiwari AK

, Xiao ZJ, Sodani K, Vispute SG, Yang DH, Chen SD and Chen ZS. PDE5 inhibitors, sildenafil and vardenafil, reverse multidrug resistance by inhibiting the efflux function of MRP7 (ABCC10) transporter. Cancer Sci. 2012 May 11. doi: 10.1111/j.1349-7006.2012.02328.x. PMID: 22578167
Li T, Yang Y, Cheng C,

Tiwari AK

, Sodani K, Zhao Y, Chen ZS, . N-biphenyl (terphenyl)-2,2-dichloroacet-amide analogues as anti-cancer drugs: design, synthesis and biological evaluation. Bioorg Med Chem Lett. 2012 doi: 10.1016/j.bmcl. 2012.07.057. PMID: 23067553
Sodani K,

Tiwari AK

, Dai CL, Patel A, Chen ZS. GW583340 and GW2974, Human EGFR and HER-2 inhibitors, reverse ABCB1- and ABCG2-mediated drug resistance. Biochem Pharmacol. 2012 Jun 15;83(12):1613-22. PMID: 22414725 (IF~5)
Peng XX,

Tiwari AK

, Wu HC and Chen ZS. Overexpression of P-glycoprotein induces acquired resistance to imatinib in chronic myeloid leukemia cells. Chin J Cancer. 2012 Feb;31(2):110-8. PMID: 22098951 (IF~4.1)
Chen ZS and

Tiwari AK

. Multidrug resistance proteins (MRPs/ABCCs) in cancer chemotherapy and human genetic diseases. FEBS J. 2011 Sep;278(18):3226-45. Epub 2011 Aug 1. PMID: 21740521 Note: Top citation award 2011-2013)
Shi Z,

Tiwari AK

, Patel A, Fu LW. Chen ZS. Roles of sildenafil in enhancing drug sensitivity in cancer. Cancer Res, 2011 Jun 1;71(11):3735-8. PMID: 21610107 (IF~9.3)
Ding PR,

Tiwari AK

, Ohnuma S, Lee JWKK, An X, Dai CL, Lu Q, Singh S, Talele TT, Ambudkar SV, Chen ZS. The phosphodiesterase-5 inhibitor vardenafil is a potent inhibitor of ABCB1/P-glycoprotein. Submitted to Plos One, 2011 Apr 28;6(4):e19329. PMID: 21552528
Shi Z,

Tiwari AK

, Shukla S, Robey RW, Singh S, Kim IW, Bates SE, Peng XX, Abraham I, Ambudkar SV, Talele TT, Fu LW, Chen ZS. Sildenafil reverses ABCB1- and ABCG2-mediated chemotherapeutic drug resistance. Cancer Res, 2011 Apr 15;71(8):3029-41. PMID: 21402712 (IF~9.3)

Tiwari AK

, Sodani K, Dai CL, Ashby C, Chen ZS. Revisiting the ABCs of Multidrug Resistance in Cancer Chemotherapy. Curr Pharm Biotechnol. 2011 Apr 1;12(4):570-94.  PMID: 21118094 (Note: 2nd most cited article in Curr Pharm Biotechnol)
Mi YJ, Liang YJ, Huang HB, Zhao HY, Wu CP, Wang F, Tao LY, Zhang CZ, Dai CL,

Tiwari AK

, Ma XX, To KKW, Ambudkar SV, Chen ZS, and Fu LW. Apatinib (YN968D1) Reverses Multidrug Resistance by Inhibiting the Efflux Function of Multiple ATP-Binding Cassette Transporters. Cancer Res 2010 Oct 15;70(20):7981-91. 2010 Sep 28. PMID: 20876799 ((IF~9.3)
An X*,

Tiwari AK

*, Sun Y, Ding PR, Ashby CR, and Chen ZS. BCR-ABL tyrosine kinase inhibitors in the treatment of philadelphia chromosome positive chronic myeloid leukemia: a review. Leuk Res. 2010 Oct;34(10):1255-68. PMID: 20537386 (*Joint-First Author) (Note: Top 10 most cited article in leukemia research)
Kuang YH, Shen T, Chen X, Sodani K, Hopper-Borge E,

Tiwari AK

, Lee JW, Fu LW and Chen ZS Lapatinib and erlotinib are potent reversal agents for MRP7 (ABCC10)-mediated multidrug resistance. Biochem Pharmacol 2010 Jan 15;79(2):154-61. Epub 2009 Aug 29. PMID: 19720054 20;4(10):e7520. PMID: 19841739(IF~5)

Tiwari AK

, Sodani K, Wang SR, Kuang YH, Ashby CR, Jr., Chen X and Chen ZS. Nilotinib (AMN107, Tasigna) reverses multidrug resistance by inhibiting the activity of the ABCB1/Pgp and ABCG2/BCRP/MXR transporters. Biochem Pharmacol 2009 Jul 15;78(2):153-61. Epub 2009 Apr 11. PMID: 19427995 (IF~5)
Dai CL, Liang YJ, Wang YS,

Tiwari AK

, Yan YY, Wang F, Chen ZS, Tong XZ and Fu LW. Sensitization of ABCG2-overexpressing cells to conventional chemotherapeutic agent by sunitinib was associated with inhibiting the function of ABCG2. Cancer Lett 2009 Jun 28;279(1):74-83. Epub 2009 Feb 18. PMID: 19232821 (IF~6.2)
Shi Z,

Tiwari AK

, Shukla S, Robey RW, Kim IW, Parmar S, Bates SE, Si QS, Goldblatt CS, Abraham I, Fu LW, Ambudkar SV and Chen ZS. Inhibiting the function of ABCB1 and ABCG2 by the EGFR tyrosine kinase inhibitor AG1478. Biochem Pharmacol 2009 Mar 1;77(5):781-93. Epub 2008 Nov 18. PMID: 19059384 (IF~5)
Dai CL*,

Tiwari AK*

,

Wu CP, Su XD, Wang SR, Liu DG, Ashby CR, Jr., Huang Y, Robey RW, Liang YJ, Chen LM, Shi CJ, Ambudkar SV, Chen ZS and Fu LW. Lapatinib (Tykerb, GW572016) reverses multidrug resistance in cancer cells by inhibiting the activity of ATP-binding cassette subfamily B member 1 and G member 2. Cancer Res 2008 Oct 1;68(19):7905-14 PMID: 18829547 (*Joint-First Author). (IF~9.3)