Health Professions Living Learning Community
The Basics of the HPLLC
HPLLC programs and activities will focus on developing the team skills you'll need as a health care professional, providing tutoring and academic support, and putting you in touch with those already working in the field.  View HPLLC booklet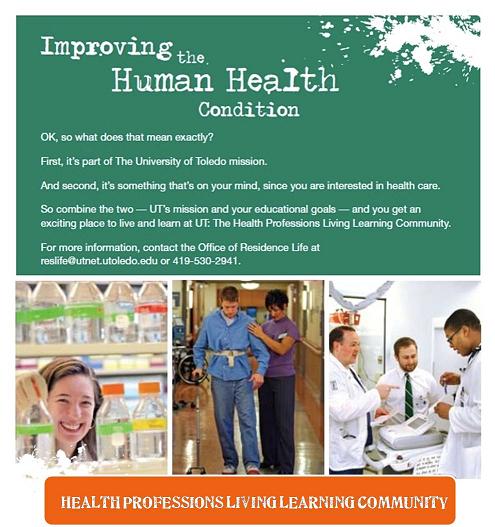 To be a part of the HPLLC, you need to be an admitted UT student and check the HPLLC option on your housing application (you can find the housing application once you log in at myut.utoledo.edu). Space is limited, so apply early after your admission. Program fee is just $75 a semester.
Who is in HPLLC?
It's for first-year UT students enrolled in the following programs in:
Athletic training
Cardiovascular sciences
Community health
Exercise Science
Health care administration
Health information management
Nursing
Pharmacy
Pharmaceutical sciences
Pre-dental/pre-medical/pre-veterinary
Pre-physical therapy
Recreational therapy
Respiratory care
Speech language pathology
Where is the HPLLC located?
The HPLLC is located in Carter Hall East, a 240-bed residence hall with the largest 2-person bedrooms on campus.
Carter Hall POD (Provisions on Demand) Convenience
Store inside the building
Closest residence hall to the Rec Center
For more information:
Contact the Office of Residence Life at reslife@utnet.utoledo.edu or 419-530-2941.