Computing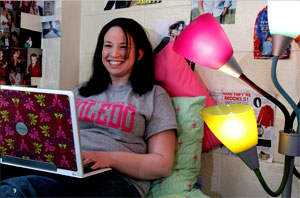 Setting up your Personal Computer in your room
Living in the Residence Halls has its advantages. You can connect your PC directly to the university's network. (you are not permitted to connect other equipment to the network.
Students must have up-to-date virus protection and set up their PCs according to the following documentation:
Configuring Windows or Mac for Ethernet. 


If you are still having connection problems, use our troubleshooting guide.


If you are still experiencing connection problems, they you should call the Service Request Line ext 3644.


If you think your pc is infected with viruses or clogged with spyware or malware, you might consider downloading and running the following service packs, patches and utilities to clean it yourself.
The service packs, patches and utilities are freely available on the web and UT assumes no liability in their use. Click the appropriate link and save the file to your computer. Unzip it onto a CD or Flash drive, then run it on your PC.
Windows 2000 users or Windows XP users.

What is my UTAD Account?
Your UTAD Account (username and password) gives you access to:
Logon to computers in UT's Public and Residence Hall computing Labs.
Logon to Your MyUT Web Portal account.
Logon to Your UT Email account.
You must activate your UTAD account and select a password in order to use it.
To activate your UTAD account, go to http://myutaccount.utoledo.edu.

You Should Know:
Your UTAD Account comes with privileges and responsibilities.
Be aware that YOU are responsible for ALL activities performed with your PC and UTAD account, including damage to a computer or it's software, any inappropriate network activity.
To protect yourself, always exit all programs and logoff before leaving a computer.
Never allow anyone to use your account.
Failure to comply or abuse committed with your PC or UTAD account could result in the loss of your network access.
For More Information Please Visit the University of Toledo's Educational and Information Technology website.