Off-Campus and Extended Programs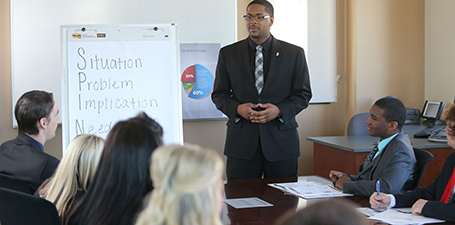 Off-Campus and Extended Programs (OCAEP) brings a quality "on campus" education and academic service to the workplace and other off-campus locations. The University of Toledo comes to the student by delivering courses and degree programs on-site at a place of employment or other location.
OCAEP serves the educational needs of students who otherwise would be excluded from higher education due to the distance from UT's campus or because work schedules prohibit the student from taking courses on campus. The division is the link, offering convenient educational needs to off-campus students with the appropriate educational programs and highly qualified faculty at The University of Toledo. We can provide the programs on-site, online or a hybrid approach with courses offered days, evenings and weekends.
Program Benefits: 
Off-campus courses at your location
Choose from certificates, associate's degree, bachelor's degree, graduate degrees, or single courses
Convenient and flexible dates and times customized to your organization/group
Degree electives tailored to the needs of the organization/group
Flexible delivery (face-to-face, online, hybrid courses)
On-site academic advising
Programs offered in a cohort format
Convenient registration
Textbooks delivered to the site
Direct billing available for companies with tuition reimbursement policies
No "on campus" parking fees
Possible scholarship opportunities
Link the educational needs of your organization with the appropriate educational programs and highly qualified faculty from a world class university
A gateway to all of the university's colleges
Questions or want to learn more?
Main Campus-Memorial Field House, Suite 3005B