Warmest Holiday Wishes from UToledo
Watch Rocky cozy up during the holiday season as he enjoys an instrumental version of our fight song composed by Micah Lawson, a graduate student in the Department of Music.
---
Crackling fire.
Toasty blanket.
Favorite mug brimming with hot chocolate.
Those you love close by.
Cheers to a cozy and relaxing holiday season.
As 2021 comes to a close, it's time to unwind. We encourage you to take time during winter break to relax and recharge as we recommit ourselves to the year ahead. We've all earned it. And we all need it.
Cheers to a restful winter break. Sending warm wishes for a joyful holiday season and bright new year ahead.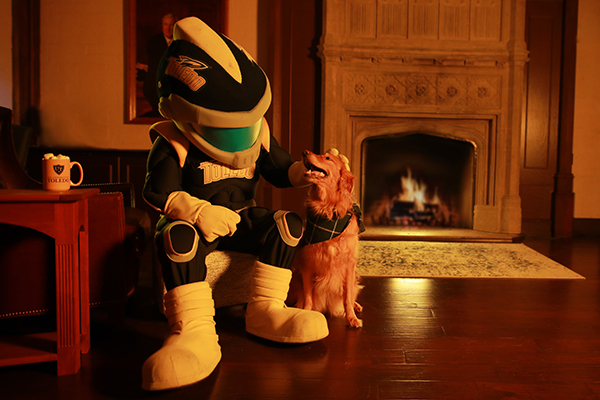 ---
Graduate Student Reimagines UToledo Fight Song as Holiday Soundtrack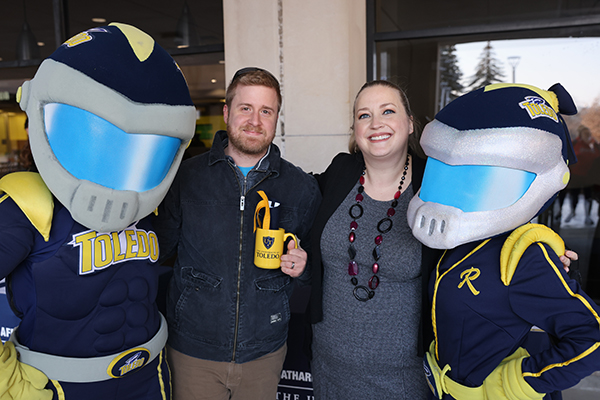 Micah Lawson, a graduate music student at UToledo, was tasked with creating a relaxing version of "U of Toledo" to accompany the University's annual holiday message to Rocket Nation.
"The style of the UToledo fight song is very energetic," he said. "It's a fast-paced song so that it gets a lot of energy going and it works very well for that. My challenge was to write a very laid-back and mellow version of that. By boiling it down to its most basic parts, I was able to turn the song into the style I wanted."
Using music composition software, Lawson worked out a gentle piano-sounding performance that played softly and accurately to his ears. He added sleigh bells to the digital track to increase the song's holiday vibe. And the addition of bass guitar and drums completed the final version.
"I know the fight song is cherished," Lawson said. "My goal was that I would do justice to the song for them and that they can take pride and enjoy the song over the holidays. That would be fantastic."
---
Season of Giving
Thank you to our faculty, students and staff who came together to celebrate the successful end to the fall 2021 semester and the warm spirit of the holiday season by sharing hot cocoa with their fellow Rockets on Main Campus and Health Science Campus.
In the spirit of the season, our campus community assisted members of our Rocket community who are in need through donations to the campus food pantries and the Eberly Center toy drive.
You can continue to support the food pantries with financial donations through The University of Toledo Foundation to the UT Food Pantry or HSC Rocket Pantry. The Rocket to Rocket Fund also is available to help students with emergency aid.