Message from Our Chairman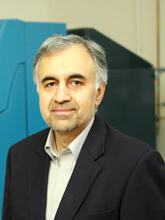 Welcome to the University of Toledo
Mechanical, Industrial, and Manufacturing Engineering Department (MIME)
Mohammad Elahinia, Ph.D.
Department Chair
On behalf of my colleagues and myself, I welcome you to the Department of Mechanical, Industrial and Manufacturing Engineering (MIME) at the University of Toledo. We pride ourselves on comprehensive degree programs at the bachelor's, master's, and doctoral levels. Because of our dedication to excellence in instruction and research, we have experienced significant growth in enrollment.
The College of Engineering has a healthy and active Career Development Center that connects students with employers for co-op positions and full-time employment after graduation. Their service culminates in a twice-yearly Career Expo for UT College of Engineering students.
The MIME department also boasts a world-class faculty. Our faculty comes highly-awarded in areas of teaching, research, and service. We house three Distinguished University Professors, the highest award available to UT Faculty, as well as five UT Outstanding Teachers. Nine of our faculty are Fellows in one or more professional organizations. 
Our facilities include a number of instructional and research labs, providing hands-on learning for students and resources for graduate students and faculty to conduct research. These research facilities include a high-speed wind tunnel, Dynamic & Smart Systems Lab, and the Precision Micro Machining Lab, to name a few.
Please take the time to browse through our web pages to learn more about our department. I invite you to visit The University of Toledo MIME Department in the near future.

Sincerely,

Mohammad Elahinia, Ph.D.
Professor and Chair