Meet Audrey the COGSDog: College Graduate Studies

 

new therapy dog
Have you seen Audrey around campus lately hoping to get your attention? We are pretty sure she has seen you! Audrey is the newest member of the College of Graduate Studies team. She wants to share smiles, hugs and a few wet nose puppy kisses everywhere she goes. 
Audrey joined the University of Toledo College of Graduate Studies in early Summer 2019. She is a 2 year old white golden retriever/Labrador retriever mix. Her journey started as a service dog in training but after several months in this program was determined ineligible to continue. She was soon after certified as a pet therapy dog through Alliance of Therapy Dogs and is now registered as a certified pet therapy dog with this national organization. In addition to the University of Toledo, Audrey holds volunteer status with The Toledo Hospital and Sunshine Communities. 
"I have seen firsthand the positive effect we have had since first bringing Audrey to campus. Faculty, staff and students are very excited about her being here and quite often invite her to their on campus events. The smiles on the faces of our students and employees says it all. Audrey loves everyone and everyone loves Audrey. I wish we could be everywhere, all the time." Andrews, owner and Director of Graduate Enrollment Management said.
During the fall semester Audrey has participated in Welcome/Move In Week, University of Toledo Counseling Center Open House, Day of Giving,  DeStress Fest, finals week Take a Break event at the Multicultural Student Success Center. She can also be seen roaming the Student Union looking for YOU and hoping you will stop to say hello.  In addition, she has hidden #AudreyRocks around campus which share a heartfelt message of encouragement and love. 
Audrey can be seen around campus several times a week.  We hope you will stop by to say hello or stop us if you see us around campus.  
March 2020 
Tuesdays  10-11:30 a.m. Roaming the Student Union  
Wednesdays  9 a.m. – 11 a.m. COGS Main Campus 
Wednesdays 11 a.m. -noon Rock It on the Mall-Student  Union (on ramp)
Wednesdays  noon – 1 p.m. University of Toledo Counseling Center  
Tuesday, March 3 noon-1p.m. - Office of Student Involvment & Leadership Student Union 1532
Wednesday, March 18 - 2:30-4:30  COGS HSC Mulford Library  
Audrey would be happy to participate in your on campus event or visit your office or residence hall. To check availability and schedule a time, please contact deborah.andrews@utoledo.edu. Remember to follow us on Instagram #therapydogadventureswithaudrey. 
#wetNoseWednesday and More.....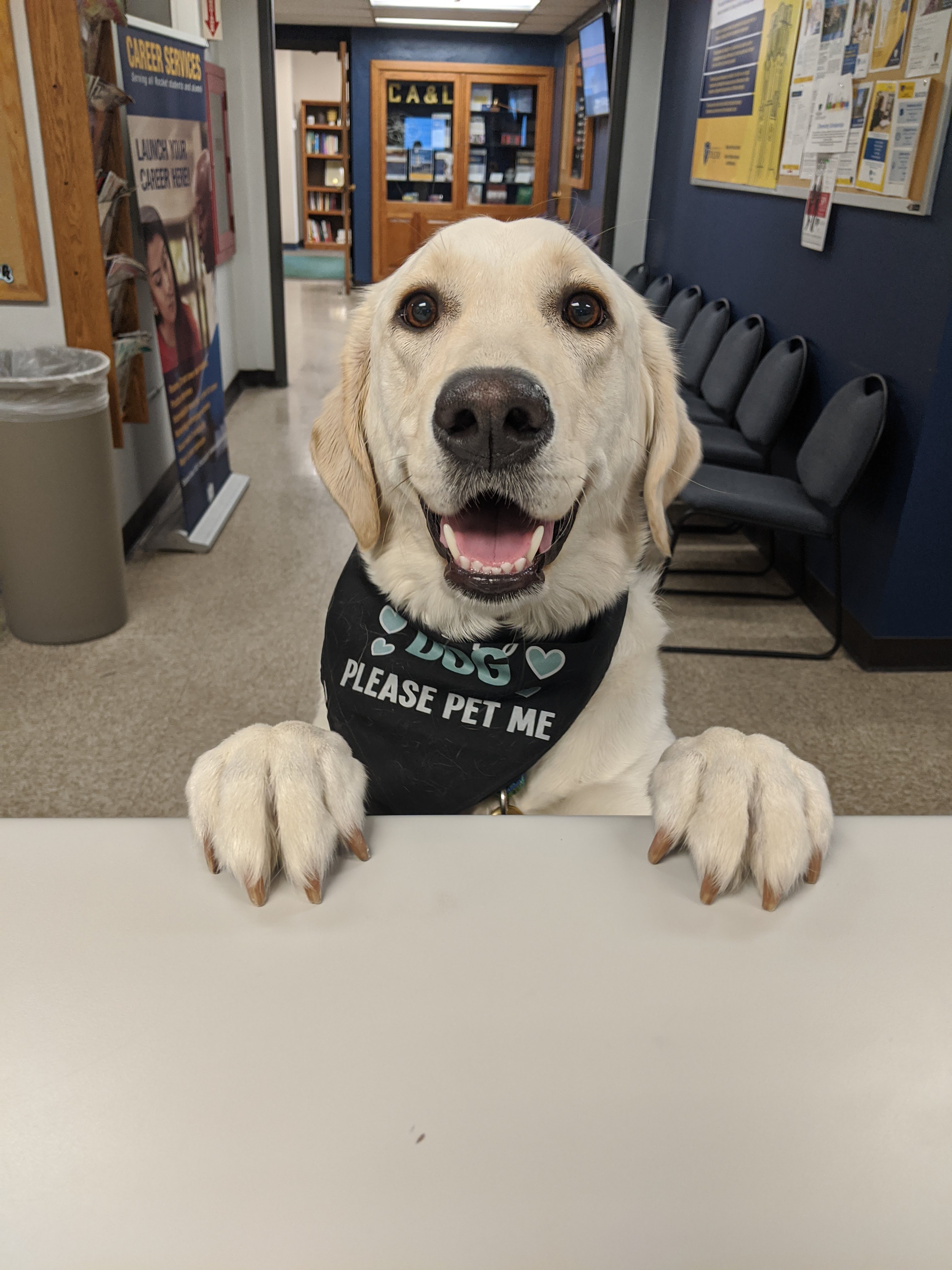 Visiting the College of Arts & Letters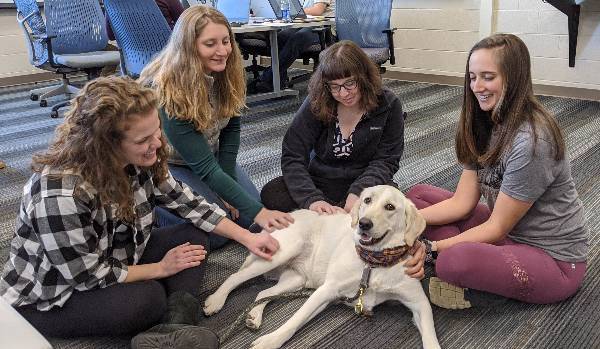 Environmental Biology Graduate Students

Relaxing at the Wellness Bash