Laura A. Mike, Ph.D.

Assistant Professor
Molecular mechanisms of Klebsiella pneumoniae pathogenesis
Lab: 223 HEB
Lab Phone: (419) 383-6381
Office: 204A HEB
Office Phone: (419) 383-6580
Fax:  (419) 383-3002
E-mail: Laura.Mike@utoledo.edu
Twitter: @lauraamike
---
Open Positions:
Graduate students: The Mike lab is actively recruiting excited and motivated graduate students. Current University of Toledo students interested in joining our team should email Dr. Mike to discuss rotation projects. Prospective graduate students interested in the Mike lab should consider applying to the Biomedical Science Graduate Program.
Postdoctoral fellows: The Mike lab is currently seeking creative and enthusiastic scholars looking to develop an expertise in the molecular genetics of gram-negative infections. If interested, please email Dr. Mike with a cover letter, CV, and the contact information for 3 references.
---
Research Interests:
Although Klebsiella pneumoniae is among the most clinically challenging bacterial pathogens of the modern era there is a dearth in knowledge regarding how this gram-negative bacterium senses and responds to the host enviroment to elaborate virulence programs causing specific pathologies. Our long-term goal is to understand the molecular mechanisms gram-negative pathogens use to sense, adapt, and respond to the host environment, thereby identifying critical bacterial factors that can be targeted to pioneer therapeutic strategies to treat infection. Our current focus is to identify the input signals, transducers, and bacterial responses that direct K. pneumoniae virulence-associated phenotypes, specifically hypermucoviscosity. Hypervirulent strains often exhibit a hypermucoviscous phenotype evident when bacterial colonies are pulled off a surface form a long, adherent string (see photo). Little is known about what signals and regulatory pathways control hypermucoviscosity and how that affects disease outcomes. Our lab seeks to determine how nutrient signals, such as discrete carbon sources and metals, impact K. pneumoniae biology to regulate hypermucoviscosity. Ultimately, we are interested in understanding how nutrient availability in different host niches regulate hypermucoviscosity and impact pathogenesis.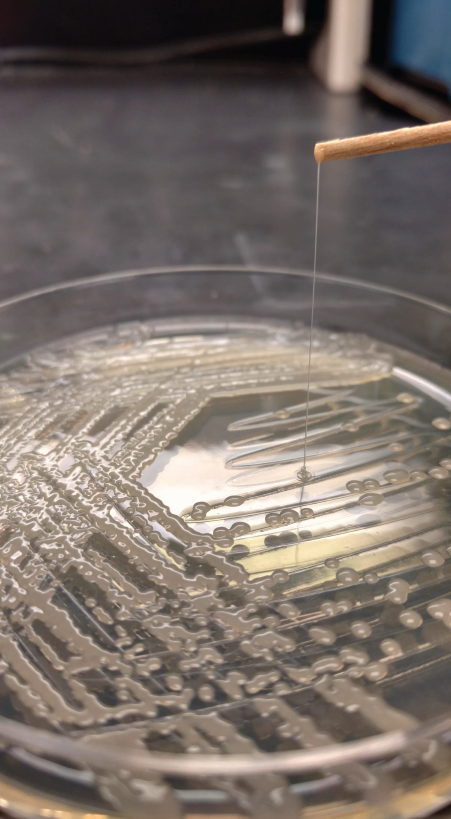 hypermucoviscous phenotype of K. pneumoniae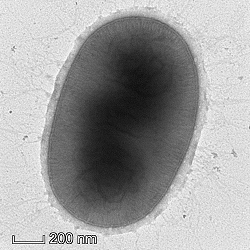 TEM of K. pneumoniae
(credit: Andrew Kleinhenz in the Integrated Core Facilities)
---
Education and Training:
Duke University, Chemistry
Vanderbilt University, Microbiology & Immunology (advisor: Eric Skaar)

Ph.D. (2013)
Postdoc (2014)

University of Michigan, Microbiology & Immunology (advisor: Harry Mobley)

Postdoc (2019) (co-advisor: David Sherman)
Research Investigator (2021)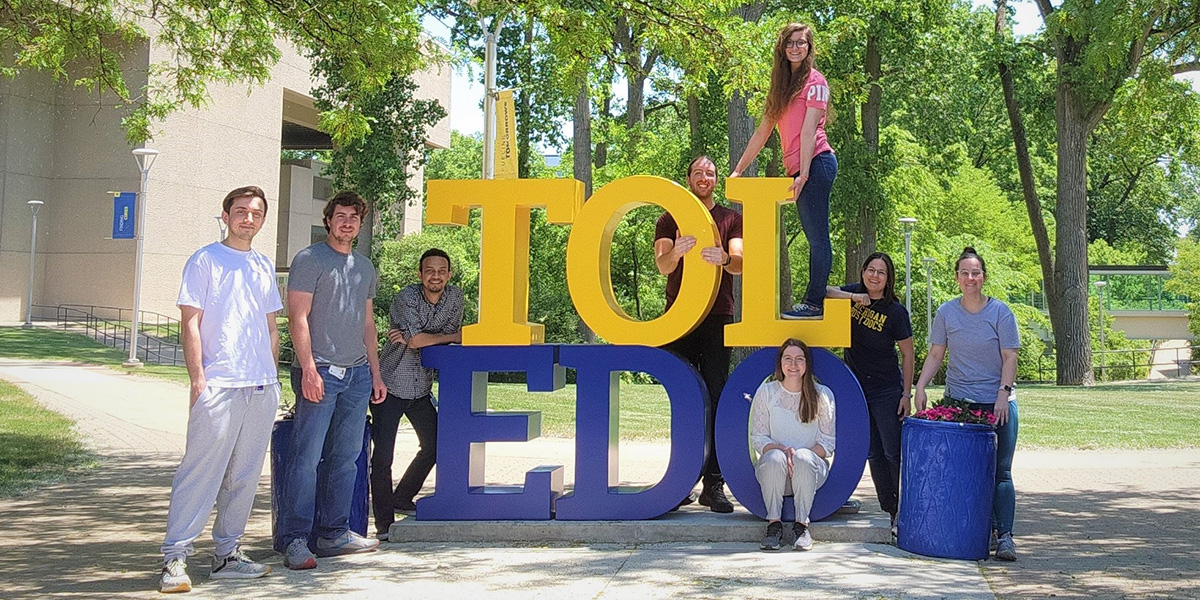 Mike Lab Summer 2023
---
Current and Recent Funding:
NIH/NIGMS, R35 GM150588: Control of Klebsiella Capsule Biosynthesis and Attachment (PI: L.A. Mike, Sept 2023 – Aug 2028)
University of Toledo, Research Innovation Program (PI: L.A. Mike, May 2023 - December 2024)
American Heart Association, 23CDA1056712: Metabolic and surface-exposed determinants of K. pneumoniae bloodstream dissemination (PI: L.A. Mike, April 2023 - March 2026)
NIH/NIAID, K22 AI145849: Functional Genetic Analysis of Klebsiella pneumoniae Hypervirulence (PI: L.A. Mike, July 2021 - June 2023)
---
Selected Publications:
Pariseau D, Ring BR, Khadka S, Mike LA. "Cultivation and genomic DNA extraction of Klebsiella pneumoniae" Current Protocols in Microbiology, (2023).
Khadka S, Ring BR, Pariseau D, Mike LA. "Characterization of Klebsiella pneumoniae extracellular polysaccharides" Current Protocols in Microbiology, (2023).
Ring BR, Khadka S, Pariseau D, Mike LA. "Genetic Manipulation of Klebsiella pneumoniae" Current Protocols in Microbiology, (2023).
Khadka S*, Ring BR*, Walker RS, Krzeminski LR, Pariseau D, Hathaway M, Mobley HLT, Mike LA. "Urine-mediated suppression of Klebsiella pneumoniae mucoidy is counteracted by spontaneous Wzc variants altering capsule chain length." mSphere, (2023): Aug 23: e0028823. PMID: 37610214 *co-first authors
Mason S, Vornhagen J, Smith SN, Mike LA, Mobley HLT, Bachman MA. "The Klebsiella pneumoniae teroperon enhances stress tolerance." Infection and Immunity (2023): Jan 18: e0055922. PMID: 36651775
Mike LA, Stark AJ, Forsyth VS, Smith SN, Vornhagen J, Bachman MA, and Mobley HLT. "A systematic analysis of hypermucoviscosity and capsule reveals distinct and overlapping genes that impact Klebsiella pneumoniae fitness." PLoS Pathogens (2021): 17(3): e1009376. PMID: 33720976

Forsyth VS, Himpsl SD, Smith SN, Sarkissian CA, Mike LA, Stocki JA, Sintsova A, Alteri CJ, Mobley HLT. "Optimization of an experimental vaccine to prevent Escherichia coli urinary tract infection." mBio (2020): 11:e00555-20. PMID: 32345645

Featured on This Week in Microbiology podcast episode #217.

Mike LA, Tripathi A, Blankenship CM, Saluk A, Schultz P, Tamayo-Castillo G, Sherman DH, Mobley HLT. "Discovery of Nicoyamycin A, an inhibitor of uropathogenic Escherichia coli growth in low iron environments." Chemical Communications, 53, (2017): 12778-12781. PMID: 29139494

Mike LA, Smith SN, Sumner C, Mobley HLT. "Siderophore vaccine conjugates protect against uropathogenic Escherichia coli urinary tract infection." PNAS, 113 (47), (2016): 13468-13473. PMID: 27821778

Choby JE*, Mike LA*, Mashruwala AA, Dutter BF, Dunman PM, Sulikowski GA, Boyd JM, Skaar EP. "A small molecule inhibitor of iron-sulfur cluster biogenesis is toxic to Staphylococcus aureus in an Sae-dependent manner." Cell Chemical Biology,23 (11), (2016):1351-1361. PMID: 27773628 *co-first author

Highlighted in, "Exposing the unique connection between metabolism and virulence in Staphylococcus aureus," by Weiss, Fleeman, and Shaw.

Dutter BF, Mike LA, Reid PR, Chong K, Ramos-Hunter S, Skaar EP, Sulikowski GA. "Decoupling activation of heme biosynthesis from anaerobic toxicity in a molecule active in Staphylococcus aureus." ACS Chemical Biology, 11 (5), (2016):1354-61. PMID: 26890615

Mike LA, Choby JE, Brinkman PR, Olive LQ, Dutter BF, Ivan SJ, Gibbs CM, Sulikowski GA, Stauff DL, Skaar EP. "Two-component system cross-regulation integrates Bacillus anthracis response to heme and cell envelope stress." PLOS Pathogens 10 (3), (2014):e1004044. PMID: 24675902

Mike LA, Dutter BF, Stauff DL, Moore JL, Vitko NP, Aranmolate O, Kehl-Fie TE, Sullivan S, Reid PR, DuBois JL, Richardson AR, Caprioli RM, Sulikowski GA, Skaar EP. "Activation of heme biosynthesis by a small molecule that is toxic to fermenting Staphylococcus aureus." PNAS 110 (20), (2013): 8206-11. PMID: 23630262

Anzaldi LL, Skaar EP. "Overcoming the heme paradox: Heme toxicity and tolerance in bacterial pathogens." Infection & Immunity 78, (2010): 4977-89. PMID: 20679437
 Return to Medical Microbiology & Immunology