Fraud, Waste & Abuse
What is Fraud?  Typically requires 3 key elements:
1)      Misrepresentation – "did something wrong"
2)      Done intentionally
3)      Resulted in unauthorized personal gain 
Who Commits Fraud?  Those having:

Ability to rationalize – Fraudulent actions  taken weren't really stealing
Opportunity – Due to too much authority resting with one person or a poor internal control environment
Pressure – Desperation for wealth or to obtain extra money
 Who Commits Fraud? (Source: 2006 ACFE Report on Occupational Fraud-study of 1134 fraud cases)
Sometimes the best personnel:
Majority of perpetrators were long-tenured, managers and executives, male, and middle-aged
64% of frauds were committed by perpetrators with over 5 years' tenure
Median loss for employees with < 1 year's experience was $45,000, jumping to $263,000 for those with 10+ years' experience
How Does Fraud Occur?
  Billing – Employee submits invoice to customer for personal expenses
  Expense reimbursement – Employee expense report claims nonexistent meals, personal travel, etc.
  Non-cash – Employee steals business services, identity of staff/students, office supplies, stamps, etc.
  Payroll – Taking unreported sick leave, claiming overtime for hours not worked, ghost employees
  Skimming – Employee not recording payments received from customers, diverting into own account
How Is Fraud Detected? (Source:  2006 ACFE Report)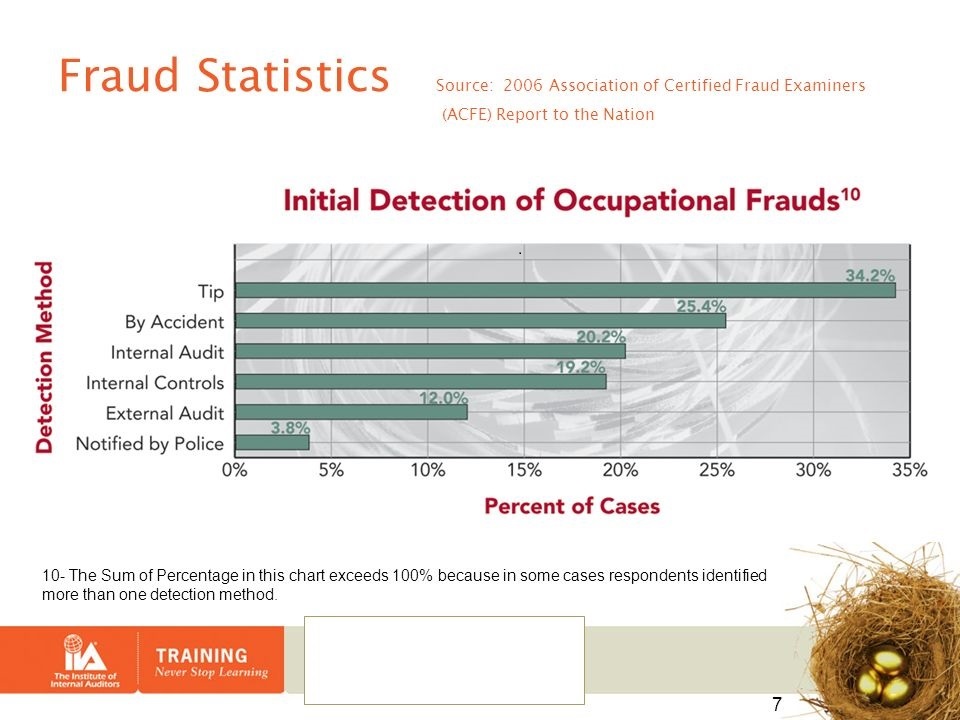 The University of Toledo Anonymous Reporting Line,   1-888-416-1308 or www.mycompliancereport.com  A dedicated number available to all UToledo faculty and staff and third parties to report potential concerns in:
  Financial Management, Patient Safety, Regulatory Adherence
  Allows 24-hour availability; callers may remain anonymous; managed by a third-party vendor
  Does not replace existing reporting mechanisms on campus or in the Health System
Internal Controls Are Important for Reasons Other Than Preventing or Detecting Fraud
  Controls help detect/prevent honest errors (ex., keypunch/data entry errors)
  Computerized controls help ensure accuracy and efficiency (ex., time entry eliminating timesheets)
  Redundant or unnecessary steps

Back