COBI team seizes top two honors at Information Systems case competition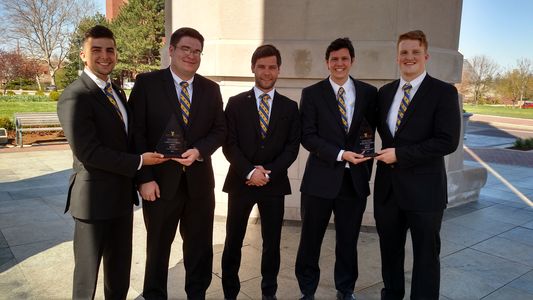 Pictured left to right: Tyler Hooven, Joshua Light, Phil Mick, Zachary Zavela, and Bradley Spelman
A team from the UT College of Business and Innovation claimed the two top honors at the 5th Annual IS Project and Case Competition in April at Ball State University in Muncie, Indiana.
The COBI team won the First Place Trophy for their Case Solution, and then sweetened their success by also winning the Best Overall Champion Award, Project and Case for 2016, the highest honor presented at the competition.
"This was an all-around team win!" noted Teresa Keefe, Senior Lecturer, COBI Information Operations and Technology Management Department and advisor to the COBI competition team. "We were all taken by surprise, to say the least, but in my opinion, the award was definitely well-deserved!"
The COBI team consisted of Phillip Mick (project lead), Tyler Hooven, Joshua Light, Bradley Spelman and Zachary Zavela.
Another important component of the team was industry partner O-I, which allowed the team to work for and with them on a great project.
"O-I went above and beyond to help prepare the team for the presentation of the project," Keefe observed. "The opportunity they provided and the value of these experiences are beyond anything I can do in the classroom!"
"We were pleased to have O-I provide the project for the team," noted COBI Dean Gary Insch.    "Congratulations to the team and the faculty who worked with the team!  Another great student success story!   Kudos all around!"
The competition consisted of two components: on the first day students made a presentation about the O-I project the team had worked on. The case competition on the second day required students to integrate their knowledge in all business areas and analyze - - within a very short time constraint - - an IT-related business problem they were presented. 
"After our COBI team's success at last year's competition, I was not sure it was even possible to have more success," Keefe said, "but we were more successful than ever before."
Keefe thanked Scott Lindsay, member of the UT COBI ISAC board, for helping to prepare the students in areas of IT governance and IT security, "which definitely helped with our case solution preparation!" She also thanked Dr. Steve Wallace for his help in readying the team for its project presentation and case analysis. 
"Most importantly, thanks to the students for their hard work, dedication, commitment to excellence and their outstanding representation of the University of Toledo," Keefe said.  "We can all celebrate this win as a reflection of our transformative work!"