About LaunchPad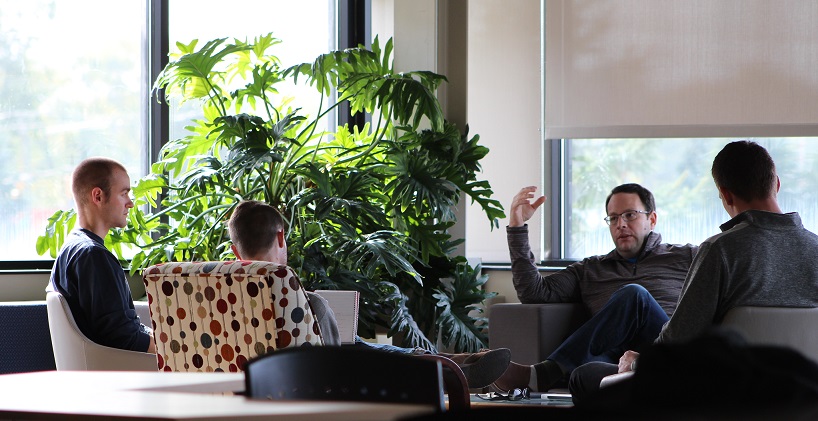 The LaunchPad Incubation at the University of Toledo is one of Northwest Ohio's leading business start-up and entrepreneurial assistance programs for innovative and high-tech concepts.  LaunchPad specializes in concept advancement for new ventures and works with entrepreneurs to create profitable businesses for the region and beyond. LaunchPad provides access to capital, business development resources, and expertise focused on enhancing community collaboration and communication for entrepreneurial development.
Business model development: We focus on a "lean launch" methodology, featuring the NSF backed Business Model Canvas, which supports evidence-based entrepreneurship.
Hands-on coaching: LaunchPad Incubation startup participants are paired with advisors in their industry who can provide key information and expertise.
State-of-the-art facilities: We offer private offices of varying size, lab space, Coworking facilities, and meeting rooms as well as newly updated features like UT Maker Space and a multimedia center.
Access across UT: Resources from UT's entire campus community, from Main Campus to the Health Science Campus and the tech corridor, are available, including students, faculty, technology and tech experts, as well as companion startups in LaunchPad Incubation.
Essential networking opportunities: Monthly tenant mixers, mentor meet and greets and other events offer introductions to top business leaders within various industries. 
Access to capital: We work closely with the primary funding sources in our region – and beyond – to provide access to funding and investment opportunities.
The University of Toledo operates three incubator facilities which provide specialized equipment, laboratory, office, and manufacturing space:
History
The University of Toledo, a major public research university, has been pioneering photovoltaic solar technology with international recognition for nearly 30 years. The world's largest and most successful manufacturer of solar cells, First Solar, actually had its origins in the laboratories of the University of Toledo. Business incubation services at the University of Toledo had their genesis in this successful melding of technological innovation and entrepreneurial drive.
In 2001, UT took its first step toward developing an incubation program with a commitment to building a program of national excellence in alternative and renewable energy. The initial focus on solar energy expanded to fuel cells, biomass energy, hybrid vehicle technologies, and wind energy.
The establishment of the Clean and Alternative Energy Incubator was the next step in this commitment, giving university spin-off businesses and start-up alternative energy companies a place to nurture and grow into stable, expanding businesses that can enhance the business community of the Northwest Ohio region. The incubation offerings of the university expanded once more soon after the merger of the Medical University of Ohio into the University of Toledo when the Laboratory Incubation Center opened to incubate life sciences and biomedical companies needing specialized laboratory facilities.
In 2010, UT Business Incubation opened its flagship facility, Nitschke Technology Commercialization Complex. This space, appropriate for alternative energy, advanced manufacturing, and information technology businesses, is appropriate for both business incubation and business acceleration needs.
The cultivation of knowledge, generation of regional wealth, creation of high-wage jobs, and fostering the regional entrepreneurial climate are the aims of UT Business Incubation and the efforts to which the University of Toledo and its partners are strongly committed.
 Thank you to our funding partners who make LaunchPad possible.