Patricia Anne Wise
Lecturer in Law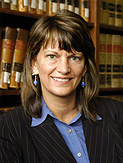 Patty Wise is a labor and employment lawyer, and a partner with Spengler Nathanson P.L.L. She is certified by the Ohio State Bar Association as a specialist in that area of practice. She was appointed by former chair Jenny Yang to the EEOC Select Task Force on Workplace Harassment and is a member of the SHRM Labor Relations Special Expertise Panel, which she co-chaired from 2014-15. Wise carries Martindale-Hubbell's AV Preeminent rating and has published books on harassment and retaliation.
Wise has been an adjunct or visiting professor at The University of Toledo College of Law since 1999. She is a frequent speaker for state banking associations and serves on the faculty of the Graduate School of Banking at the University of Wisconsin in Madison. In 2014, she was appointed by the Supreme Court of Ohio to serve as a member of the Board of Professional Conduct. She served as special counsel for the Ohio Attorney General from 2003-07.
Wise represents diverse clients of all sizes and from all industries. She is a former senior vice president and in-house counsel for a billion-dollar bank holding company. She trains and speaks extensively on employment law issues and recently completed the third edition of her book, Understanding and Preventing Workplace Retaliation, published by the Thompson Publishing Group, Inc.
Published Works
Harassment in the Workplace: Sexual, Racial and Religious Complaints

, Thompson Publishing Group, 2012.
"Viewpoint: The ABCs of the NLRA for Nonunion Employers," (co-authored with Christine V. Walters), 2016.
Understanding and Preventing Workplace Retaliation, Thompson Publishing Group, 2000, 2007 (2nd Edition)
Coming Soon to a Court Near You: Changes in Employment Law, Ohio Record, Spring 2008
"Uneven Odds for Employers Attempting to Get Even – The Status of Retaliation Claims After Burlington Northern," Inter Alia, Federal Bar Association, N.D.O.C., Fall 2007
"Employers Pay for Retaliation," Ohio Record, Summer 2004
"Fair Labor Standards Act Revisions," Ohio Record, Summer 2004
"Disabilities Act Compliance Needn't Disable Your Bank," ABA Banking Journal, July 1997
"Guidelines on How to Discipline and Discharge Employees Safely and Effectively," Ohio Banking News, August 1997
"Bridging the Gap from Affirmative Action to Cultural Diversity: The Legal Societal, and Cultural Issues," 1993
Awards and Honors
2007 Public Service Commitment Award, University of Toledo College of Law Alumni (Inaugural Award)
Women of Toledo (2004), St. Vincent Mercy Medical Center Auxiliary
Outstanding Achievement in Trusteeship (2003), Ohio Association of Community Colleges Excellence Awards
Milestones: A Tribute to Women (2000) Award for Achievements in Business
Outstanding Community Service Award (1999) Ohio State Bar Association, District 4
Alumni Community Service Award (1996) BGSU Alumni Association
"Twenty Under 40" Community Leadership Award (1996) Toledo Jaycees (Inaugural Award)
Ohio State Bar Association, Fellow (Class of 1999)
Professional Memberships
Federal Bar Association
Ohio State Bar Association 
Toledo Bar Association
Ohio Management Lawyers Association
National Association of College & University Attorneys
Community Involvement
Advocates for Basic Legal Equality
Legal Aid of Western Ohio
Northwest Ohio Development Agency
Toledo Fair Housing Center
Owens Community College, YMCA of Greater Toledo, Toledo Community Foundation, Hospice of Northwest Ohio, Maumee Valley Country Day School