Dean D. Benjamin Barros Elected to AALS Executive Committee
January 9, 2019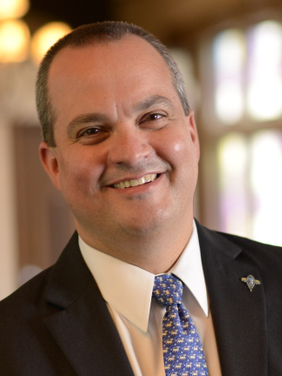 The University of Toledo College of Law congratulates Dean D. Benjamin Barros, who was elected to serve on the Association of American Law Schools (AALS) Executive Committee by the organization's House of Representatives at the AALS Annual Meeting in New Orleans, La. on Jan. 4, 2019. Dean Barros will serve a three-year term as a member of the Executive Committee.
AALS is a nonprofit association of 179 member law schools with a mission to uphold and advance excellence in legal education. The AALS Executive Committee is comprised of only nine members from across the country, who are well respected among their peers as leaders in legal education. Dean Barros was one of the youngest educators to serve on the Executive Committee when he served a one-year term in 2014. Dean Barros' other past leadership roles include service as chair of the AALS Property Section and President of the Association for Law, Property, and Society.
"Dean Barros is well positioned to serve legal education as a member of the AALS Executive Committee," said Judith Areen, AALS Executive Director. "His thoughtful advice and prior experience on the committee will help guide the association in our efforts to advance excellence in legal education."
D. Benjamin Barros joined the College of Law as Dean in July 2015. He teaches and writes in the areas of property law and theory, regulatory takings, property law reform, and the philosophy of science. He is the founding editor of the Journal of Law, Property, and Society. In 2015, he released a casebook on property law with Aspen/Wolters Kluwer. 
Previously the associate dean of academic affairs and professor of law at Widener University School of Law in Harrisburg, Pa., Dean Barros practiced as a litigator before teaching. Immediately after graduating from law school, Barros clerked for Judge Milton Pollack of the U.S. District Court for the Southern District of New York. He then worked at the law firms of Latham & Watkins LLP and Debevoise & Plimpton, both in New York City.
Dean Barros graduated from Fordham University School of Law, where he was an editorial board member on the Fordham Law Review and a member of Order of the Coif. He holds a bachelor's degree in philosophy from Colgate University and a master's degree in philosophy from the University of Maryland. 
In an AALS press release, Dean Barros said, "Law and lawyers are essential to our society and our democracy, and our profession is rooted in legal education. I am honored to have this opportunity to serve the AALS and its member schools as we work to shape the future of legal education and the legal profession."