High School Students Participate in Simulated Congressional Hearings at Toledo Law
Dec. 18, 2019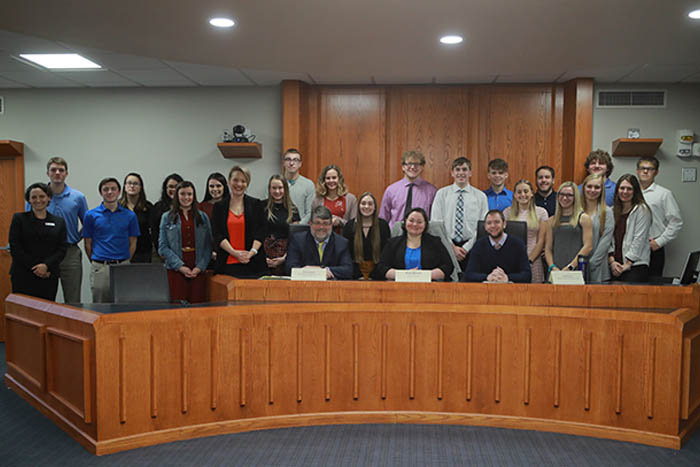 Students from Ayersville High School in Defiance, Ohio, participated in simulated congressional hearings during a visit to The University of Toledo College of Law on Dec. 6, 2019. These students are part of the "We the People" program led by Ayersville High School teacher, Courtney Reiner.
"We the People...The Citizen and the Constitution" is an instructional program for high school and middle school students which teaches the his­tory and principles of American constitutional democracy and enhances students' understanding of government. In this program, student groups compete in simulated congressional hearings. The hearings allow students to demonstrate their knowledge and understanding of constitutional principles while arguing positions on relevant historical and contemporary issues. A volunteer judging panel evaluates students' responses.
The simulated congressional hearings for the Ayersville students took place in the Cubbon Courtroom at the Law Center. Volunteer judges consisted of Rick Goheen, assistant dean for the LaValley Law Library and associate professor of law, Krysten Beech '15, associate at Marshall Melhorn, and David Zavac '14, congressional assistant at the Office of Representative Marcy Kaptur.
To give the high school students a sense of what law school is like, they participated in a mock law class taught by associate professor of law, Shelley Cavalieri. Later, they heard presentations from UToledo undergraduate admissions and Toledo Law admissions teams, which focused on our 3+3 accelerated degree program. The program allows select undergraduate students at partner institutions to earn both a bachelor's degree and a law degree in just six years instead of seven. The high school students also took a tour of the University.
"Research indicates that most lawyers first contemplated a career in the law during their high school years," said Cavalieri. "I hope that bringing this group of students to the College of Law planted the idea of becoming a lawyer in their minds. Their capable discussion of constitutional issues suggests that many of them show great promise as potential lawyers."
Cavalieri and Reiner coordinated the visit.
Cavalieri teaches property law at the college. She is a leading expert on human trafficking, land reform, and land banking. Her research focuses on feminist legal theory and economic, social, and cultural rights.
Reiner teaches U.S. History, government, and "We the People" at Ayersville High School. She holds a master's degree in American history and government.