Launch into Law Creates Pathway to J.D.
by Diana Case | Feb. 1, 2020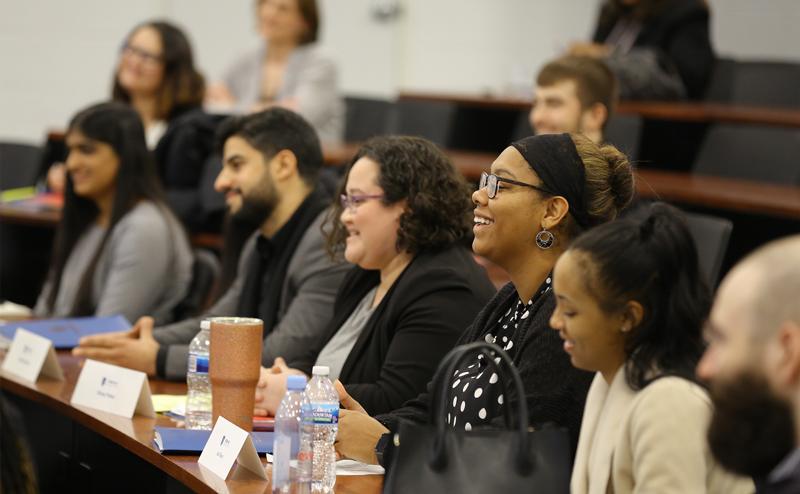 Toledo Law hosted its second annual Launch into Law program to increase the number of traditionally underserved students enrolled in law school. The program advances the college's commitment to diversifying the legal profession by creating a pathway for students to earn a law degree.
Launch into Law helps students gain admission to law school and develop the skills they will need to succeed. Comprehensive course work prepares students for the Law School Admission Test (LSAT) and improves their legal writing and study skills. Additionally, participants sit in on a first-year class and attend sessions on the law school admission process, success strategies, clinical education, and legal career opportunities.
Mentorship plays a significant role in providing student support. Participants are thoughtfully matched with a student mentor and a professional mentor. Both mentors offer firsthand experience and guidance, as participants explore legal career options.
The Launch into Law program experienced significant growth in its second year, expanding to 22 participants — a 50% increase from the pilot year. The selection process was highly competitive with participants from across the region, as far as Champaign, Illinois.
Program outcomes include a rise in LSAT practice test scores administered pre- and post-experience. Scores increased an average of 7 points, with increases as high as 16 points.
Launch into Law also boosts law school enrollment, as students who complete the program and later apply to Toledo Law are eligible for a $1,000 scholarship upon acceptance. At least two 2020 participants have already applied to Toledo Law. Over half the 2020 cohort plans to apply to law school this academic cycle with the other half planning to apply next year.
"Programs providing a pipeline to law school are critically important in addressing educational opportunity gaps and increasing the diversity of the legal profession to better reflect our multifaceted communities," said Amber Chuhy, director of admissions. "They provide individuals from a variety of backgrounds with access to a legal career. I was so impressed by the students that participated in this year's program. They are bright, creative, and passionate individuals whom I have no doubt will excel in both their academic and professional careers."
The program attracts participants from a wide variety of backgrounds and experiences, including first-generation college students and working professionals. It builds a pathway to law school and highlights the great breadth of career options available with a J.D. degree.
"I admit when I decided to attempt to enroll in law school, I had a very limited understanding of not only what law school entailed, but also the legal profession as well," said participant Hussien Kazwini. "Deep down, I knew I wanted to be a lawyer because of my intense desire to help other people, but I didn't know what the path to becoming one looked like.
"Launch into Law solved this problem. I was blown away by the amount of information I learned in just the weeklong session … My favorite aspect was the people I met and connected with. Everyone from the professors, professionals, and student mentors were so kind and have helped me in deciding I want to be at Toledo Law. Last but not least, the connections I've developed with other students in the program were truly amazing. We have made plans to study for the LSAT and also to hopefully enter law school in the future together. It's a great feeling knowing I already have friends heading into law school."
The immersive Launch into Law experience took place Jan. 13-17, 2020, at no cost to students. Additional photos are available on Flickr. For more information about the program, contact Amber Chuhy at amber.chuhy@utoledo.edu.