PA Program Manual
---
Introduction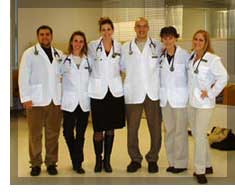 This prospectus is designed to provide the potential student and matriculated student with information about the Master of Science in Biomedical Sciences, Physician Assistant Program. For current students, it should be viewed as an adjunct to The University of Toledo's College of Graduate Studies Bulletin and the College of Graduate Studies Handbook, both of which contain specific information regarding the College of Graduate Studies and related policies. The information herein is subject to periodic revision and these changes will be relayed to current students in a timely manner. It is ultimately the student's responsibility to be aware of all degree requirements and to work closely with an advisor to ensure that these requirements are fulfilled.
---
Overview of the Profession and Program
Physician Assistants (PAs) are health professionals, prepared to practice medicine with physician supervision. Within the physician/PA relationship, PAs exercise autonomy in decision-making and provide a wide range of diagnostic and therapeutic services. The role of the PA includes provision of primary and specialty care in medical and surgical practices located in rural, urban or suburban areas. Physician assistant practice is patient care centered but may include education, research and administrative duties.
The University of Toledo (UToledo) Physician Assistant Program is a graduate entry-level professional course of study enabling individuals who hold baccalaureate degrees to become PAs. The program is designed to prepare graduates for primary care practice with emphasis placed on both service to medically under served populations and the team approach to the delivery of health care. The program integrates graduate level critical thinking and analysis, problem solving, scientific inquiry, self-directed learning and the effective use of modern technology for professional practice that includes elements of research, leadership, education and continued professionalization of the physician assistant occupation.
---
Purpose
The purpose of the UToledo Physician Assistant Program is to graduate competent professionals who are well prepared for the demands of modern professional practice in a rapidly changing health-care environment. The curriculum goals were developed based upon the description of the occupation and standards for educational program contained in the "Standards and Guidelines for an Accredited Educational Program for the Physician Assistant," the Program's Mission Statement and the needs of the PA profession. In the PA Program curriculum, knowledge, skills and attitudes are considered to be critical elements of professional practice and are addressed in the program curricular goals delineated below. 
---
Mission Statement
The mission of the UToledo Physician Assistant Program is to provide a comprehensive and student-centered academic and clinical education to develop competent, compassionate, and primary care oriented PAs who are capable of providing high-quality, cost effective, patient centered health care in diverse settings.
---
Program gOALS AND Outcomes
Goal 1

Upon graduation, our students will perform at or above the national pass rate on the PANCE.
OUTCOME: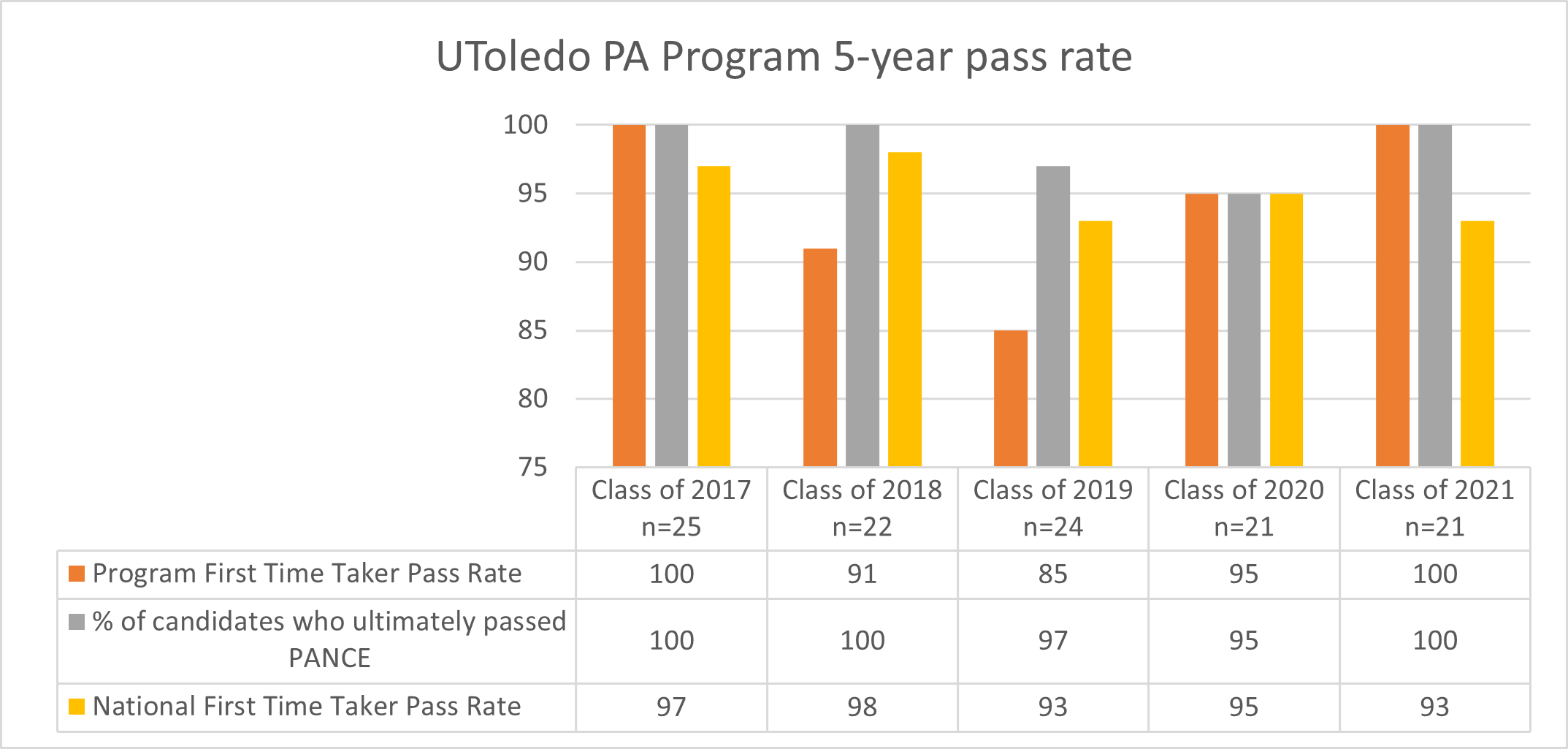 Goal 2
Maintain a diverse matriculating class.
OUTCOME: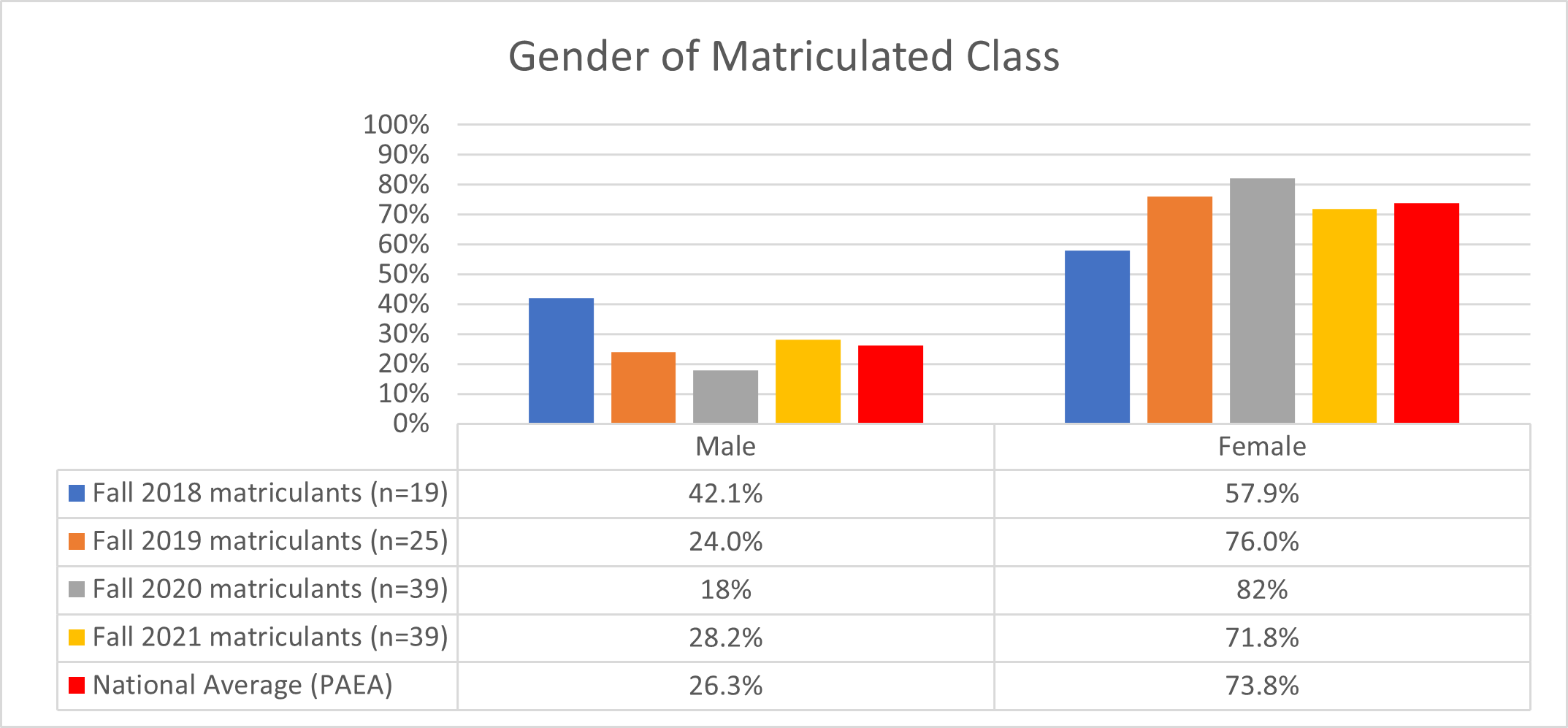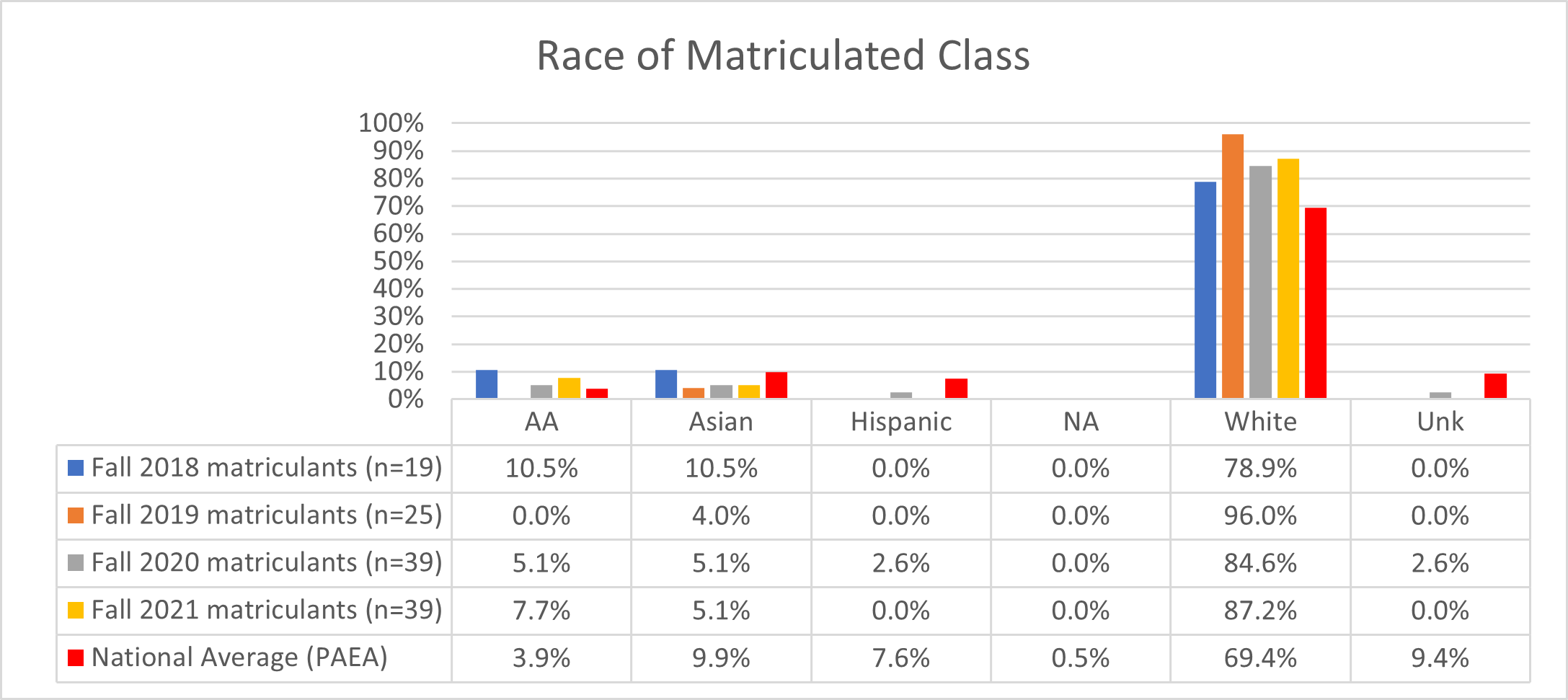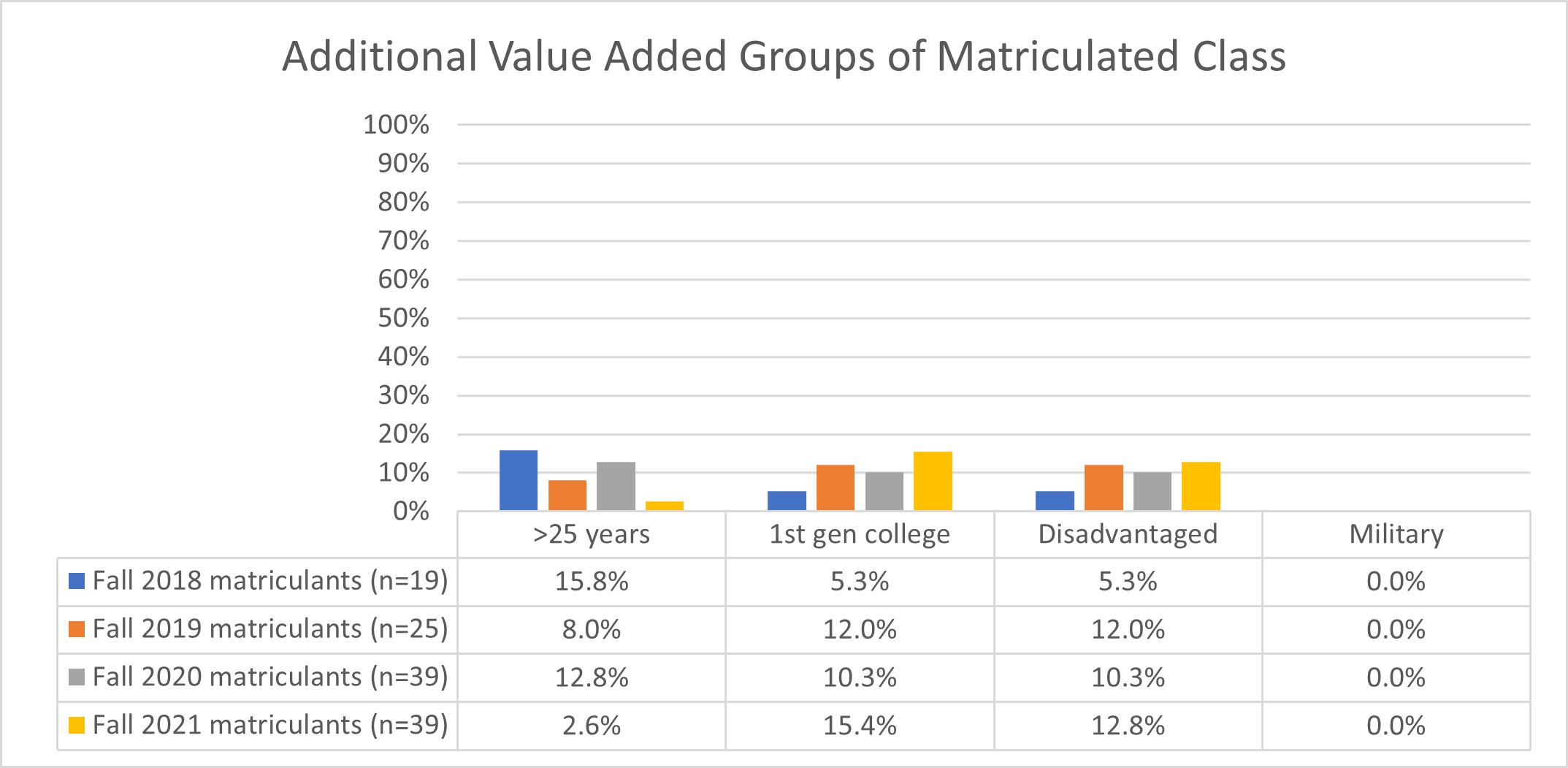 The UToledo PA Program consistently matriculates a diverse class by sex, age, medically underrepresented minority students, veterans, and first-generation college students. The Program follows The University of Toledo's definition of diversity, which is published in The University of Toledo's Strategic Plan for Diversity. The Program received the Physician Assistant Education Association (PAEA) National Diversity Award in 2011 for its ongoing commitment to diversity.
Goal 3
Students are educated in an environment that promotes team-based healthcare.
OUTCOME: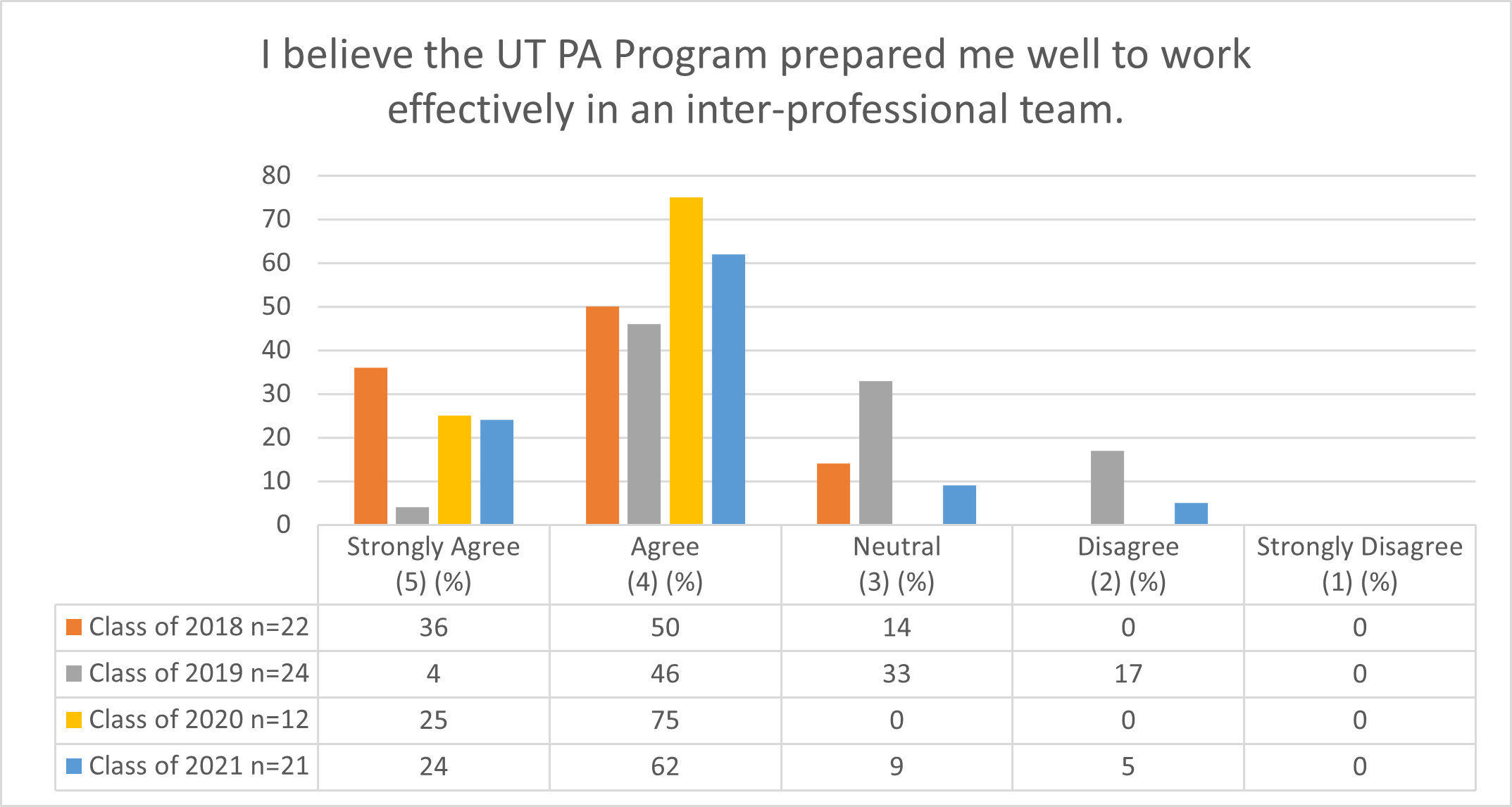 The University of Toledo PA Program values team-based healthcare and promotes interprofessional education through didactic training and experiences. Students participate in a two-semester interprofessional education experience (IPE) course which also includes students from medicine, nursing, pharmacy, physical therapy, occupational therapy, respiratory therapy, public health, speech and language pathology, clinical psychology, and social work. IPE training includes interactive clinical skills and simulations in the Interprofessional Immersive Simulation Center (IISC), small group exercises, and community presentations. Students in the program have additional opportunities for team-based healthcare experiences through participation in the student-led Community Care Clinic that includes participation by community clinicians and students from PA, medicine, pharmacy, nursing, physical therapy, and respiratory therapy. Additionally, students have opportunities to participate in University-sponsored missions trips with faculty and community healthcare providers. 
Goal 4
Students are educated in an environment that promotes working with underserved populations.
OUTCOME: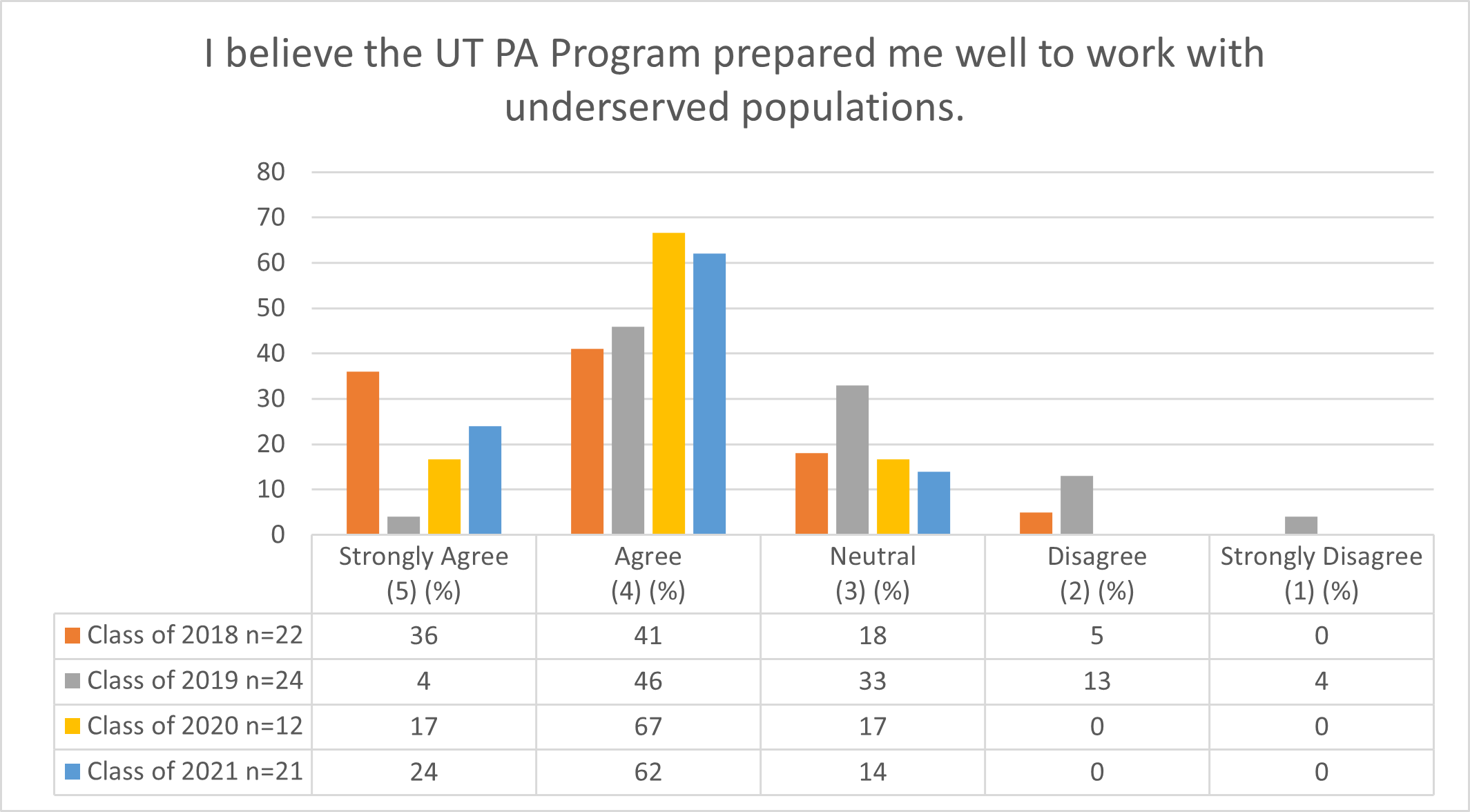 The UToledo PA Program students have multiple opportunities to provide care to the underserved populations in the community, including medically underserved patients and those from a lower socioeconomic status in an urban environment. Students may participate in the student-led Community Care Clinics (CCC), a free clinic established to provide primary care, women's health care, diabetes management, chiropractic services, and respiratory therapy to the underserved in the community. PA students also have an opportunity to volunteer with community physicians, PAs, and nurse practitioners at That Neighborhood Free Health Clinic located in the inner city of Toledo. The College of Medicine and Life Sciences participates in medical mission teams with the Global Health Program. PA students have an opportunity annually to serve on the Honduras mission trip and the Nicaragua Medical Mission Trip.
---
Curriculum Design
The curriculum design is based upon the concepts of adult-centered learning and professional education which focus on mastery of knowledge, skills and attitudes required by the graduate to practice effectively as a physician assistant. The curriculum, offered in didactic and experiential components, is an approach which moves from basic to more advanced skills. The curriculum design assumes that students will develop the necessary skills to be self-directed learners and to apply effectively what they learn in the clinical setting.
---
Program Delivery Model
The Physician Assistant Program is offered on a full-time basis only.  Length of the program is seven consecutive semesters (27 months). The credit load ranges from 10 to 17 hours per semester. Learners are expected to adjust their non-curricular demands in order to complete the degree requirements. As adult learners, it is expected that students will actively engage in independent study, inquiry and fieldwork outside the classroom to augment learning and to maximize effectiveness of classroom and laboratory contact time. Students will be expected to successfully complete and present a scholarly project (abstracts for previous scholarly projects are available for review), an Objective Structured Clinical Examination (OSCE), and a comprehensive written examination in order to graduate from the PA program.
Since the PA Program will use computer technology in the delivery of the curriculum, all PA students must be computer literate. The ability to use the computer for research and the exchange of campus e-mail will be expected.
It is not recommended that any learner attempt to attend the Physician Assistant Program while continuing full-time employment.
Students must not substitute for or function as instructional faculty, must not be required to work for the program or substitute for clinical or administrative staff during supervised clinical practical experiences.
Clinical Year
The Clinical Year consists of 4 didactic weeks and 40 weeks of required clinical rotations. The first four-weeks of the clinical year is dedicated to the Introduction to Clinical Practice course. Each student will then complete all of the following five week clinical rotations: Emergency Medicine, Family Medicine, Pediatrics, Internal Medicine, Surgery, GYN/Prenatal, Behavioral and an Elective. The Elective rotation can be in the student's preferred specialty of medical practice. Following the clinical rotations, each student will complete an eight week intensive Preceptorship in Primary Care Medicine. Each student is responsible for his or her transportation to and from the clinical sites.
---
AdmissionS Information
For complete Admissions information, please visit our dedicated Admission page. 
---
Curriculum
Note: Physician Assistant Program courses listed in the chart below may not be taken out of sequence for any reason and may require a passing grade of B or better for progression through the program.  All students must complete every course.  There is no advance standing or transfer credit to replace any of these courses. 
COURSE SEQUENCE

Semester

Title

Credits

Totals

1 FALL

 

   

   

 

ANAT5000: Anatomy for Physician Assistants

5

 

   

PHSL5050: Physiology for Physician Assistants 

3

   

 

PHYA 5010: Introduction to the P.A. Profession 

1

 

 

PHYA5100: Prin. of Interviewing & Medical History 

3

 

 

PHYA5140: Health Care Teams & Systems

2

 

   

 

   

14

      

2 SPRING

   

  

   

 

PHYA5130: Patient Evaluation

3

 

 

PHYA5210: Diagnostic & Therapeutic Skills I 

2

 

 

PHYA5310: Clinical Medicine I

4

 

 

PHYA5400: Pathophysiology I 

2

 

 

PHYA5510: Pharmacology I

2

 

   

PHYA6050: Medical Ethics 

2

   

 

 

 

15

    

3 SUMMER

 

 

 

 

PHYA5220: Diagnostic & Therapeutic Skills II  

2

 

 

PHYA5340: Clinical Medicine II 

3

 

 

PHYA5410: Pathophysiology II 

2

 

 

PHYA5520: Pharmacology I 

2

 

 

PHYA6110: Health Promotion & Disease Prevention 

1

 

 

  

 

 10

    

4 FALL

 

 

 

 

PHYA5230: Diagnostic & Therapeutic Skills III 

2

 

 

PHYA5330: Clinical Medicine III 

6

 

 

PHYA5430: Pathophysiology III 

1

 

 

 PHYA5530: 

Pharmacology III 

2

 

 

PHYA6010: Clinical Genetics 

1

 

 

PHYA6130: Research & Statistics 

3

 

 

PHYA6150: Behavioral Science 

2

 

 

 

 

17

    

5 SPRING

 

 

 

 

PHYA6500: Introduction to Clinical Practice 

5

 

 

PHYA6610: Scholarly Project I 

1

 

 

Clinical Practice (3 rotations) 

15

 

 

 

 

20

    

6 SUMMER

 

 

 

 

PHYA6620: Scholarly Project II 

1

 

 

Clinical Practice (2 rotations)

10

 

 

 

 

11

    

7 FALL

 

 

 

 

PHYA6630: Scholarly Project III 

1

 

 

Clinical Practice (3 rotations)

15

 

 

 

         

16

 

TOTAL PROGRAM HOURS

 

103
Clinical Practice consists of a total eight (five-week) rotations, with one in each of the following specialties: emergency medicine, internal medicine, family medicine, behavior/geriatric, prenatal/gynecology, surgery, pediatrics, and an elective (which may be any specialty of medicine except the required eight rotations).
---
Program Administration and Support
Please contact the Division of Physician Assistant Studies with questions 419.383.5408.
---
  Accreditation Status
Updates
We're committed to keeping our students and community updated throughout the appeal process.
Get Latest Updates »
The Accreditation Review Commission on Education for the Physician Assistant, Inc. (ARC-PA) has granted Accreditation-Continued status to the University of Toledo Physician Assistant Program sponsored by the University of Toledo. Accreditation-Continued is an accreditation status granted when a currently accredited program is in compliance with the ARC- PA Standards.               
Accreditation remains in effect until the program closes or withdraws from the accreditation process or until accreditation is withdrawn for failure to comply with the Standards. The approximate date for the next validation review of the program by the ARC-PA will be 2027 September. The review date is contingent upon continued compliance with the Accreditation Standards and ARC-PA policy.
---
 PANCE Scores
The Physician Assistant National Certification Examination (PANCE) is the national certifying examination offered by the National Commission on Certification of Physician Assistants (NCCPA). A passing score is necessary to practice in most states.

Aggregate scores on the PANCE for The University of Toledo (UT) vs. the National Average for the most recent five years are as follows: 
| | | | | | | |
| --- | --- | --- | --- | --- | --- | --- |
| Year: | 2016   | 2017 | 2018 | 2019 | 2020 | 2021 |
|  Test Takers at UT | 46 | 39 | 44 | 33 | 21 | 22 |
| 1st time Pass Rate |   |   |   |   |   |   |
|  UT PA Program | 74%  | 100% | 91% | 85% | 95% | 100% |
|  National Average | 96% | 97% | 98% | 93% | 95% | 93% |
|  UT 1st time Failures | 12 | 0 | 3 | 4 | 1 | 0 |
Graduates of the UT PA Program have an average 1st time PANCE pass rate of 88% over the most recent five years.  Please see the five year NCCPA Official Aggregate listed on the PA Program webpage under the major listings.  All students who have graduated from the University of Toledo and have taken the PANCE, ultimately passed successfully.
---
Student Attrition
The student attrition information can be found here: Student Attrition Table.
---
Costs and FinaNcial Aid
The cost of attendance for the UT Physician Assistant Program changes slightly from year to year, as the tuition rate and other expenses for full time graduate students may change annually.  For the cohort matriculating in August 2020, the estimated cost of tuition and institutional and program fees is $76,902 for in-state students and $123,786 for out-of-state students. 
Find more information on the University of Toledo's Office of the Treasurer website for financial brochures.
Scholarships are awarded to admitted students via an application process.  The application will be emailed mid-summer to all newly admitted first year students.
Financial aid for graduate students is available through numerous government loan programs (like Stafford student loans) and private sources.  It is recommended that students do not work while in the PA Program, but if necessary any student should not work a considerable amount of time while in the PA Program. 
NOTE: Government subsidized financial aid is not available to students admitted under Conditional Status.
For specific questions concerning the cost of attendance and financial aid information, contact the UToledo Health Science Campus Financial Aid Office.
---
Non-Discrimination Policy
The University of Toledo confirms through this statement its commitment and dedicated efforts to provide equal opportunity in the educational programs of this institution.  Federal law prohibits discrimination because of race, color, religion, sex, age, national origin, handicap, or ancestry of any person.  Inquiries regarding compliance with the above may be directed to:
College of Medicine Diversity Website
---
Information Sessions
---
Upcoming UT PA Information Sessions:
 The program is working on a recorded Information Session. The recording will be posted soon. 
 The Information Session will be dedicated to a program overview and a Q&A session. 
Location: Health Science Campus - there will be posted signs in this building directing prospective applicants to the appropriate room. We are delighted to have you attend and learn about the UToledo PA Program!
Directions to UT Health Science Campus
---
Questions or Concerns:
Division of Physician Assistant Studies: 419.383.5408